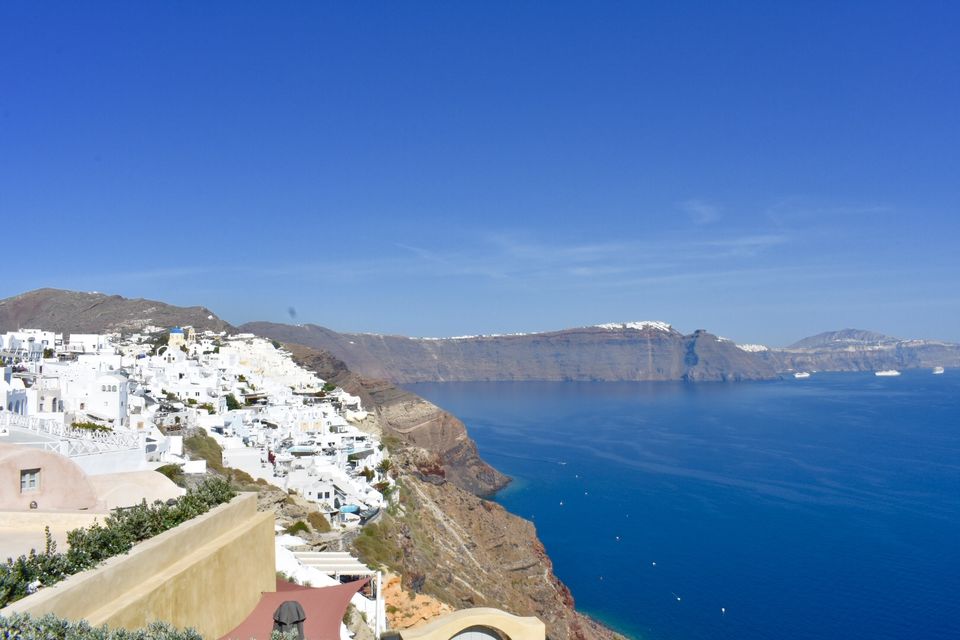 Greece is different, it isn't Mars, but it is a different earth; a blue and white earth.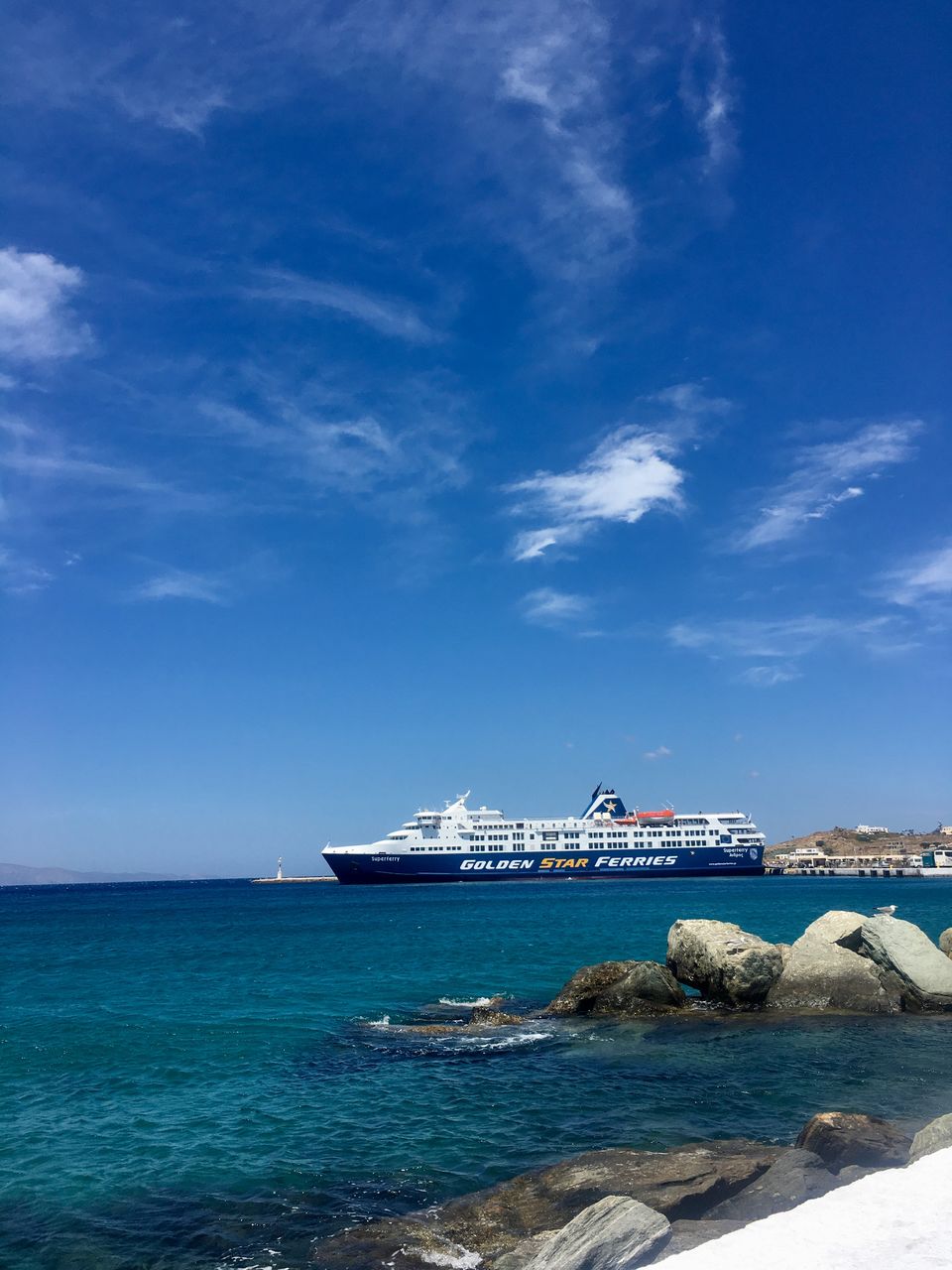 Ferrying our way around in Greece
Its hotels are small whitewashed buildings tucked away in the mountains or on the edge of a cliff. Its food is the freshest and at its very core, vegetarian. Its drinks are ouzo; unheard of but tasty. Its roads are dusty and curling around its mountainous terrain. Its beaches are pristine blue and inviting. Its views are of a volcano half submerged in an ocean. Absolutely nothing can beat this gorgeous destination!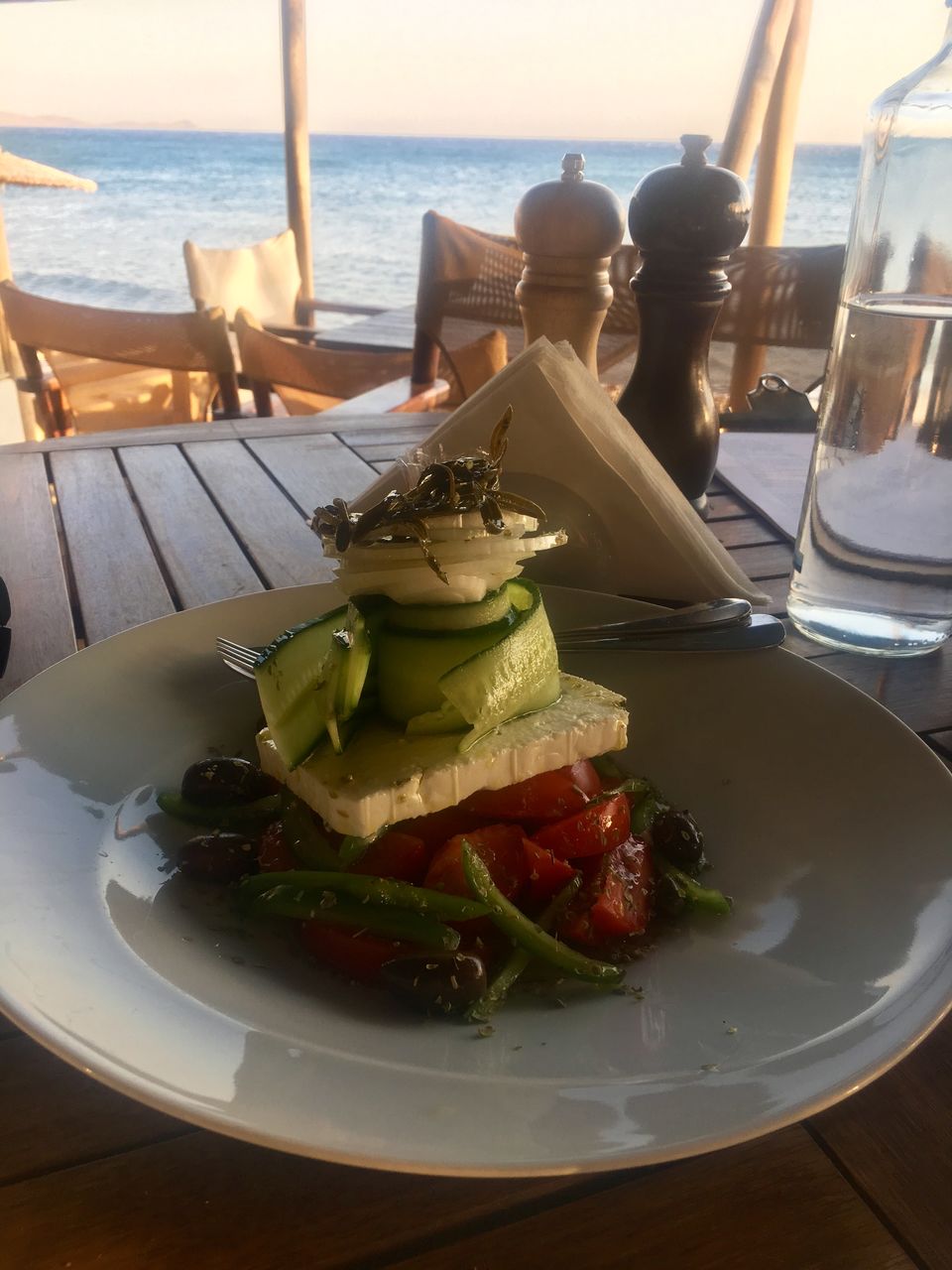 Accompanied with the Freshest and Yummiest Greek Salad
Much like the ancient Greek civilisation which consisted of various independent cities, each with their own culture and traditions, modern-day Greece is not significantly different. Every island here is different, whether it is the food, the terrain or the culture. The ideal scenario in a perfect world is to hop around all the islands but unfortunately, there is neither enough time nor the connecting ferries.
As you continue reading, you will realise that something is different about this write-up. This is more of a day-by-day account of our trip.
For the all the Greece-first-timers, this 10-day itinerary perfectly balances not only the must-sees but the hidden gems in this Hellenic region. Quell away all your pre-notions about the budget and places to visit and read on with an open mind.
Greece for first timers- Our Island-hopping Itinerary
When you are planning for Greece and when someone tells you, "Don't even think about going to Mykonos and Santorini, it has become too touristy. Try the smaller islands". You really need to reconsider your relationship with that person. Coming to Greece and not visiting these two islands is like coming to Paris and not visiting Effiel Tower because, you know! It is touristy. With Mykonos and Santorini set, the final piece in our jigsaw was Tinos, a lesser known island but all we were looking for was peace, tranquillity and a cultural connection. And to say the least, it couldn't have been better.
Budget: All our hotels fall under our strict screening criteria: a review score of 8.0+ on www.booking.com and day rate of INR 6,000/night; budget but top-notch and extremely comfortable. Your food spend is completely dependent on your palette and preferences.
Food: There is the Greek street food 'Gyros' starting at €3, there are also family-run restaurants where a meal for two would cost around €15-18 and there are also Michelin starred restaurants for the occasional splurge of €30 for two. We have for you in this write-up, a selection of our best restaurants for an unparalleled Greek culinary experience.
How to get around: Ferries are the most efficient to hop across islands.
Tips:
• Bluestar Ferries and Superfast ferries offer flat 50% discount to ISIC student cardholders. Be sure to flash it if you happen to own one.
• Check Skyscanner for any last minute deals between the islands, we got a cool Ryan air 30-minute service from Santorini to Athens at €10/person (as compared to an overnight journey on a ferry costing €35-45 / person.
Athens (Day 1,2 & 10)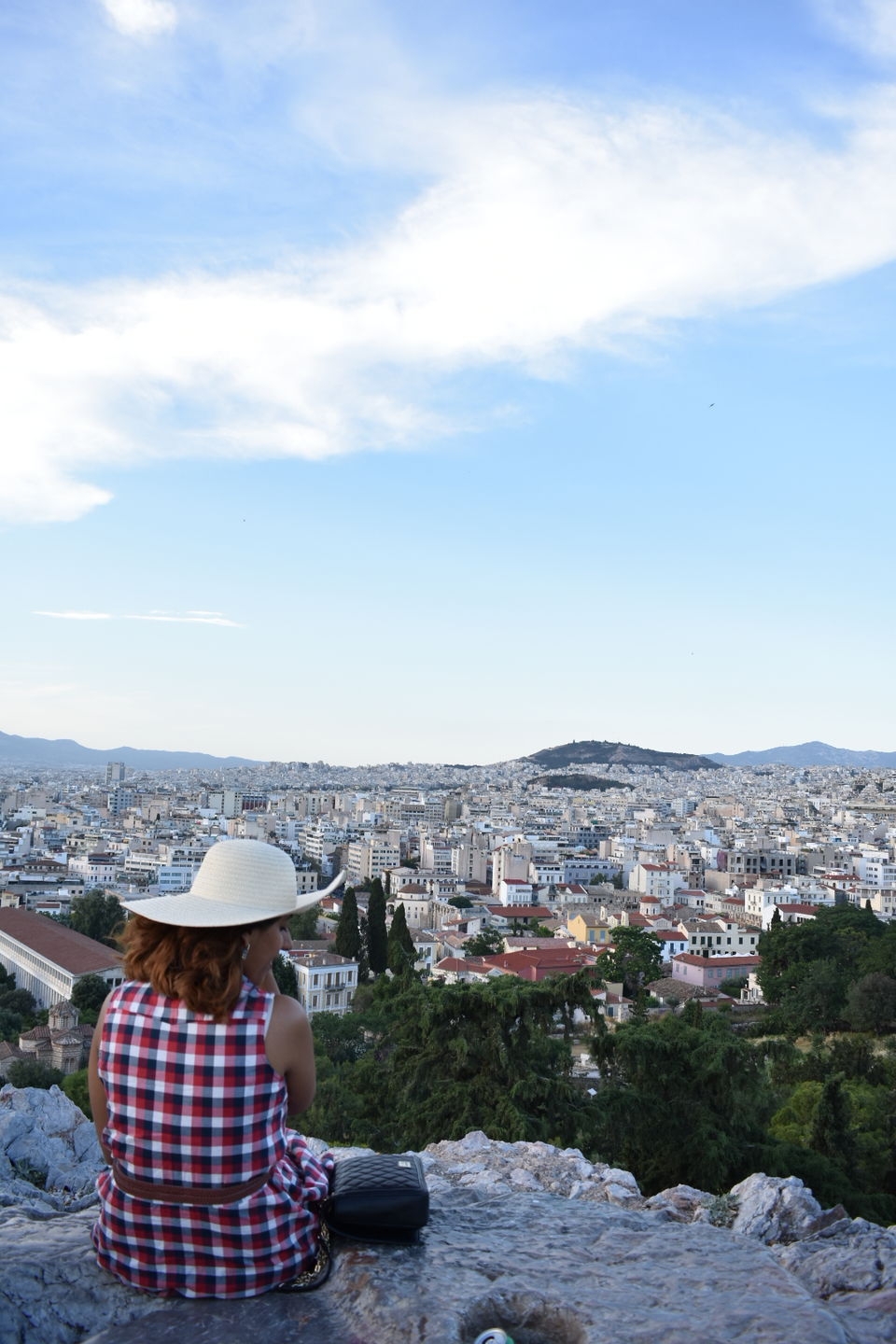 Athens - the world's ancient capital
The Greek capital is the de facto starting point for any adventure and a gateway to the islands. The majestic Parthenon temple (one of the biggest Greek temples) standing proudly on the Acropolis is a constant reminder of the rich and illustrious history of this country.
Stay: You simply cannot miss the Acropolis while in Athens, it is visible from everywhere and the same should hold for your hotel's balcony. The sight of Parthenon at sunrise, midday, sunset and at night when its all lit up is only possible if you have an Acropolis view room booked for you. I simply cannot emphasise enough on this! We chose Orion and Dryades hotel which is close enough to the centre of the town and far away from the pricier Syntagma Square area, thus offering superb value for the view. Cost: INR 6,000 / night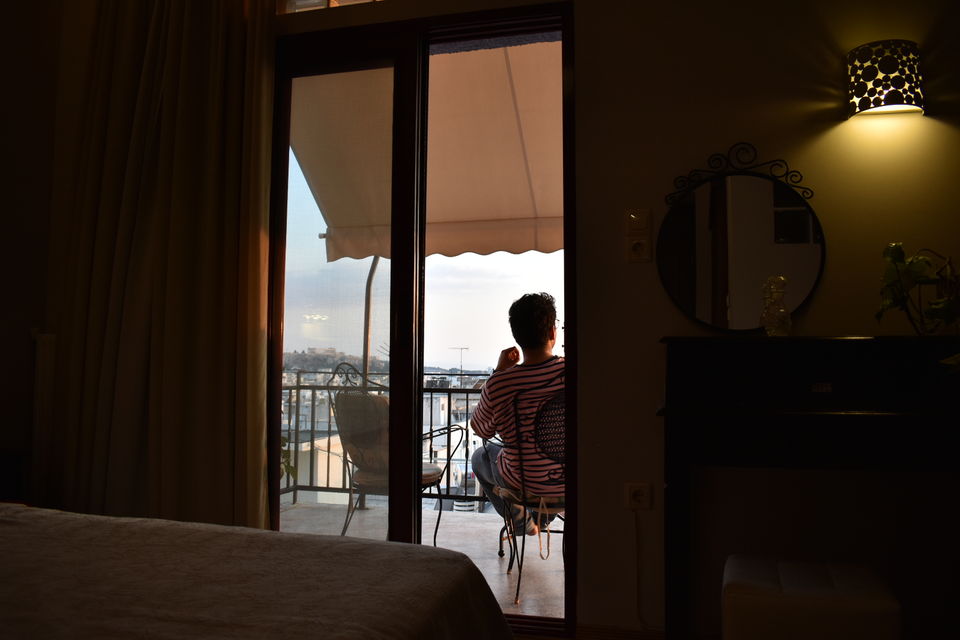 Our cozy room ovelrooking the Parthenon at HotelOrion and Dryades
 See: By the time you land in Athens, take a cab to your hotel, check-in and enjoy a drink in the balcony, you would have already seen enough of the most important sight in the city (The Parthenon Temple).
We spent most our day on the Acropolis and the neighbouring Pnyx hill (offering a spectacular view of the Acropolis and the city).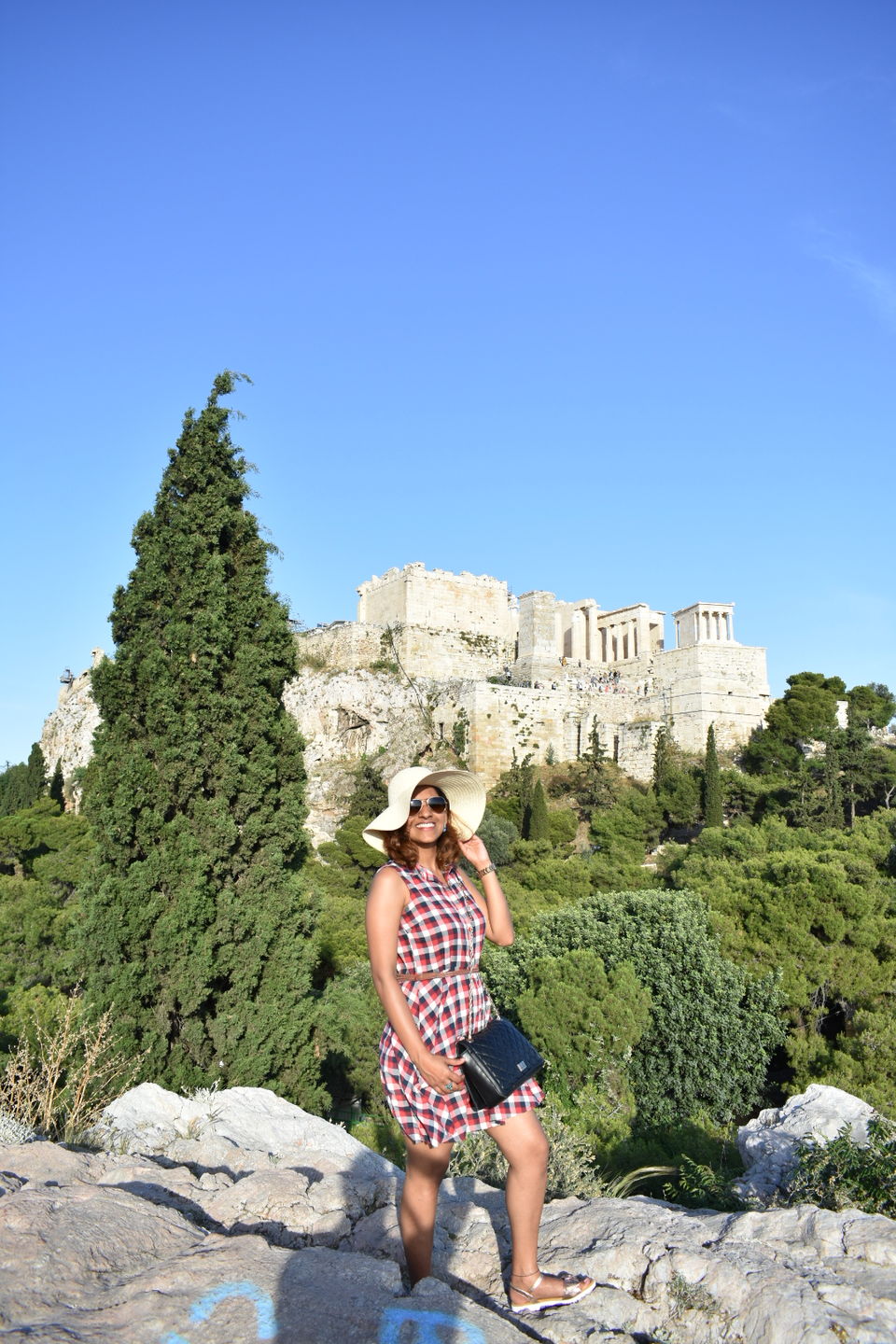 The majestic Acropolis, as seen from the Pnyx Hill
Another must visit is the Panathenaic Stadium where ancient Olympic games were held which is built entirely of marble.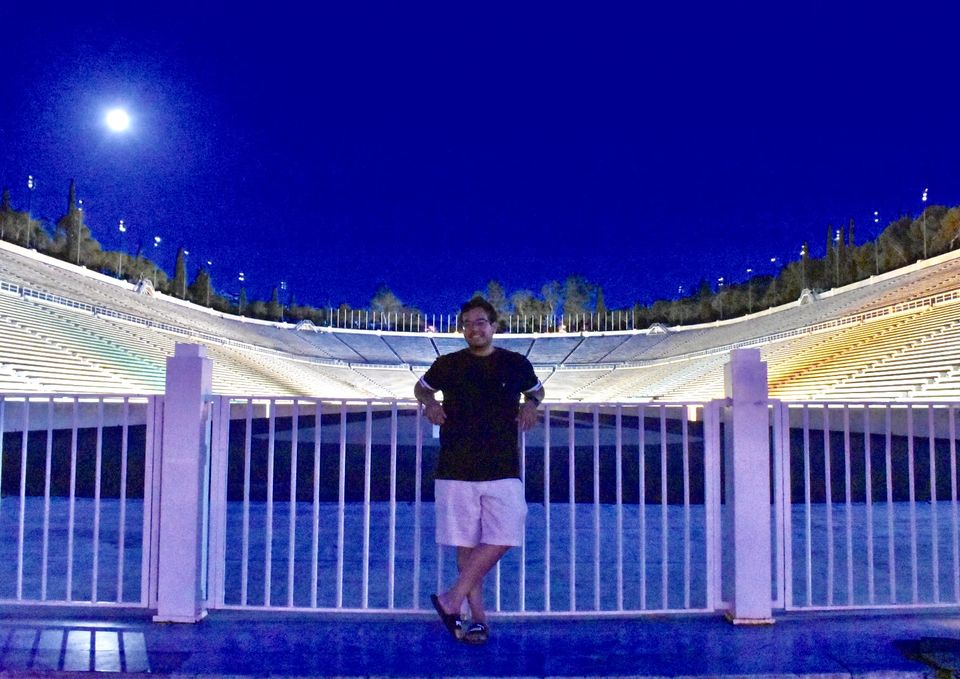 The Panathenaic Stadium - home of the Ancient Olympics
Eat: We absolutely loved the cuisine here. Its fresh, its light and there are ample choices for vegetarians. A few of the many good restaurants we could try are Extrovert (near our hotel) and Kalderimi (Near Syntagma square)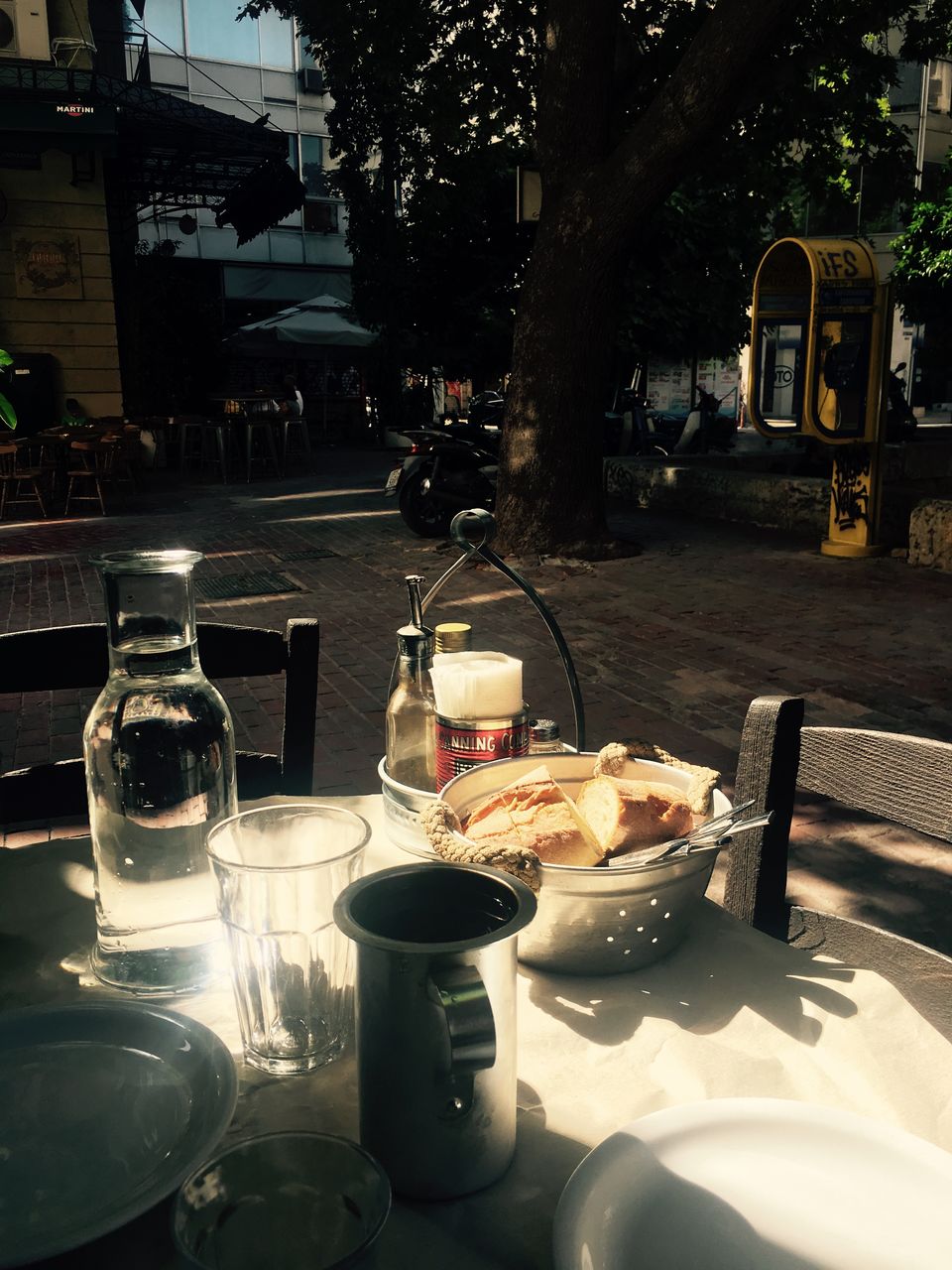 Kalderimi Restaurant- a family run place at Syntagma square. Ideal for a pre or post Acropolis visit.
Ride: The day passes costing €4.5 / person/day on the public transport are the best way to get around the city. Bus X95 offers convenient connections from the airport to city and vice versa.
Island 1: Tinos (Day 3,4)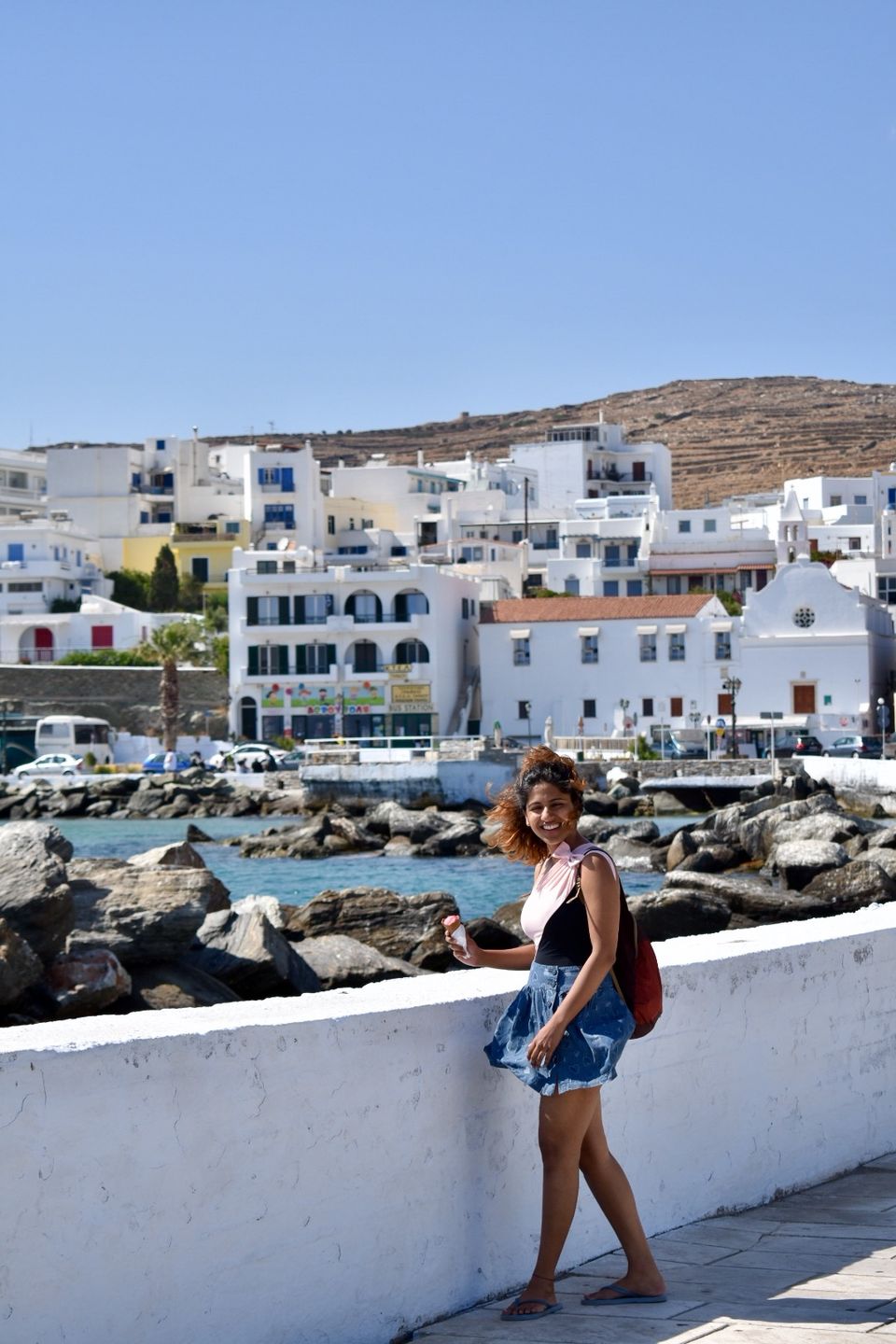 We're beach ready :) Yes, with the Gelato in hand
Tinos, our missing puzzle piece was a surprise package from start to finish. Its authentic local vibe and the rustic taverns add to the island position as a Pan Hellenic religious and cultural centre.
Stay: A review of our tiny family-run hotel (Tinion Hotel) by the old port of Tinos has stuck by me: "In my 40 years of travel this is the most value for money hotel I have ever stayed in". I think it says everything there is to say about the hotel. The hotel offers selected rooms with sea-facing balconies.
 

Cost: INR 4,000 / day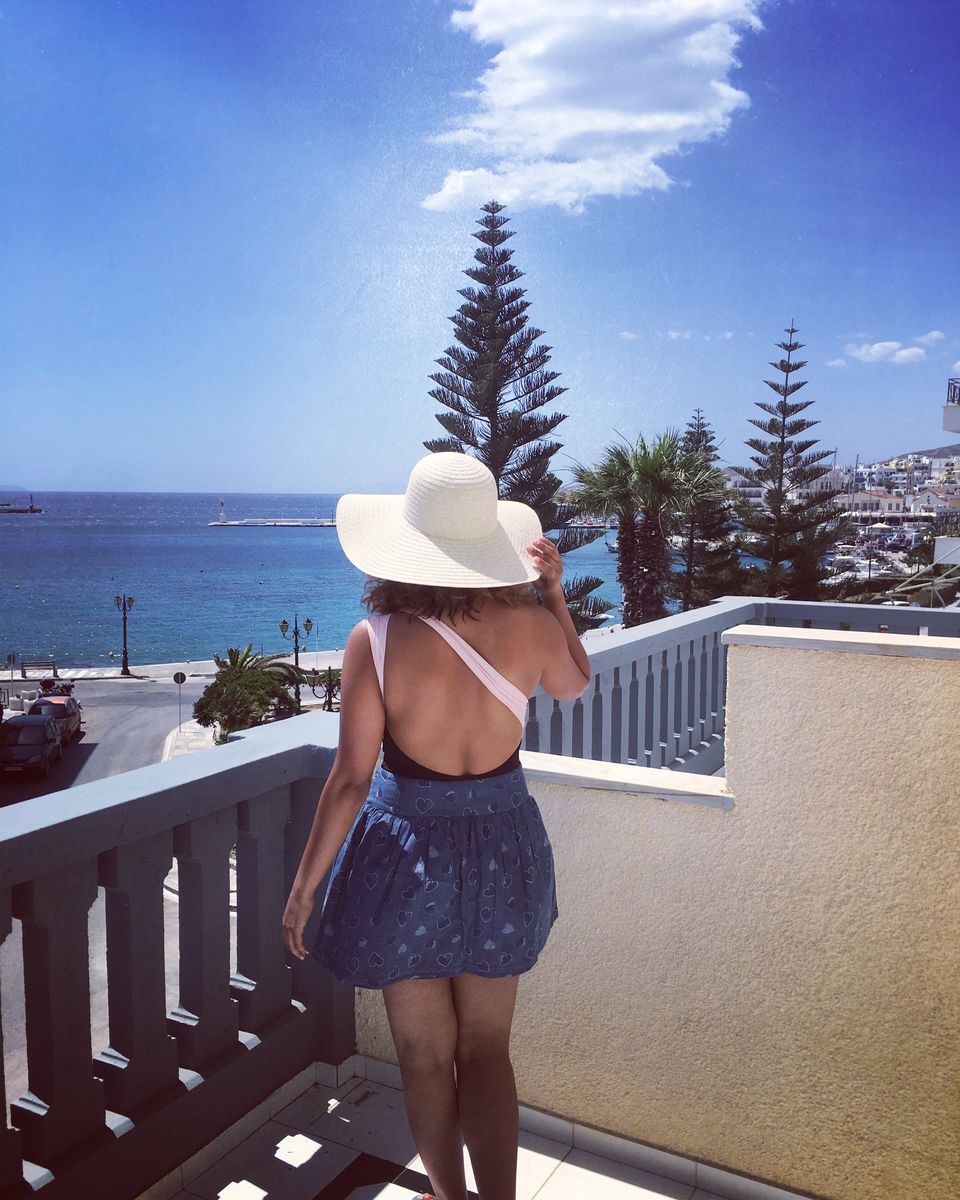 The view from our private balcony at the Tinion Hotel. Could we ask for more?
See: I will be honest, we never did go to the famous church (Church of Evangelistria) and the monasteries. We spent our days lounging on our huge sea facing balcony, moving simply to quench our hunger. Fakos beach is a short cab ride away and excellent for an afternoon dip.
The Fakos beach- so peaceful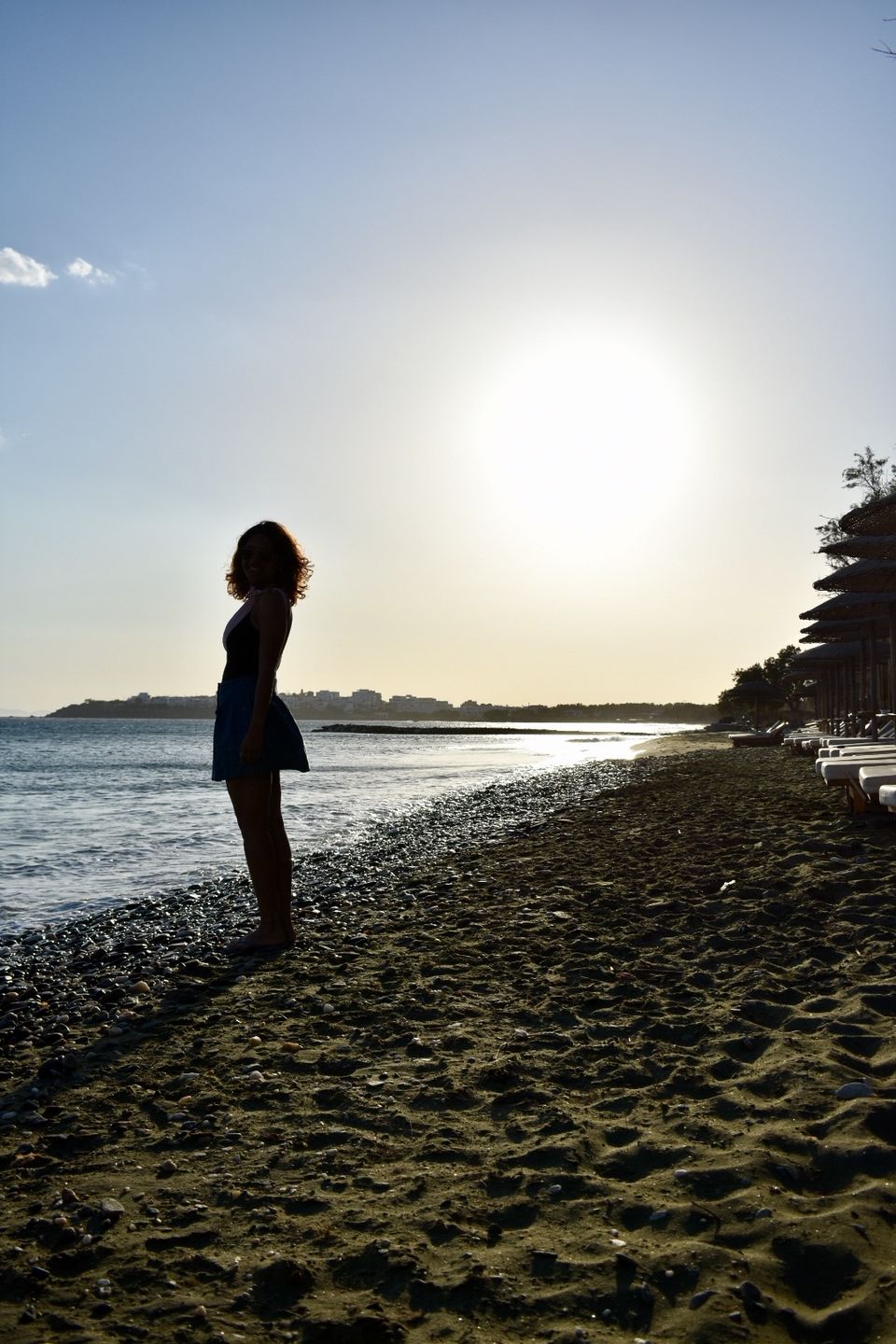 Glorious Sunsets at Fakos beach, Tinos
Eat: Expect small restaurants serving home-cooked food. Our top and must-eat recommendations: Tarsanás (cozy seating by the harbour) and Marathia Tavern (swanky beach-side cafe, ideal for a candlelit dinner)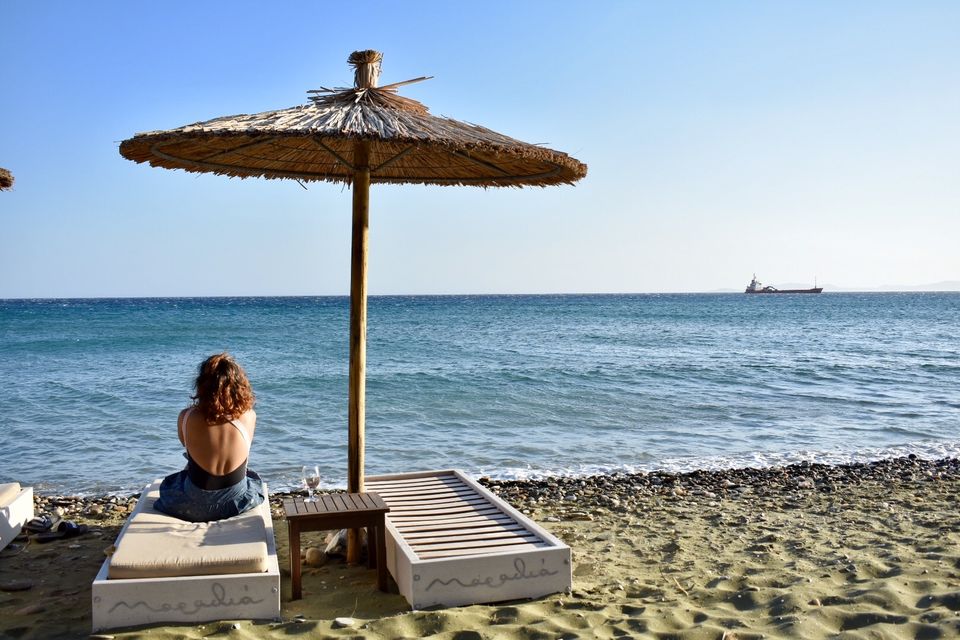 Marathia Tavern at Fakos Beach - one of the most popular hangouts in Tinos
Ride: The most stress-free mode of transportation is to rent a scooty/bike as buses are unreliable and cabs are a tad expensive. However, when it is extremely windy, the bikes are unavailable. Our taxi ride from Tinos town to Fakos beach cost about 10 Euros per side.
Island 2: Mykonos (Day 5,6)
The official party capital of Greece, Mykonos really lives up to its fame and its Paradise beach really lives up to its name.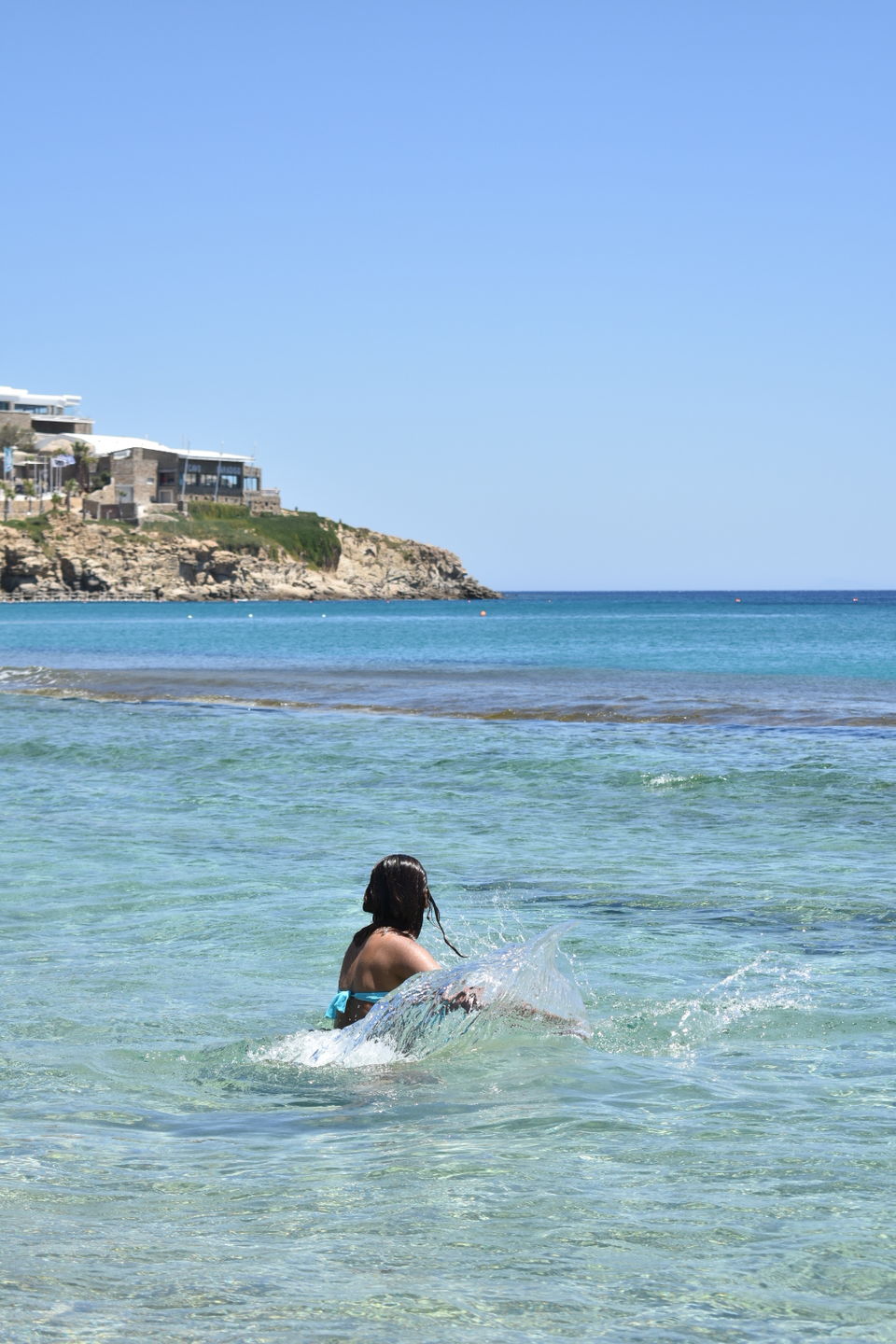 Mykonos- the most beautiful and best beach in the world
The island is swanky, glamorous, loud and has the most beautiful beaches.
See: The water at Paradise Beach is crystal clear, surprisingly calm and a bit cold. The party starts at 4 pm every day and continues almost till dawn. Be sure to arrive early as the beach beds get filled up pretty quickly (A bargain at €7 / bed for a day)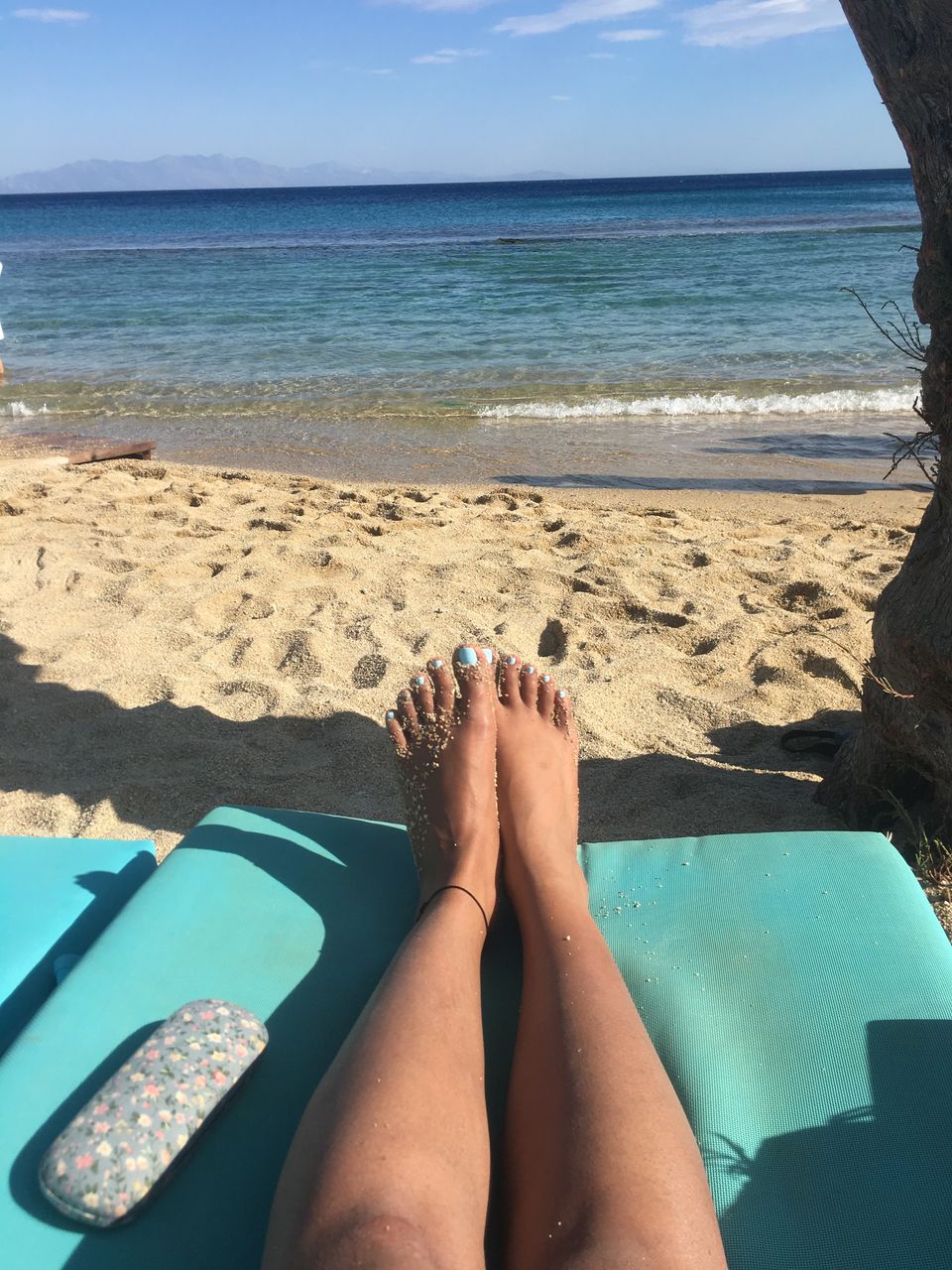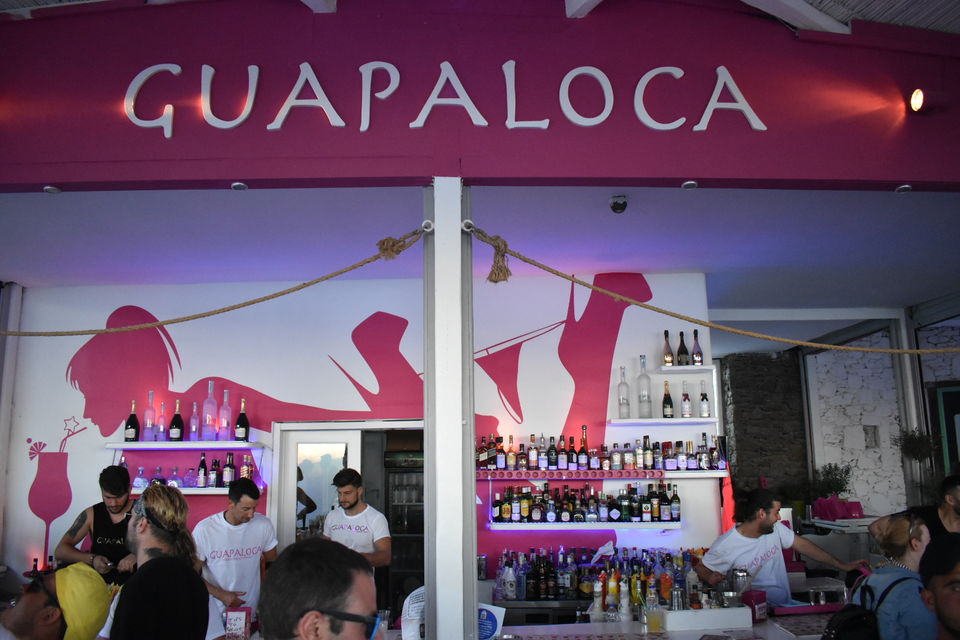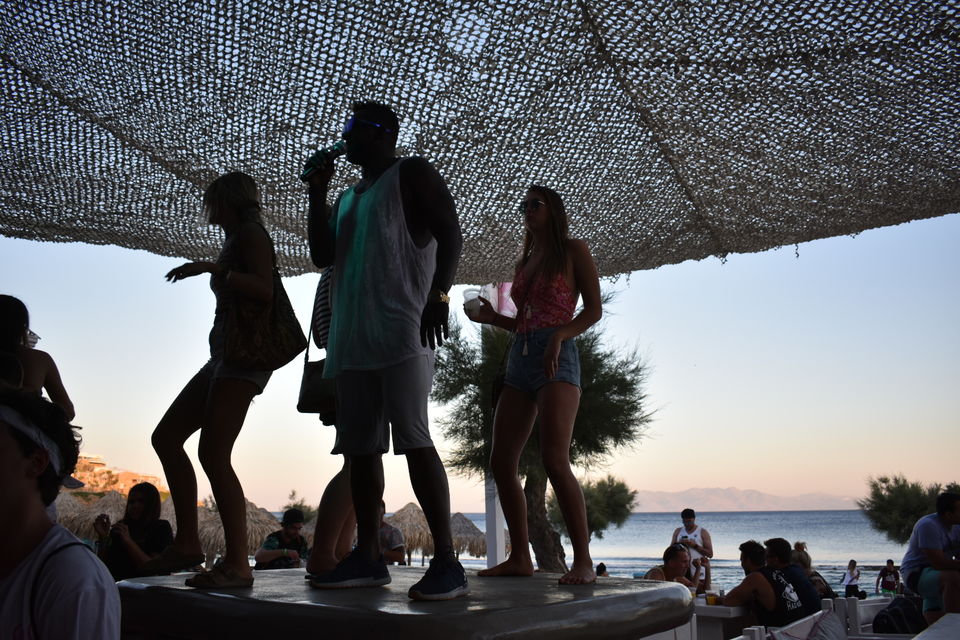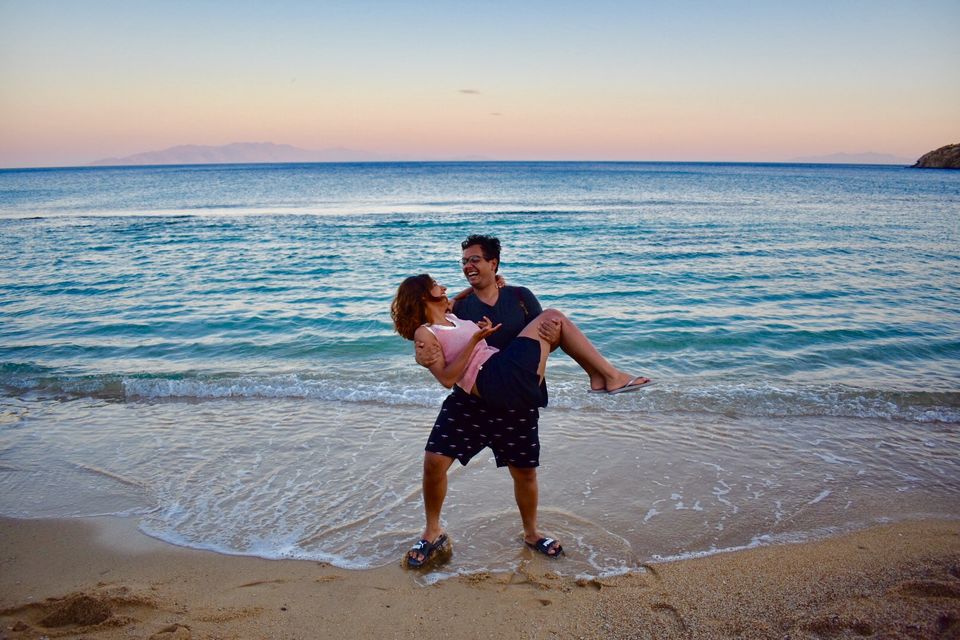 We're surely in Pardise
Next stop, the windmills of Mykonos are iconic. They are from the 16th century and their spot by the little Venice is one of the most romantic spots to watch the sunset. We had another reason to visit the windmills, a very important one; Megha's favourite song 'Tauba Tumhare Yeh Ishare' from SRK's movie Chalte Chalte was shot here. Oh Boy! She had so much fun posing and I was equally excited about clicking.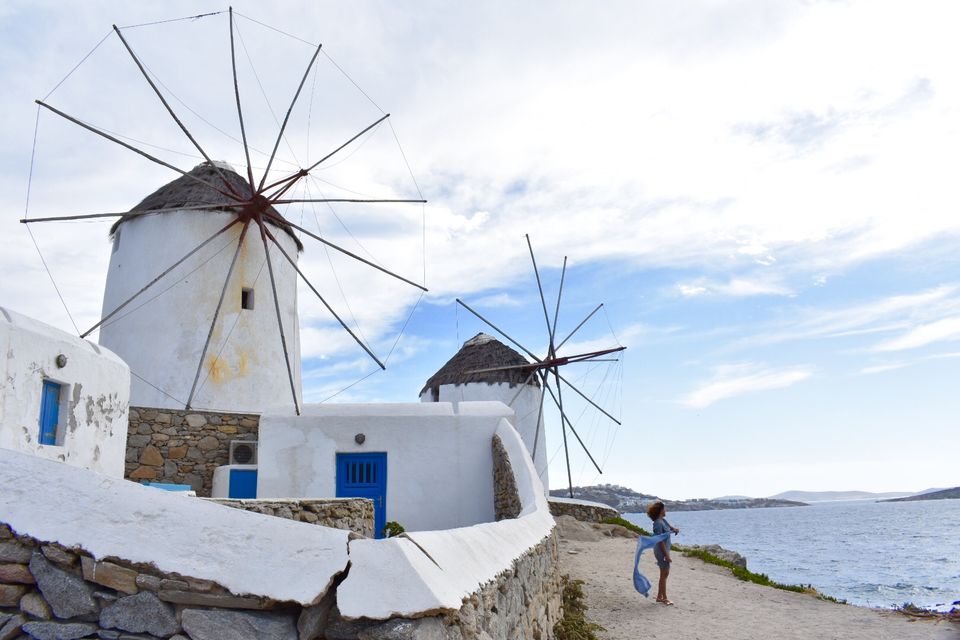 The iconic ancient windmills at Little Venice in Mykonos
Eat: The two clubs at Paradise beach (Paradise beach club and Tropicana beach club) have a well-stocked menu. Both of us really were on a pizza and gelato diet in Mykonos.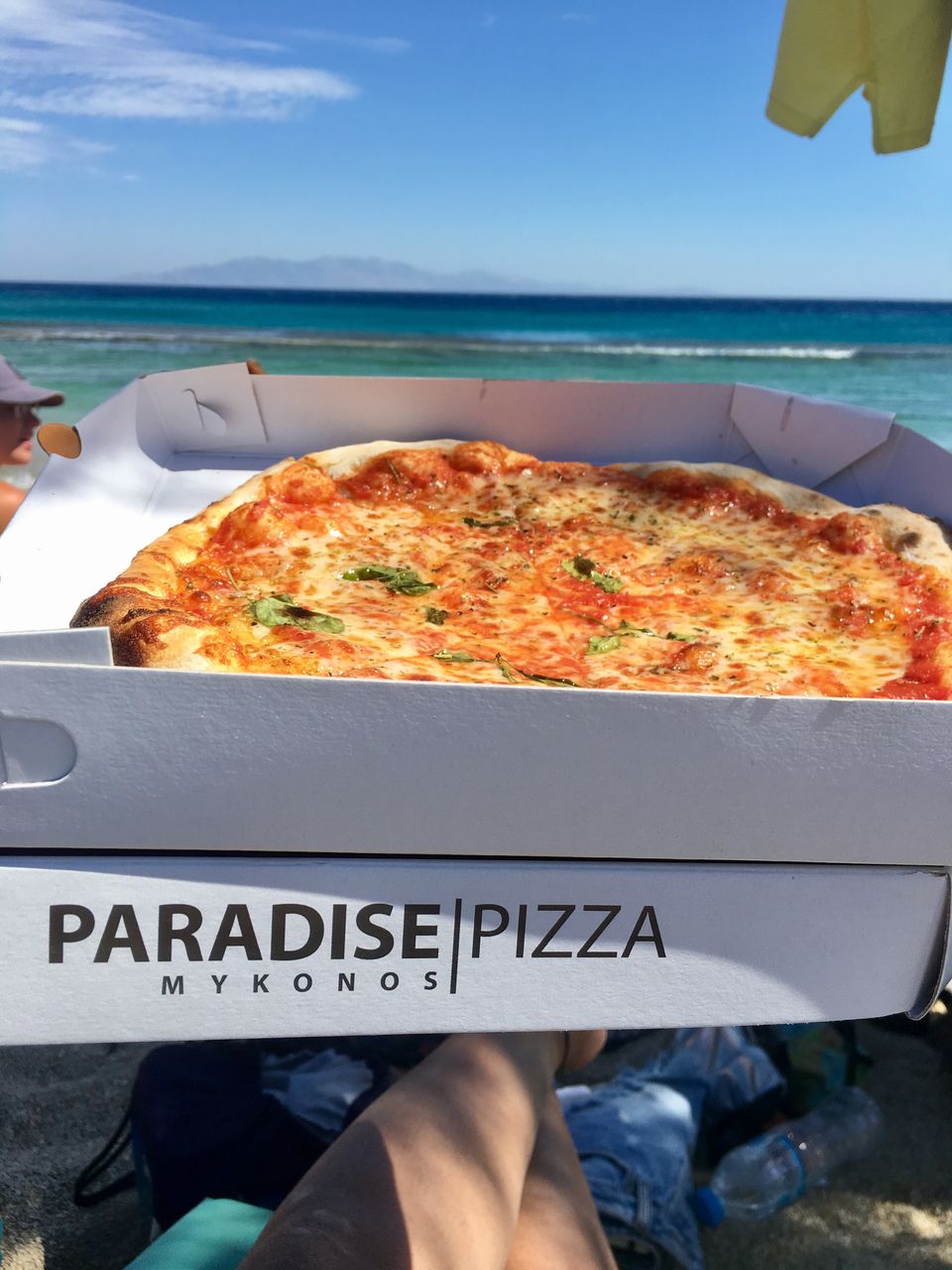 Pizza lunches at the beach :)
Ride: Finally, the winds had subsided and we were able to break from the shackles of public transport and were free-birds on our bike. Zisis will be more than happy to arrange one for you at the hotel, costing around € 20 a day.
Island 3: Santorini (Day 7,8,9)
Santorini is romantic island sunsets. Famous for being the most photographed sunsets of all times, it's worth the hype.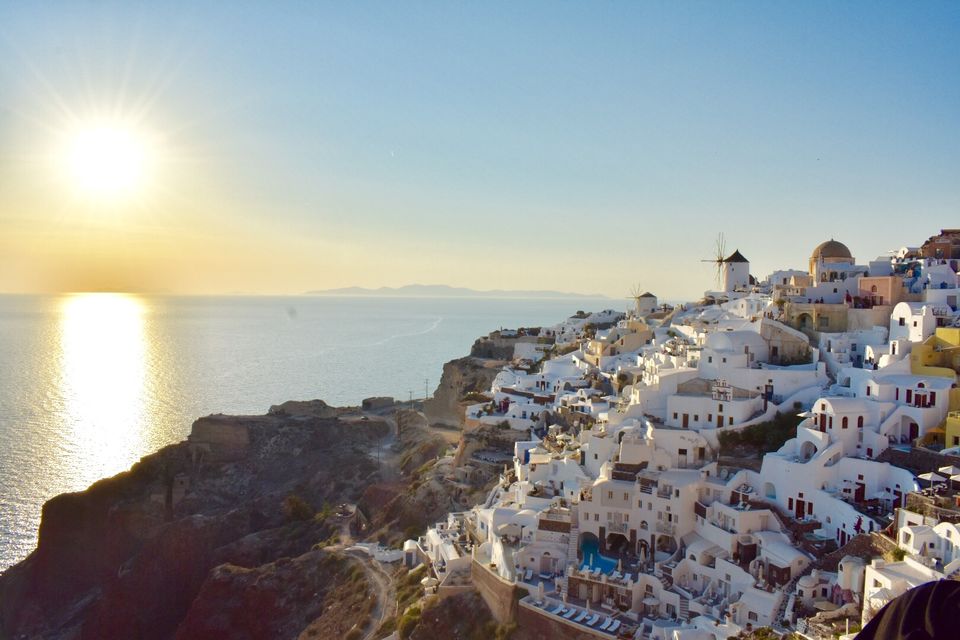 The most photographed sunset in the world- Sunset at the Oia Castle
There is one word which is used almost synonymously with this island, 'The Caldera'. There is sunset by the caldera, there is caldera facing hotels and caldera facing restaurants; it is the centre of everything in Santorini. The caldera is a cauldron-like volcanic depression which is filled with ocean water after it collapsed after an eruption. I googled and summarised my understanding above. Would recommend reading up a bit on the history of the island to better understand what you are getting into.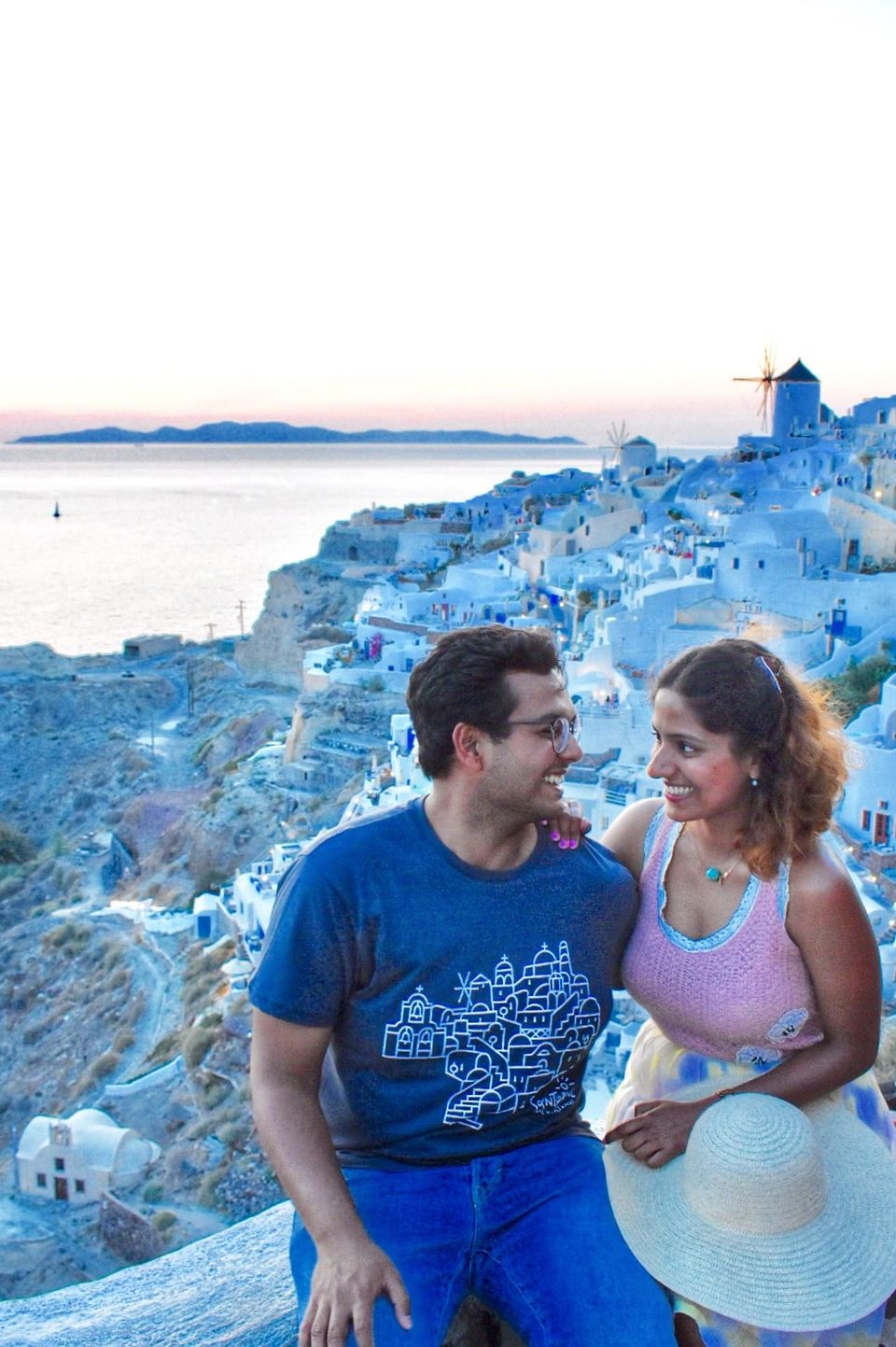 Todi's T-shirt and the background are the same. Coincidence?
Stay: We decided to split up our time in Santorini, stayed two nights in Pyrgos and one night in Oia. Pyrgos given its central location was a convenient spot to explore island leaving the last day in Oia to laze around and soak up some sun.
We highly recommend the Cultural House in Pyrgos, it offers traditional Cycladic-style apart-rooms with the sweetest hostess and home-made breakfast in the balcony with a caldera view (INR 6000/night).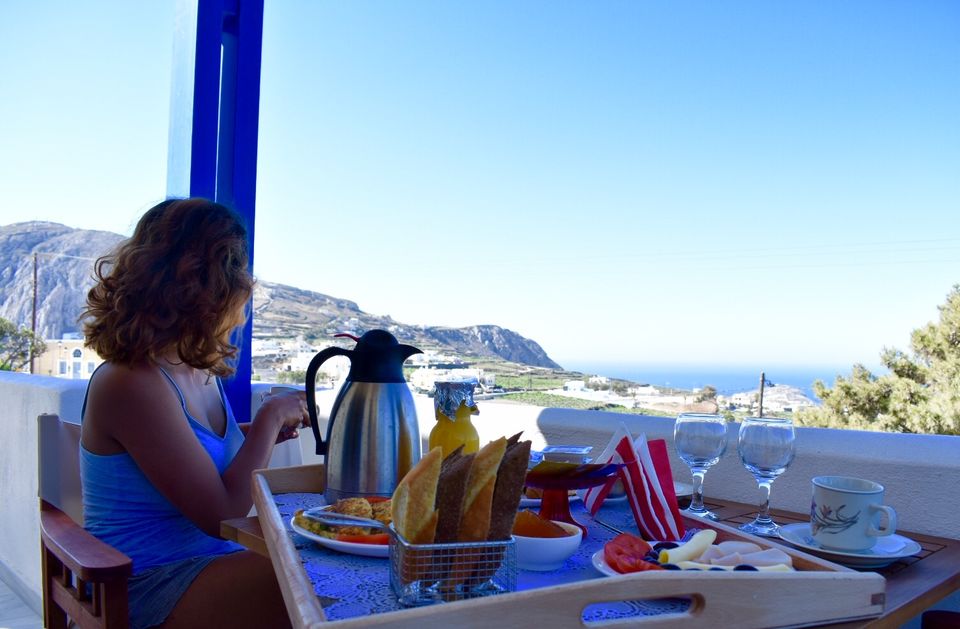 Breakfast with a view at the Cultural House, Pyros. We love the caldera view
Our hotel Vrachia Studios & Apartments in Oia was situated right on top of a cliff with stairs leading down to the black beach. The only downside being it is situated a little outside the main area (INR 5,000/night).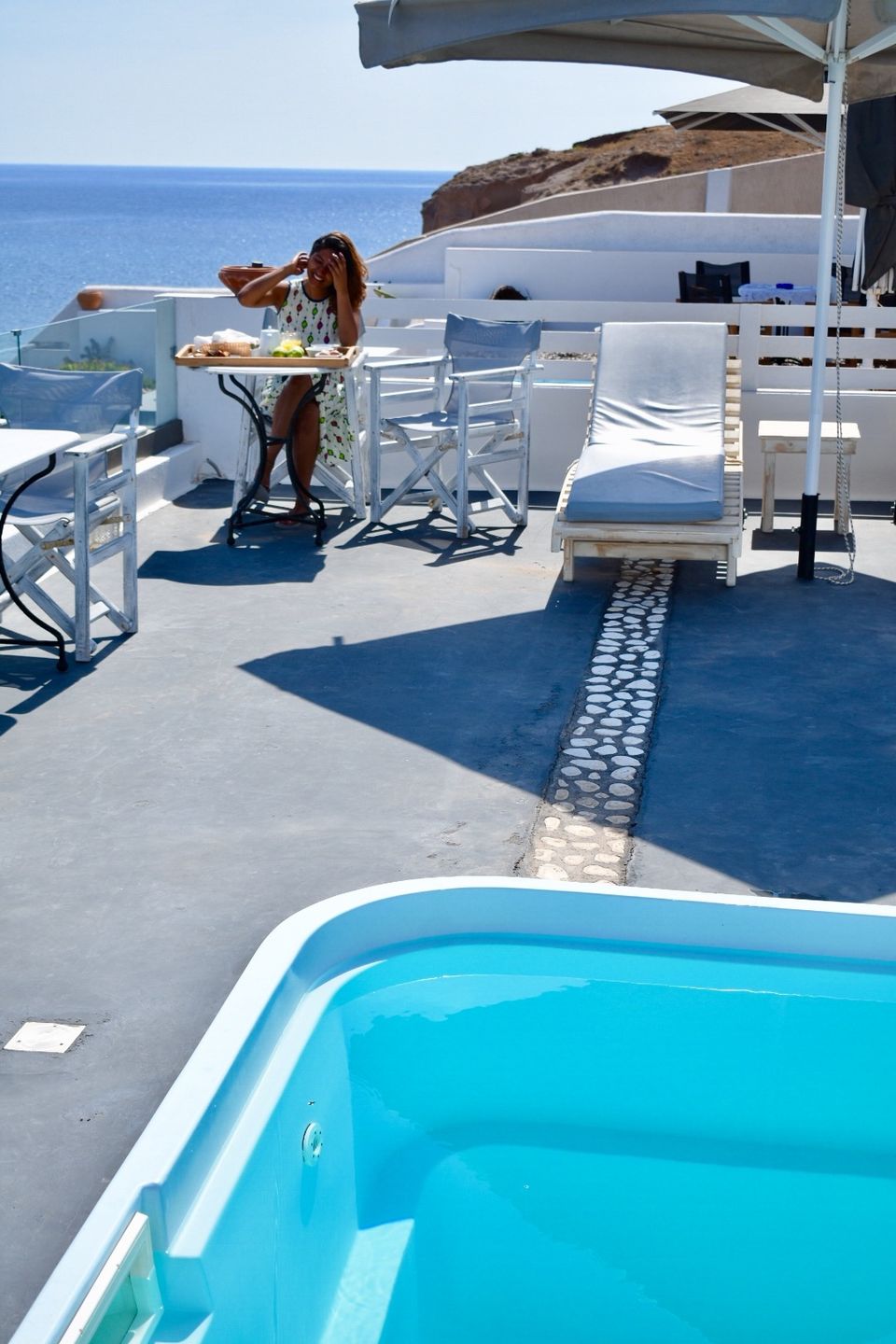 We love the caldera edged Breakfasts at Vrachia Studios , who wouldn't?
The Golden Rule: Before you decide to pay that exorbitant premium for the caldera facing room anywhere in Oia, remember 'Sunset is free'.
See: Santorini is so much more than just the sunset view from the Oia castle.
1. Pyrgos- Most people often miss Pyrgos village which is situated at the highest point of the island and offers stunning views of both sides of Santorini; the caldera as well as the vineyards. Next, the Santo vineyards are world-famous for their dessert wine and without doubt, the most picturesque location we have ever had wine at.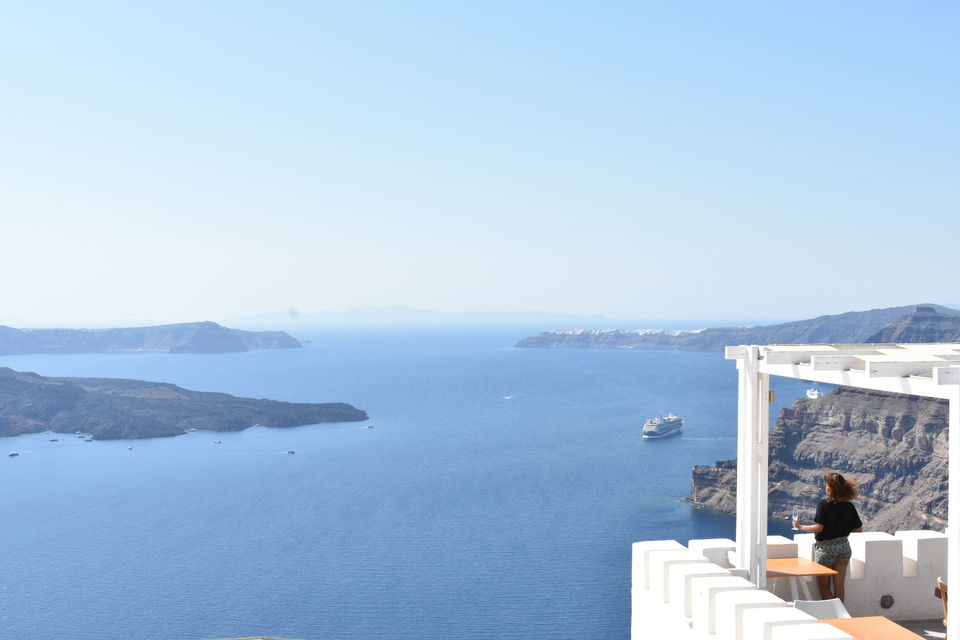 Pyrgos surely has stunning views of Santorni, seems like a wonky croissant !
2. Shopping at Thira is a welcome break from the pricey boutiques in Mykonos. Be sure to hang around the town till sunset. Choose one of the little bylanes for a perfect view or climb on top of the blue dome churches to add some thrill to the magical view.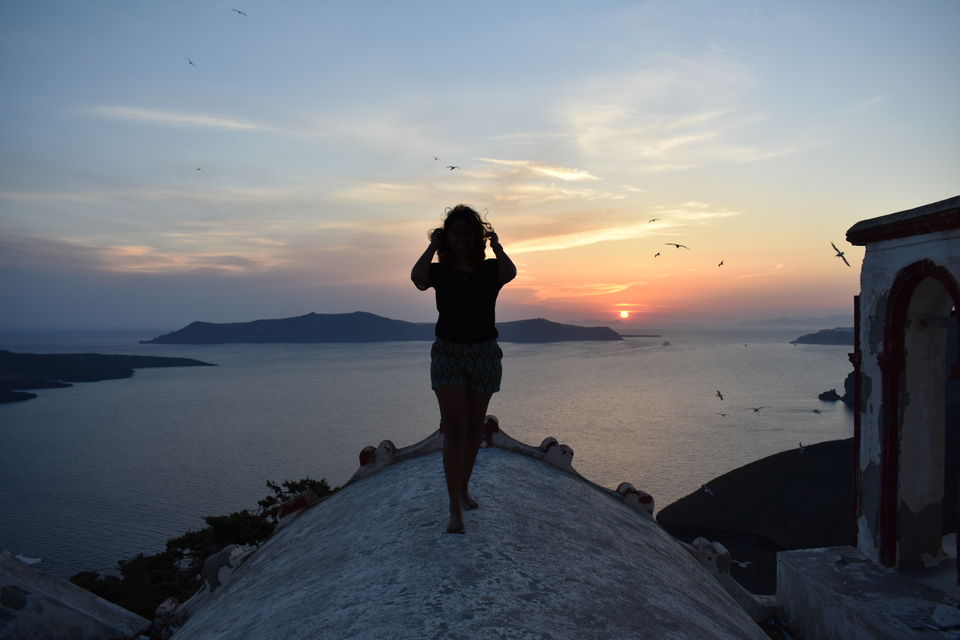 Our magical sunset view from one of the churches at Thira
3. Oia village- Catch the sunset with the multi-coloured cliff from the Oia castle (be sure to arrive at least an hour early before sunset to grab a good spot though).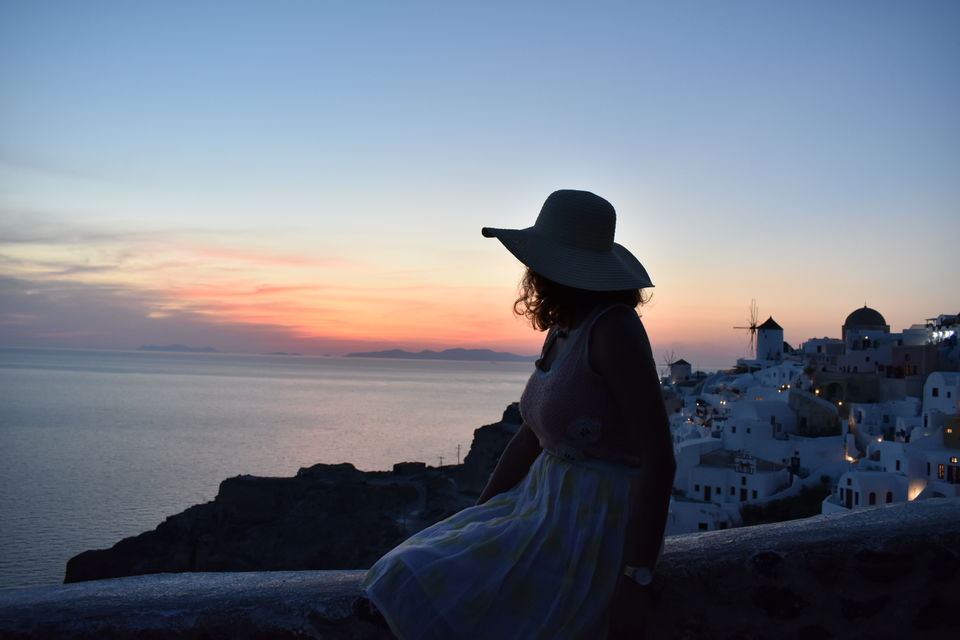 Cannot get enough of this view, Ever!
Eat: Selene is a Michelin star restaurant in Pyrgos but has a little sibling which is more casual and pocket-friendly.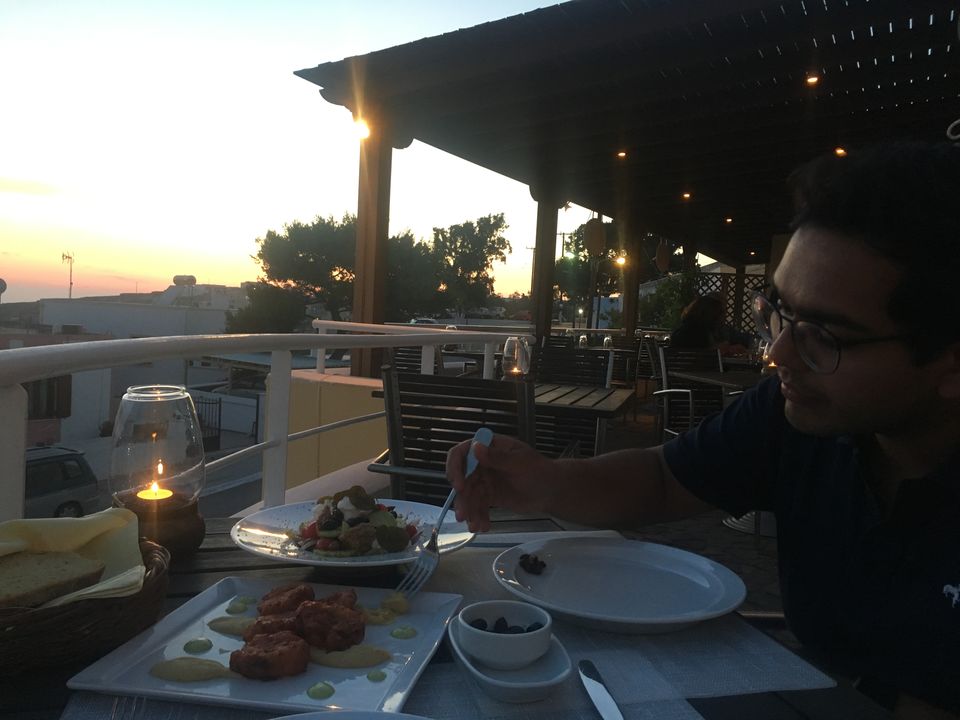 Selene Meze and Wine - delish greek food and the sunset
Johnnie Cafe is stunningly placed at the highest point in Pyrgos (the highest settlement in Santorini) offers 360 degree views that cannot be seen from anywhere else apart from an impressive selection of local cocktails (I tried Johhny's orange)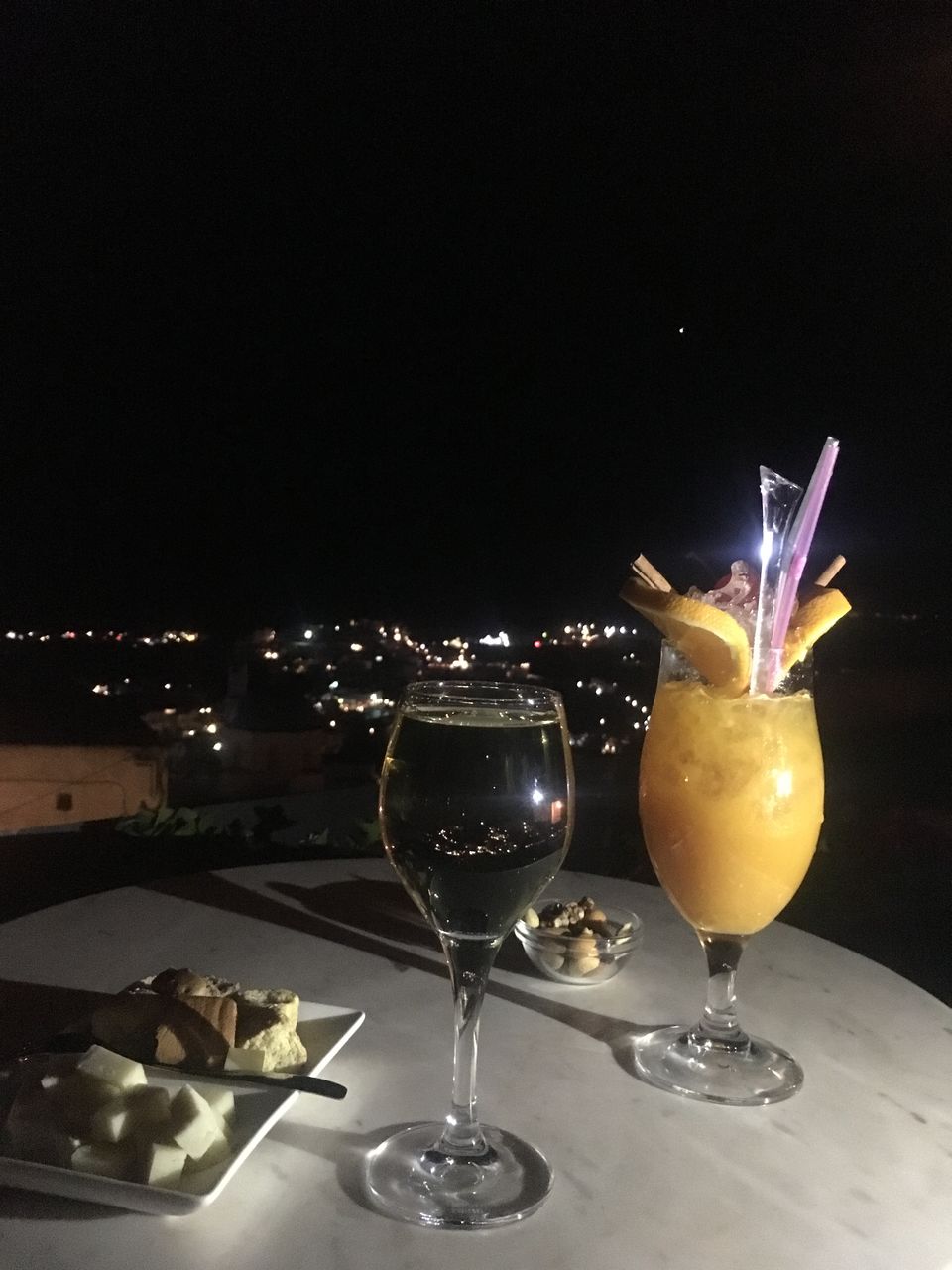 Johnnie Cafe in Pyrgos has arguably the best cocktails in town. Must try when in Pyrgos.
The gyros(a greek local dish) in Obelix Psitopoleio in Thira are sumptuous and cheap.
Ride: Bikes are again your best friend here (€20/day).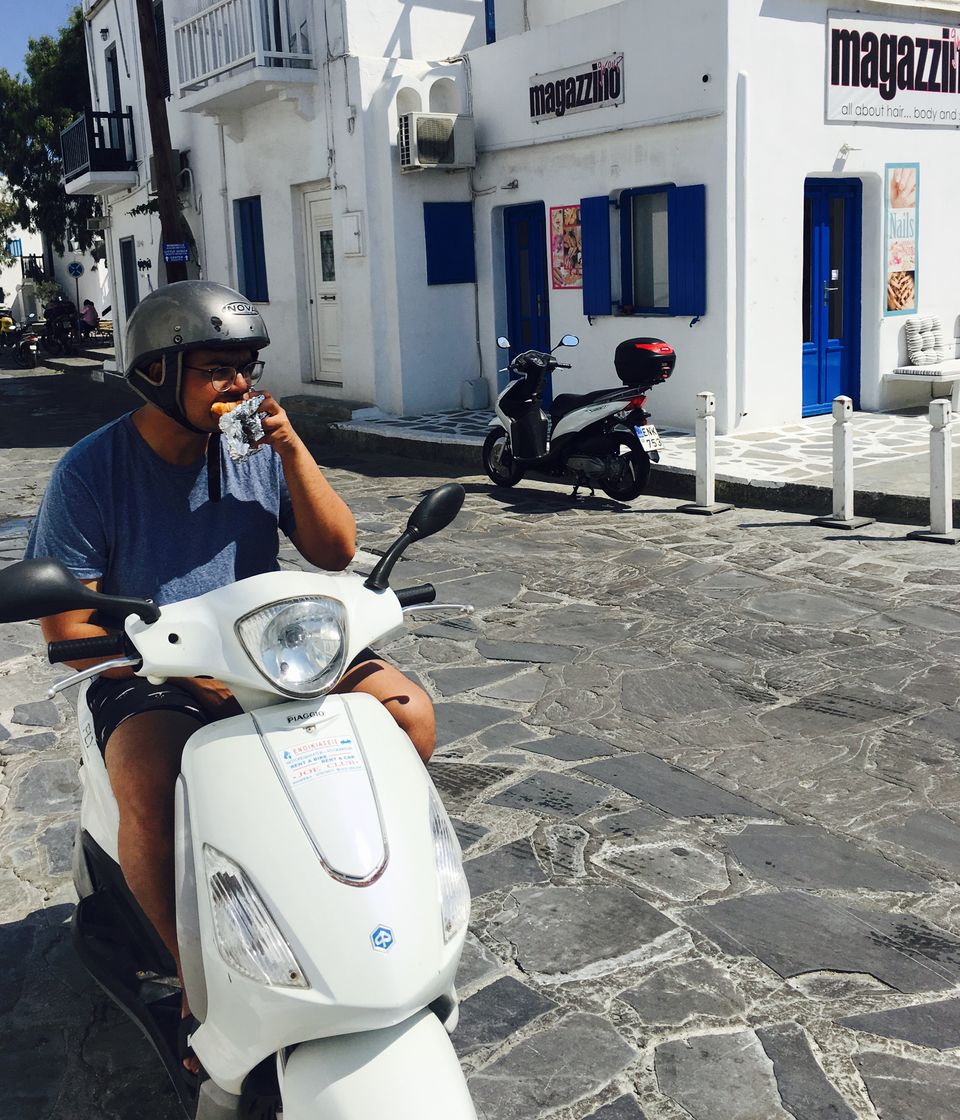 Breakfast on the go? Yes sure.
In case you plan to split your time here, a car hire (€45/day) is most convenient with luggage and ultimate airport-drop as taxi transfers are really expensive and unnecessary.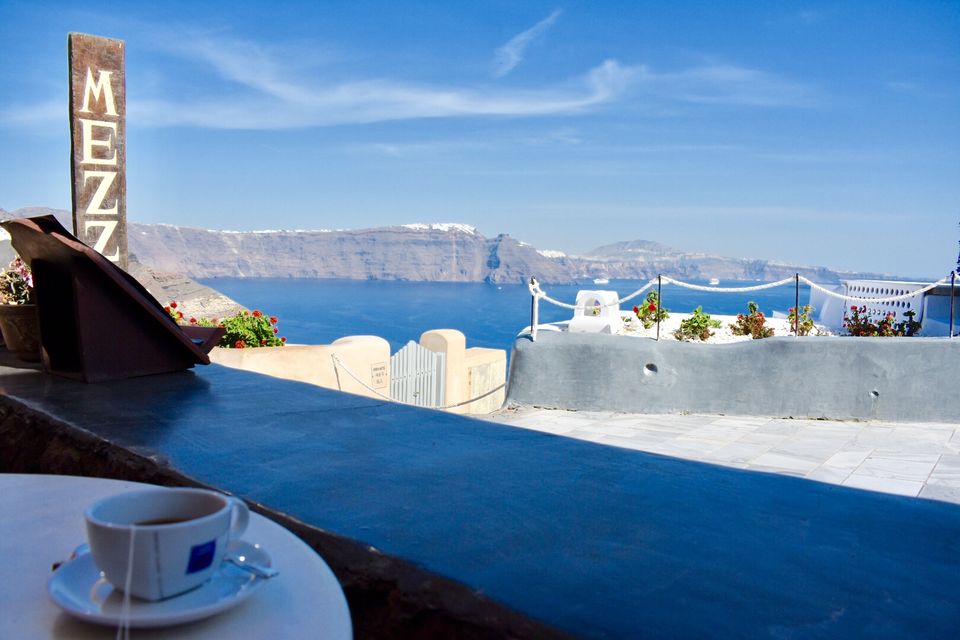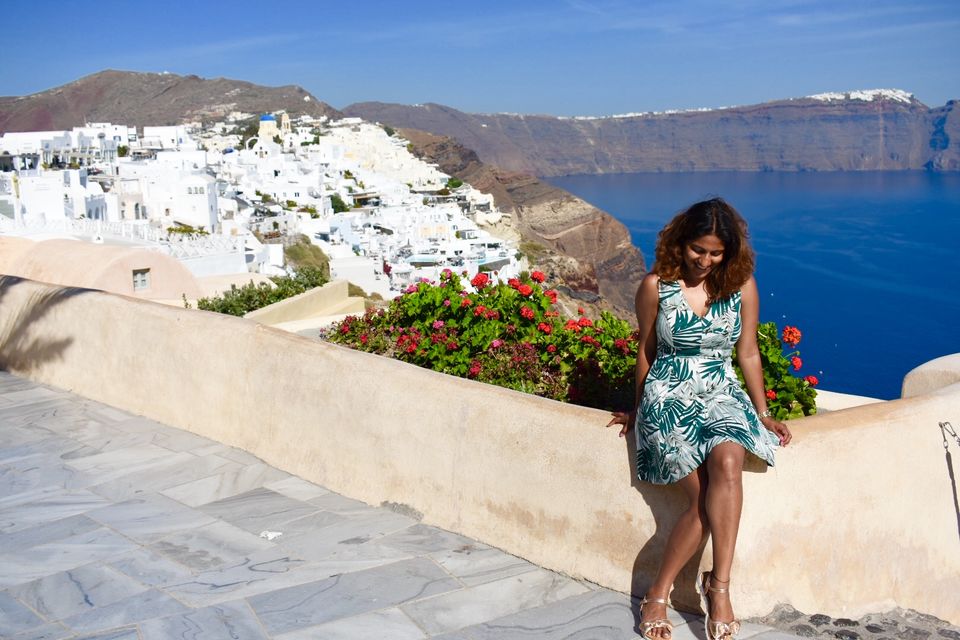 Love love love this place
Wait no more! Greece should undoubtedly be on top of your travel bucket list. The blues and whites will make you see the world differently.
Comment here or get in touch with us for any additional queries.