Egypt – Stepping into the Land of Pharaohs and Pyramids.
Ancient Egyptians have done humanity a favour. As one of the worlds first civilisations, their advancement in architecture, science, astronomy, and medicine continues to intrigue humans till today and has served as a foundation for the developed society we have today.
Above all, I think they have done a bigger favour to the present day Egypt. Amidst all the haggling, the chaos and the touts, our only driving force to keep going forward was our fascination with the pharaonic period. As we delved deeper, and as we moved down south to upper Egypt; our curiosity only intensified and we eventually learned to ignore the negatives around.
Picture a mountaineer who has just scaled the summit, she had been preparing for months. Now, picture us below: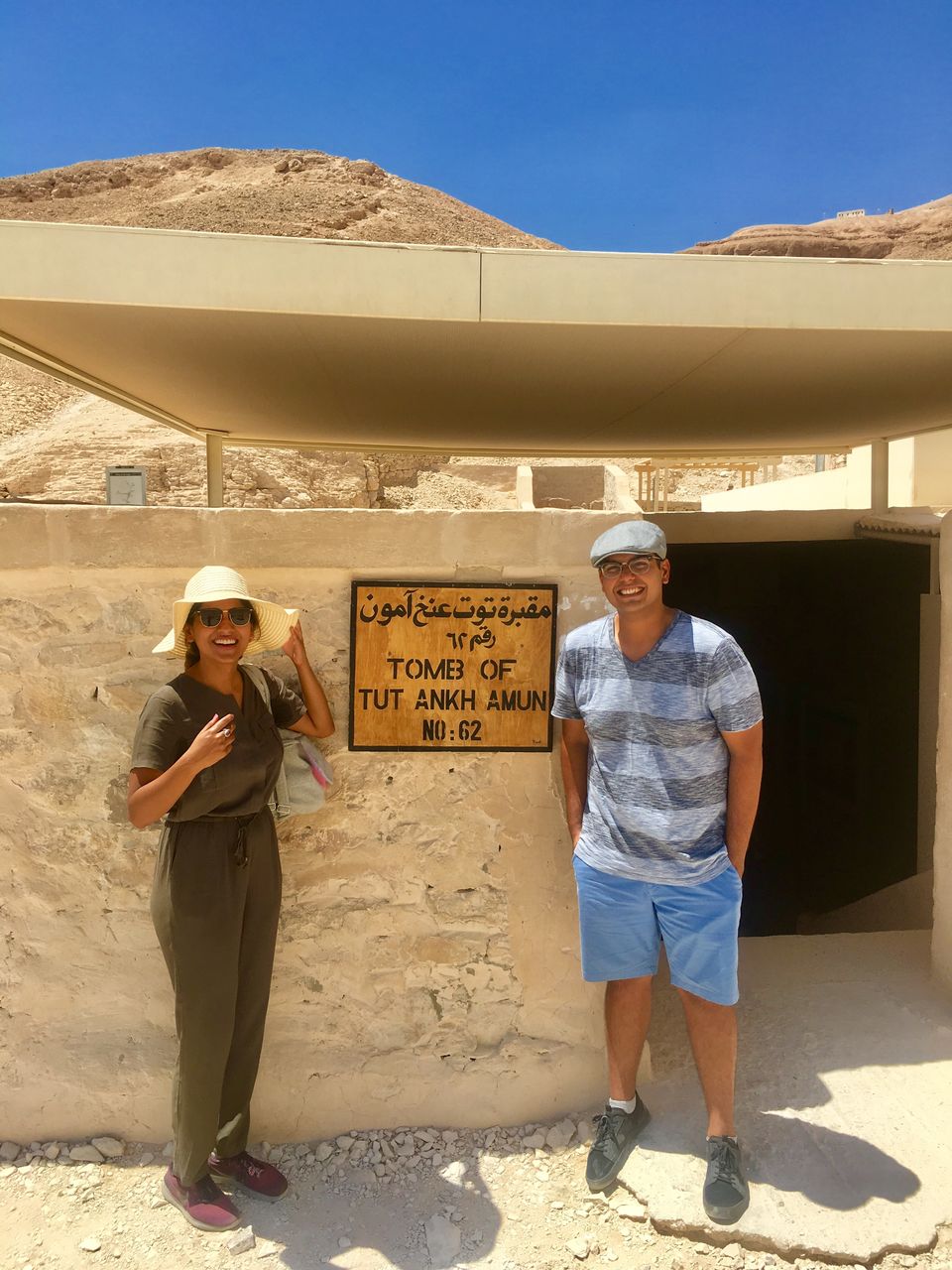 This was our moment; months of preparation and research finally led us to the tomb of the boy king, King Tut. The treasures found in his tomb adorn majority of the rooms in the Cairo museum and whose tomb discovered in 1922 is till date the only untouched tomb of a pharaoh ever found. Visiting his final resting place was a glorious end to stories we had been reading and hearing. This was undoubtedly the pinnacle of our Egyptian adventure.
Our itinerary
Usually when I write about itineraries, I layout the places we had been, the eateries we ate and the hotels we stayed in. I am going to deviate a bit, just this time. As I sit here waiting for my flight to Nairobi and thinking about the past two weeks here,
I think, I am in a position to advise you to avoid the mistakes we made and enjoy our highs a little more than we did.
Egypt needs at-least 1 week
• Spend 2 nights in
 

Cairo

 

admiring the pyramids and getting lost in the National Museum.
• Take a short flight to
 

Aswan

 

and directly get onboard on your

 

Nile cruise

 

(3 nights). Do not take either the night or the day train from Cairo; the journey is arduous and extremely tiring.
• As your Nile cruise leisurely sails its way up to
 

Luxor, it will give you enough time to explore the Edfu and Kombo Ombo temples that come along the way.
• Once in Luxor, take a private transfer to
 

Hurghada. Enjoy the best snorkeling, diving and just the tranquil red sea for 2 nights before heading back to Cairo.
• This sums to around 7 nights – 8 days, perfect for a Saturday to Sunday break!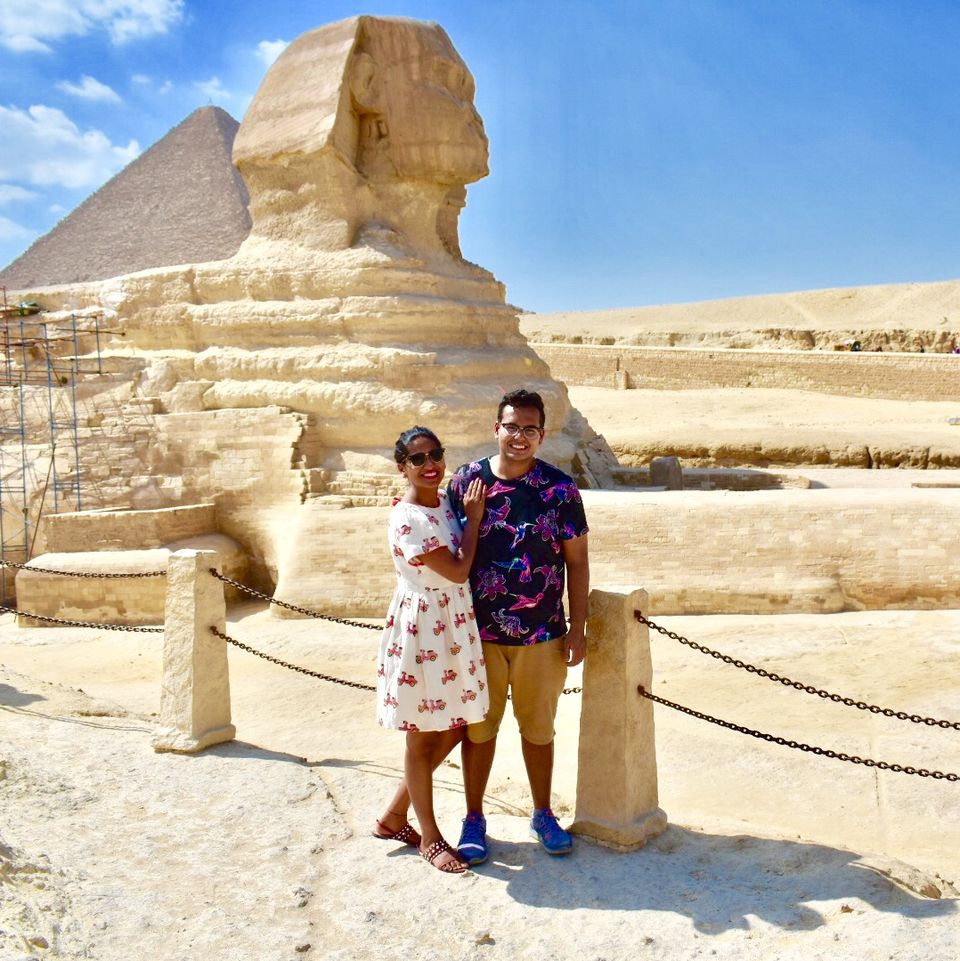 Cairo (2 Nights )
Must see:
• Egyptian Museum:
 

With the largest collection of Egyptian artefacts in the world, this place is a pharaonic treasure chest. For us, the highlight was the Mummies room and The treasures of Tutankhamun room, so much so that we visited these rooms again on our way out of Egypt.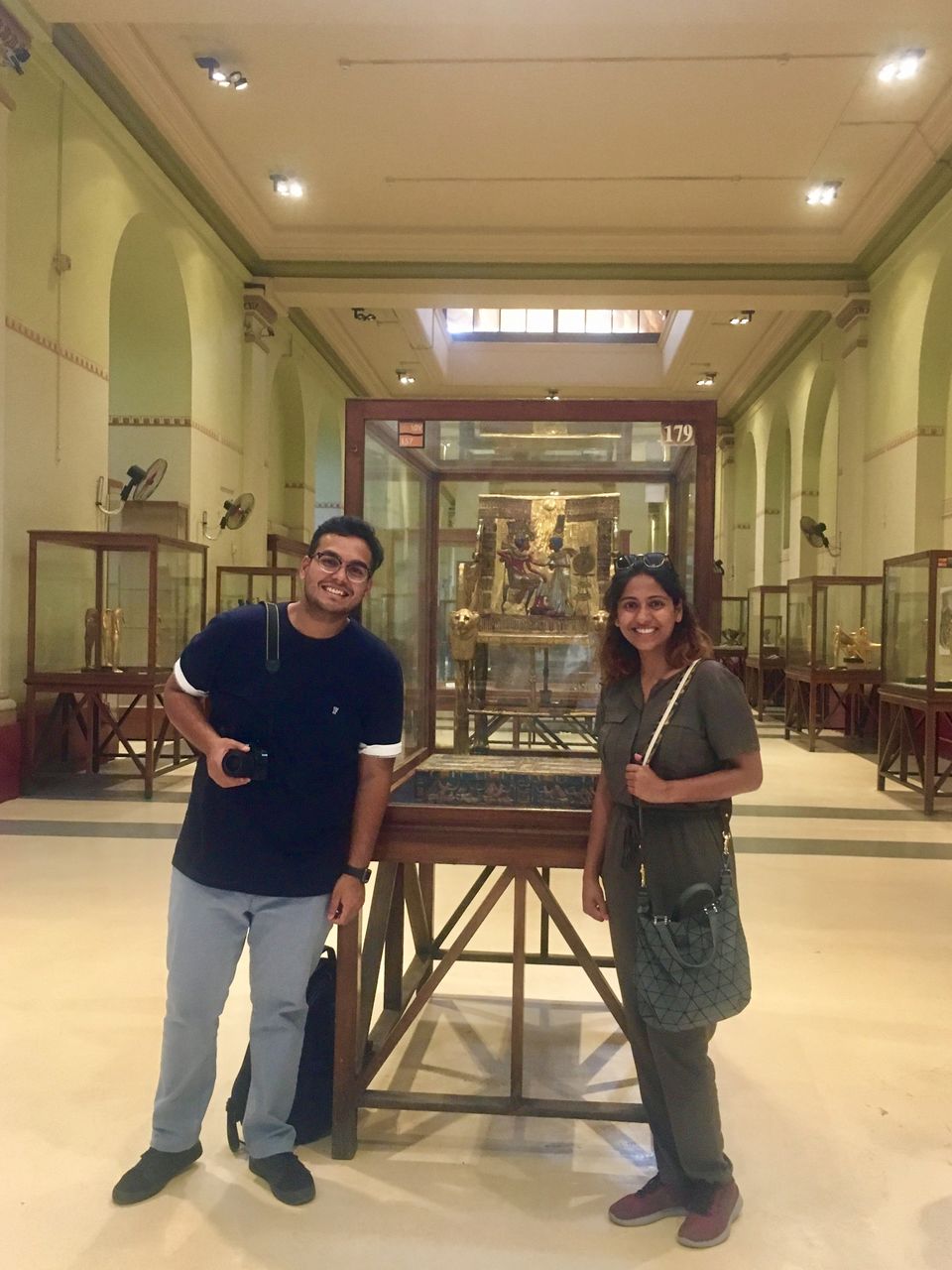 • The Great Pyramids of Giza:
 

How the hell did these guys do it? A question which boggled our minds, the first time we saw these larger-than-life structures. We spent hours and days (thanks to our pyramids view room at Le Meridien) admiring them but it really didn't help. Instead of any of our questions answered, our curiosity and astonishment only escalated.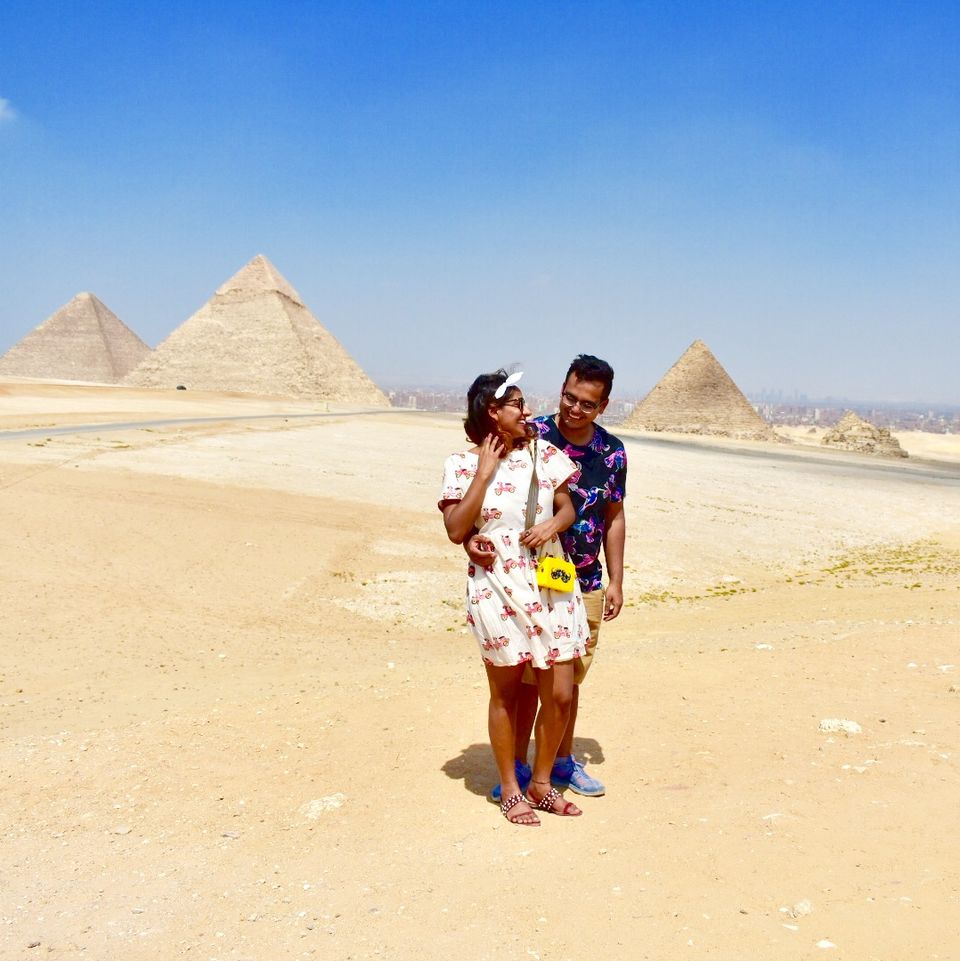 Must eat:
• Zooba, Zamalek: Hands-down our favourite restaurant in Cairo. We went there not once, not twice but thrice and even packed our airport dinner from here. Make sure you try everything on the menu.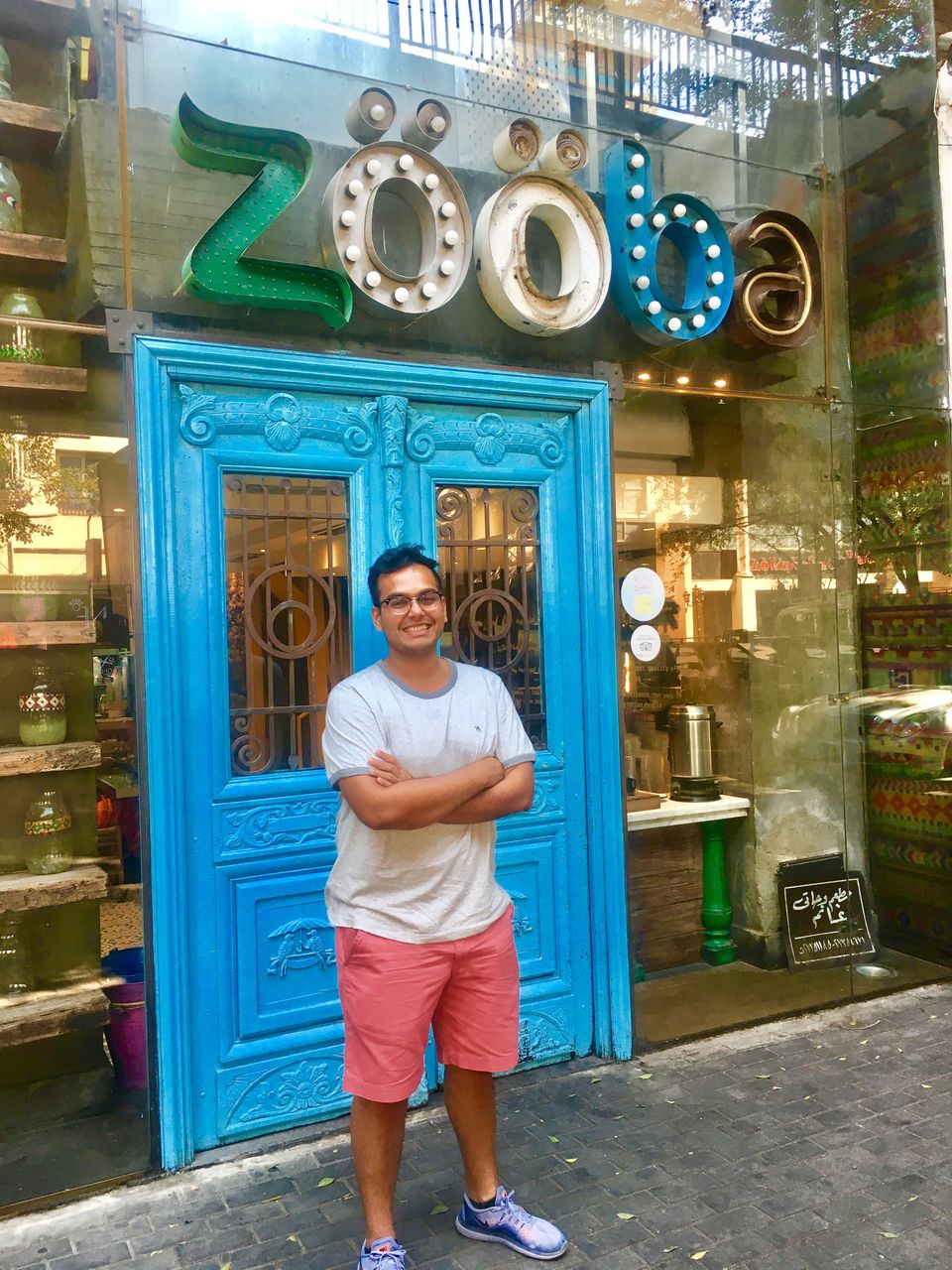 • Abou Tarek, Downtown: You have to try Koshary when in Cairo and you have to try it at Abou Tarek. Koshary is Egypt's national dish, is surprisingly 100% vegetarian and is a refreshing version of what we know as pasta.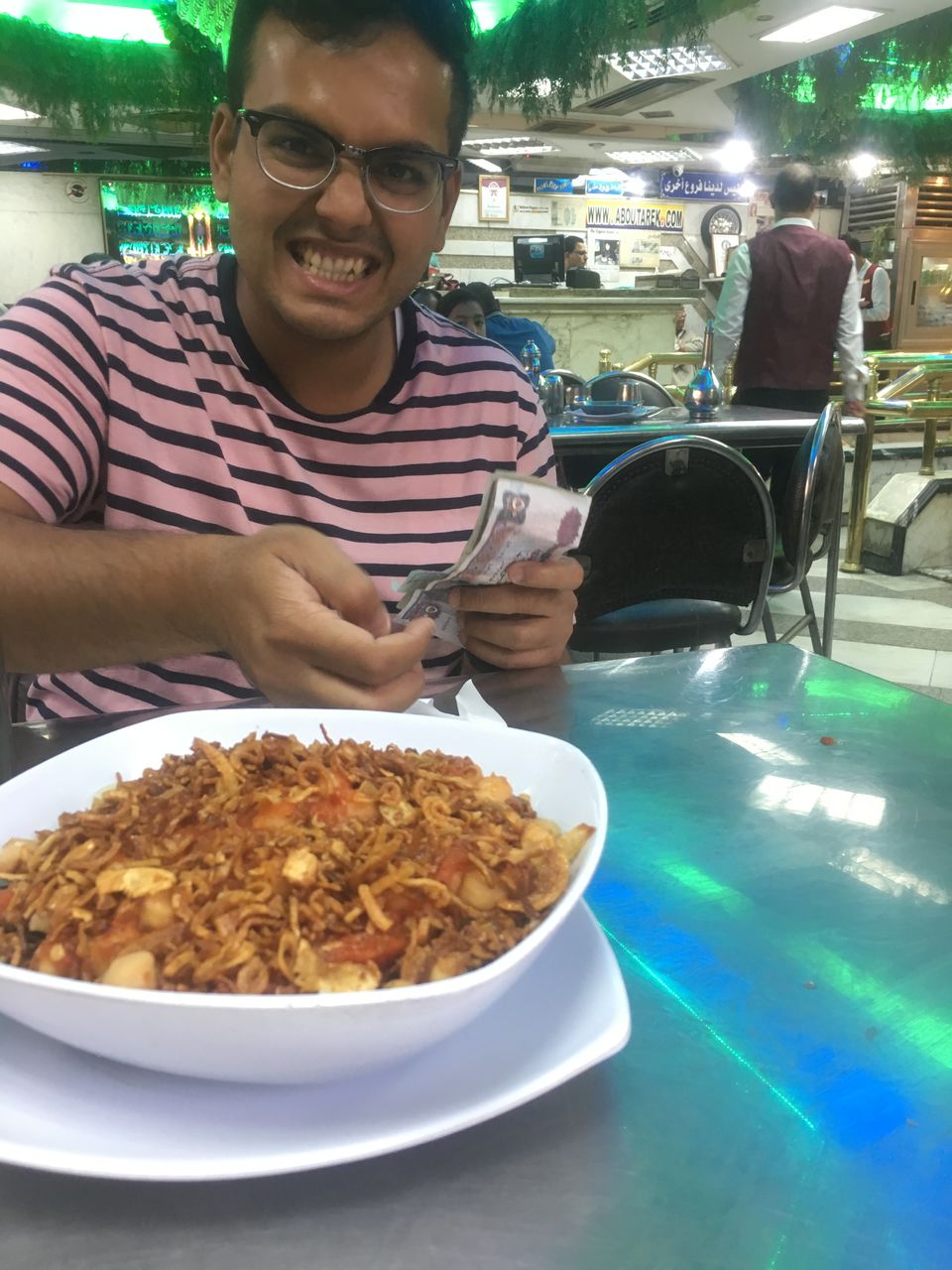 • Sequoia, Zamalek: This upscale lounge is simply about the view and the breeze. Situated at the edge of the Zamalek island, Sequoia is where the paparazzi in Cairo head to every evening. The 250 EGP cover charge is a real bargain for being pampered like an Egyptian Pharaoh.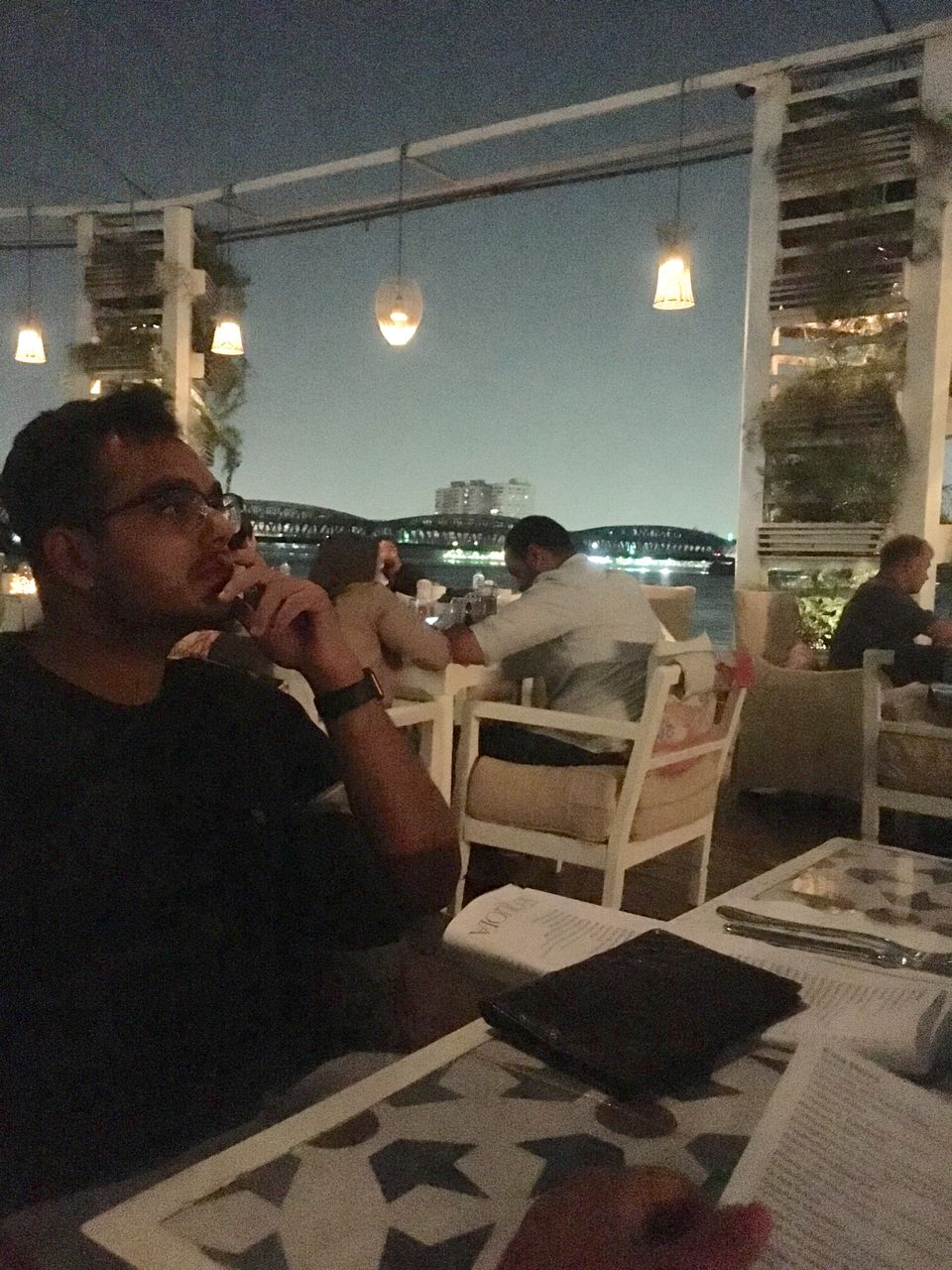 Stay:
• Having spent a week in different locations in Cairo, Giza has won our vote for the top spot for a 2-night stay. Just do yourself a favour and book a Pyramids view room at the
 

Le Meridien in Giza.
• Just in case you still have to stay in the city, avoid Downtown and instead opt for the trendy Zamalek island. The President Hotel is an ideal choice to experience authentic local hospitality
A bulk of the excursions in Aswan and Luxor are part of the overall Nile cruise package. Below are our favourites and certainly ones you cannot miss. For our cruise, we were on Royal Esadora, an excellent value for money for all meals and excursions. (For more details on how to score a cheap Nile cruise, read
 

Things you cannot afford to not know before you go)
Aswan (2 Nights- on the cruise)
Must see:
• The Unfinished Obelisk:
 

In the largest red granite quarry in Egypt, lies the obelisk which cracked before it could be separated from its mother rock and hence left unfinished. The place is not really about grandeur but about the innovative building methods used by ancient Egyptian.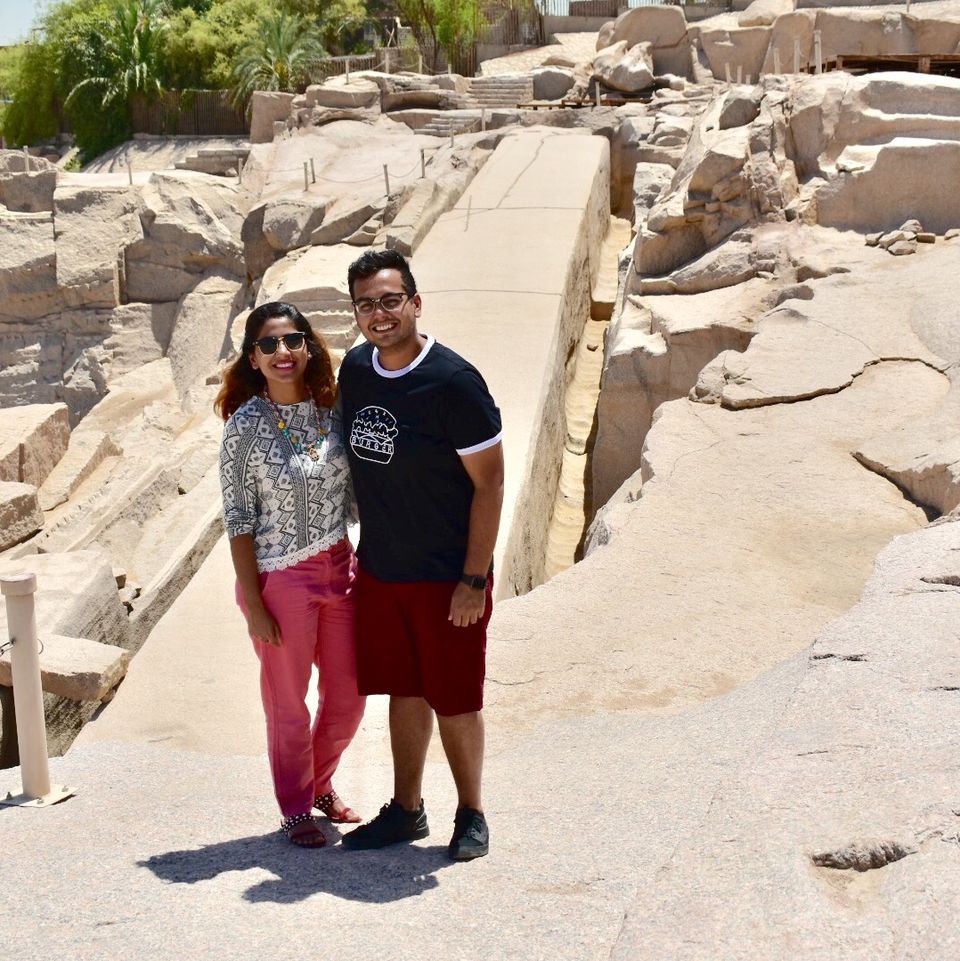 •
 

Nile Felucca Ride:

 

Sail on a Felucca to experience the Nile the most authentic way. A visit to one of the Nubian villages (Nubians are Sudanese people living in southern Egypt) gives you a peek into the traditional way of life.
• Very early morning trip to Abu Simbel: This trip is not for the faint-hearted. It involves a 3am wake-up and 6 hours drive for a 1 hour visit to the Abu Simbel temple. The result though is breathtaking. Standing at 21m, the four statues of Ramses II, one of the longest serving Egyptian pharoahs is a sight to behold.
Some facts:
 

Rames II rules Egypt for more than 60 years, fathered more than 200 children, died at the age of 90 (a rarity during those times) and his mummy rests peacefully at the Egyptian museum (one of the must see mummies when you are there).
Luxor (1 Night- on the cruise)
Must see:
• The Valley of the Kings:
 

Here lies the boy king, Tutankhamun. Nothing can describe how we felt when we entered the tomb KV62, his final resting place. The tombs of the pharaohs in this valley, the paintings and the elaborate heliographic inside stands testament to the unshakeable belief the Egyptians had in the afterlife. So tuck away your phones and listen to your guide. He will have some of the most interesting stories to tell!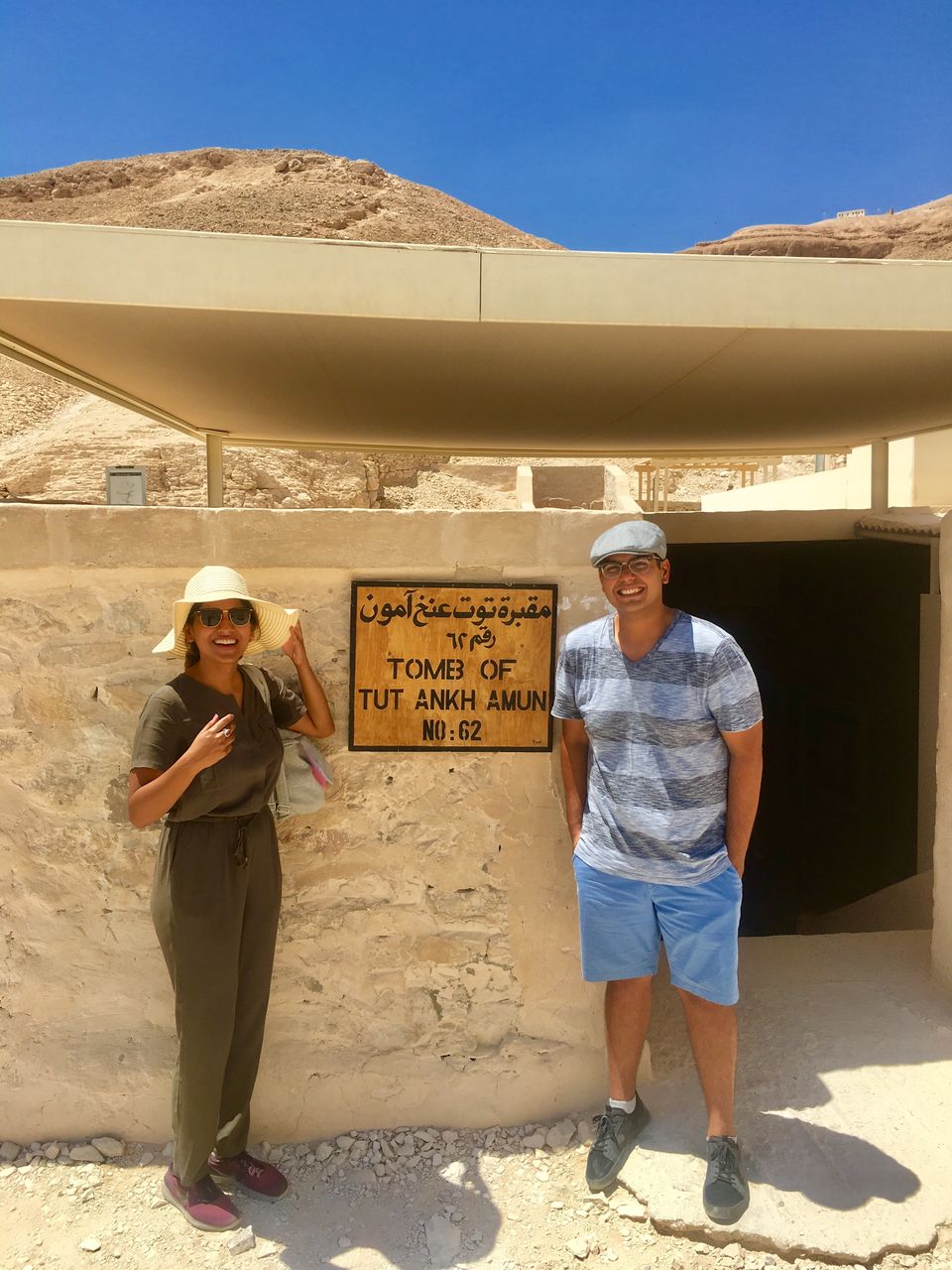 Hurghada (2 Nights)
Must see/do:
• Diving / Snorkeling Trip:
 

I dived, I dived, I dived and I still cannot believe it! I cannot swim and I dived!. One of the most exhilarating experiences of my life.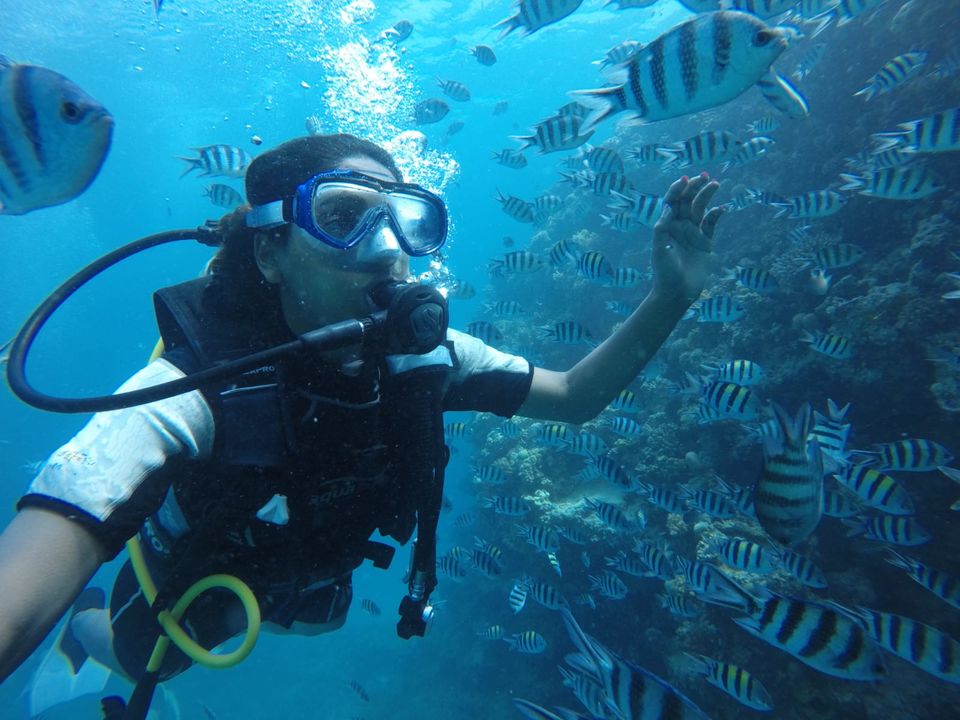 Here are the feelings I went through:
♣ Anxiety: waiting for my turn and seeing others 'drown'
♣ Fear: inside the water, with my guide slowing lowering the pressure taking me down
♣ Awestruck: gazing at my mask-magnified colourful corals and marine life
♣ Victorious: climbing back to our yatch after a successful dive
• Lazing around on the beach:
 

For the rest of the days, we adhered to the holy trinity of a beach holiday: Eat,Laze and Swim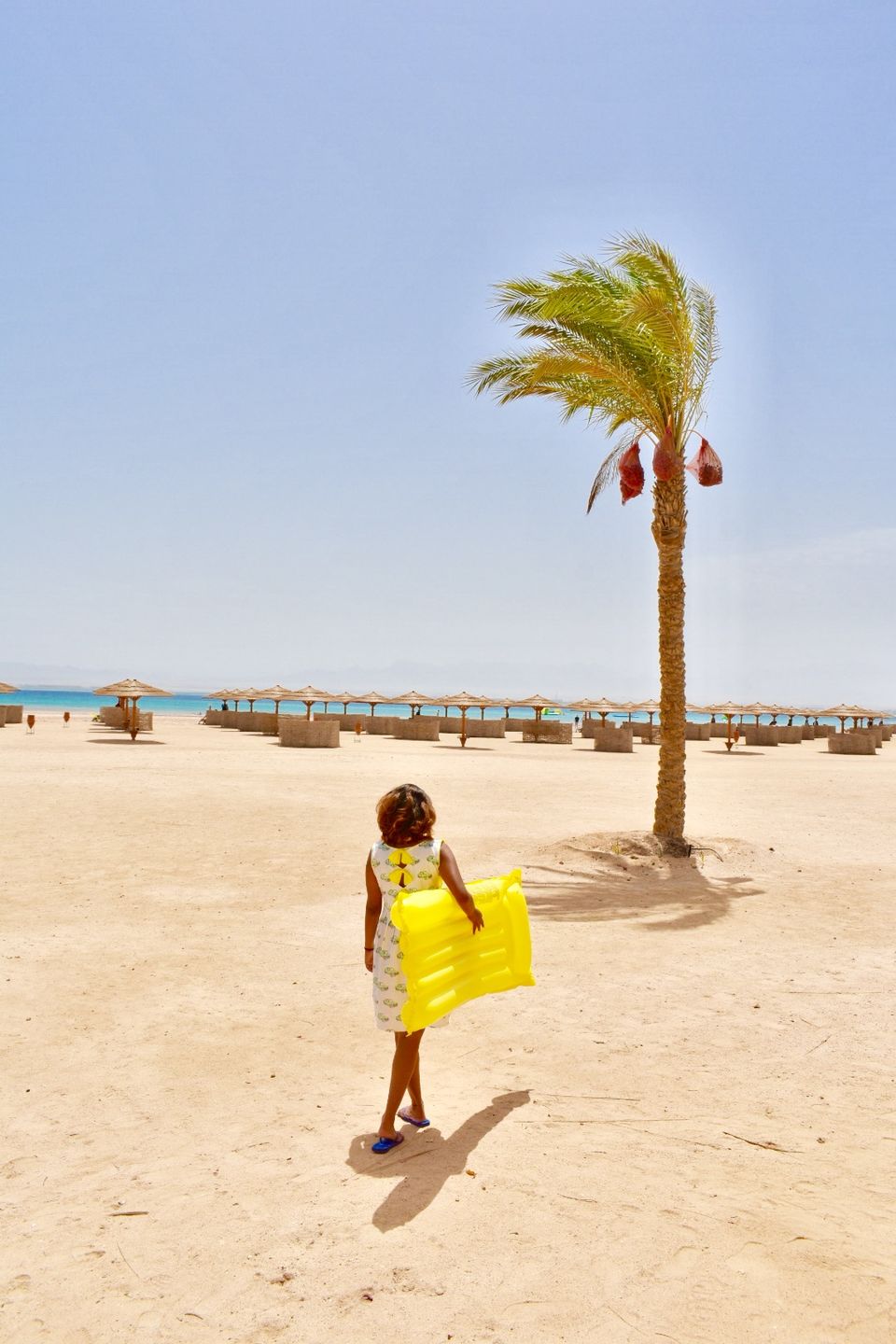 Stay:
There is no dearth of luxury in this small red sea resort town. We chose Sheraton Soma Bay, it offered a complete package in terms of price, facilities, and location.
They say, Soma Bay is one of the most beautiful to swim in and boy! were they right then the said that. The water was blue, clear and saline enough for me to float. No man can ask for more!