There is a fundamental truth about a desert whether it is summer or winter, it is hot! I believe even the architects of UAE tourism were probably aware of this inevitable reality and hence everything to see and experience in this man-made metropolis is air-conditioned or is dextrously lit up to be in its full grandeur even when the sun sets down.
Our travel motto in Dubai was simple: Get indoors when the sun is out and get out when the sun sets in.
Also with hotel prices at rock-bottom, you can experience sheer luxury at a bargain
 

(Expect 5* hotel tariffs at 4,000-5,000 INR per night for 2 persons, including breakfast :p). The prices for outdoor activities also slash down by half during the summer months.
We split our time in UAE between Dubai and Abu Dhabi. While Dubai has raced ahead as the go-to tourist-destination in the UAE, Abu Dhabi is fast catching up and offers experiences unlike Dubai.
This is not a typical day to day itinerary, but has the Top things you can't miss when in Dubai during summers for the sheer pleasure of living in luxury on a budget!
Read below for all the tips and tricks to escape the sun
During our stay, our mornings were usually spent at the breakfast table and the swimming pool and our 'days' really started in the afternoon. It would have been a sin to miss the luxury on offer at our hotels.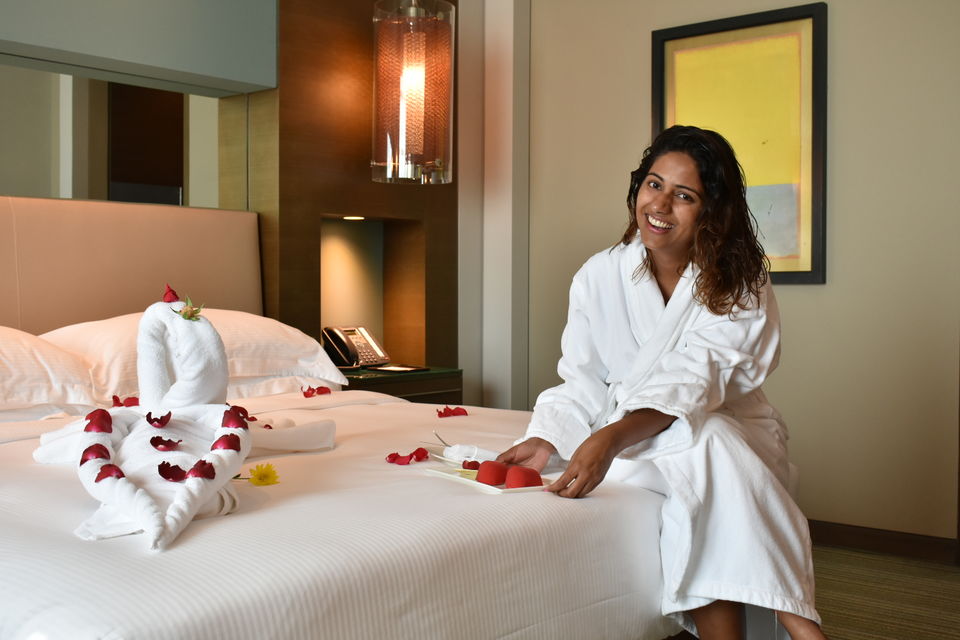 Afternoon To Do's
1. Shop in the largest mall in the world:
 

I can understand if you are not visiting the Dubai Mall for shopping. The beauty of the Dubai Mall is that shopping is just one of the many things you can do here. There is the world's largest indoor aquarium, there is the world's largest choreographed fountain system and there is the laser show on the world's tallest building. Too many superlatives! Believe me, all of these are superlative experiences as well. Insider tip: The Apple store at the mall has one of the best views of the fountain. Go early as it gets busy. Fountain runs every half hour from 6 pm to 11 pm. It's a free spectacle.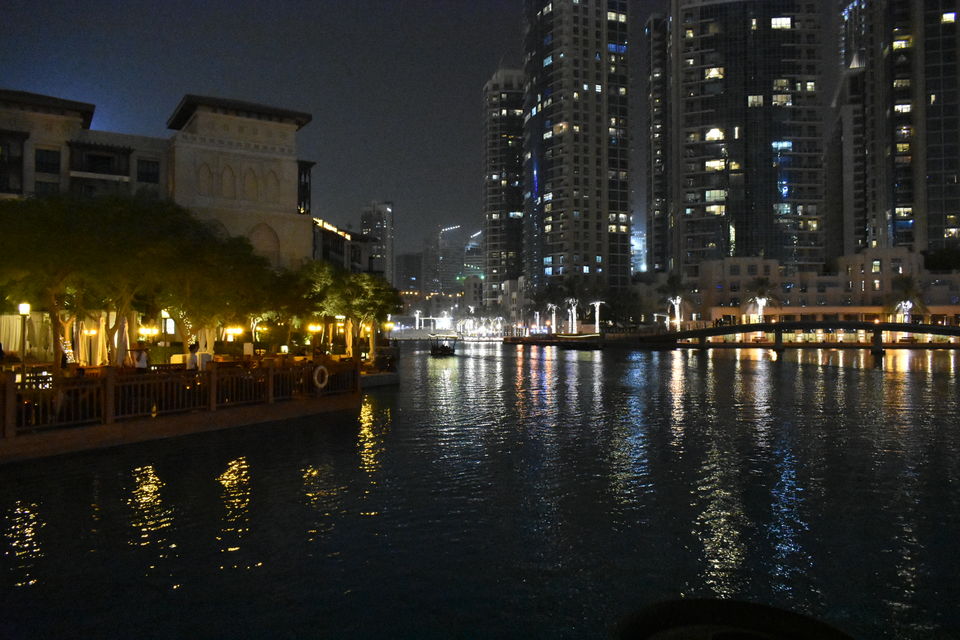 2. Dune bash in the Arabian desert (Extends till evening): If you start feeling inquisitive when your driver starts deflating the tires of your swanky Land Cruiser or insists you tighten your seat belt even at the back seat, take my suggestion, and hold your thought.
A ride into sand dunes explains everything. I am sure you would be told, but make sure you have light lunch that day; all the kebabs for later, please! This ride is Dubai's answer to the western roller-coasters and unlike the west, this ends up in a luxurious camp in the middle of the Arabian desert. I surely made up for my lunch with the kebabs on offer. Sit around on the cushions, try a whiff at the shisha and enjoy the glamorous belly dance show. I felt like a well-fed and well-entertained Sheikh, I am sure you would too.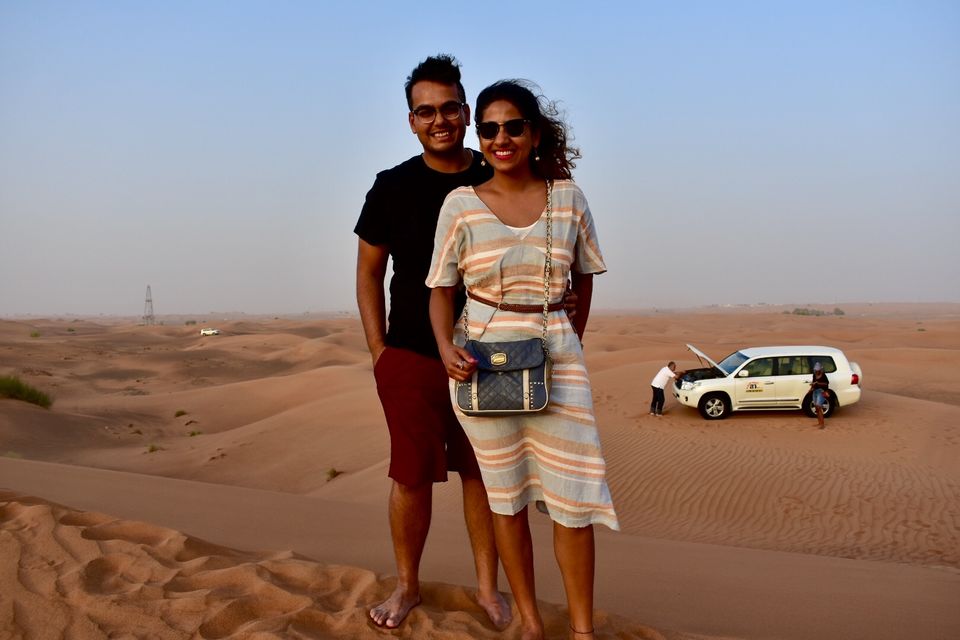 Tip:
 

Arabian Nights LLC

 

had a fab offer in which they were giving away the desert safari and the dhow dinner cruise at the price of one (i.e. 5,000 INR / person). Make sure you ring them once if you visit during this time of the year.
3.
 

Ski in Mall of the Emirates:

 

What better way to beat the heat than spending an afternoon in a ski resort? No matter if you are a beginner or you have never held ski poles before. Go ahead and give it a go. I am sure you will at least fare better than me. I am a disaster at skiing. The fall still hurts!
4. Sink-in the birds eye-view of the Palm islands:
 

I have never been able to see the birds-eye view of the Palm islands. Somehow, always missed it while landing in Dubai. Neither did I ever stay in the swanky high-rises in that area nor had the guts to sky-dive over the city. If you fall into my category, head over to the Observatory at Marriot Harbour Hotel, Marina.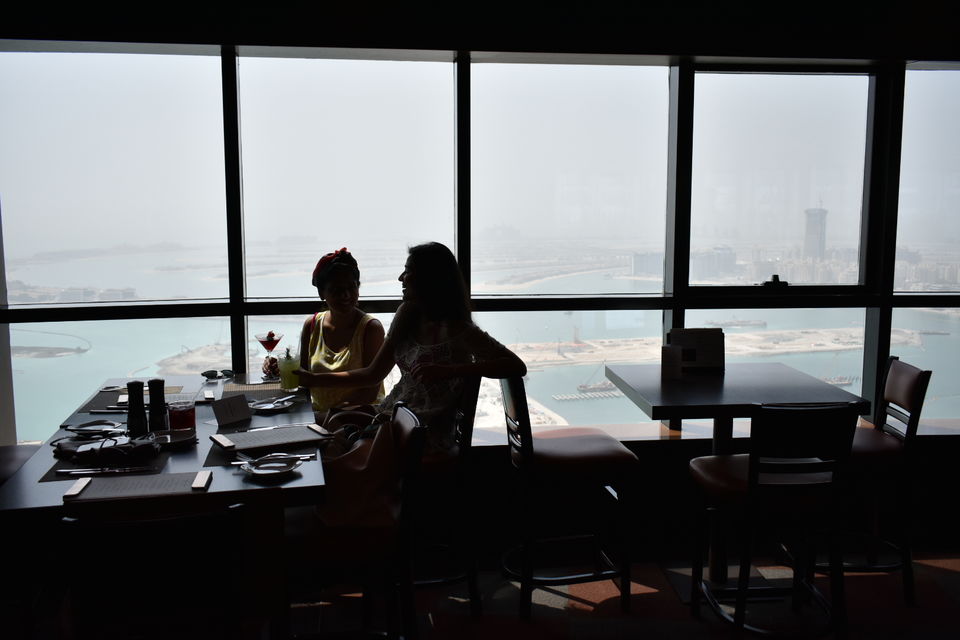 Apart from the excellent vegetarian lunch menu and delicious cocktails, the view of the Palm islands is sure to sweep you off your feet. You will be set back by about 1,000-1,500 INR per person for food and drinks.
5. Spend an evening at Jumeirah Beach:
 

With the Burj Al Arab in the background, click a few must-have pictures (proof that you really did visit Dubai), grab hold of a shawarma from a nearby stall and get ready for an evening of introspection.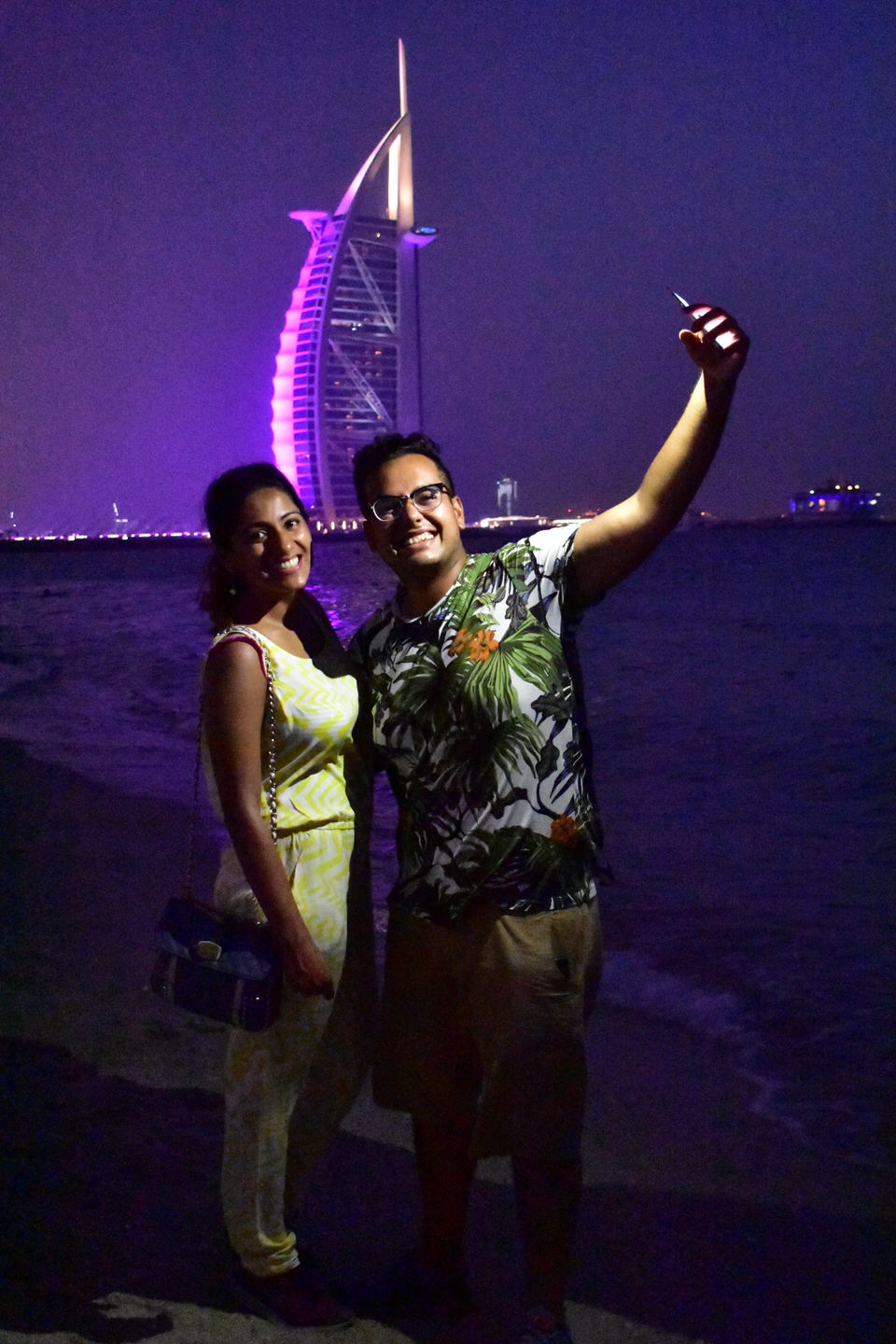 It's free plus you get health benefits with your evening walk, you see. Nothing else, absolutely nothing else could transform this sleepy desert town to the buzzing cosmopolitan city it is today; but people's determination to continuously improve and build on what is present.
Evening To do's
6. Be on top of the world at Burj Khalifa:
 

This experience is incomparable, irreplaceable and unforgettable. Feel your ears ache as you ride the world fastest elevator and hold your hearts as you walk into the open terrace on the 154th floor. We chose a time just before sunset, it lets you admire the skyline in daylight as well when it is brilliantly lit up at night. Be sure to locate the Dubai fountain when you are leaning down from the terrace, it is a majestic spectacle and even better when seen from the top of the world. This shall cost around 2,000-2,500 INR per person.
7. Sail on a traditional dhow:
 

As you get lost in the urban jungle, make sure you find time to experience how people in Dubai sailed on the creek when it was a small port town and the luxury yachts had not yet reached its shores.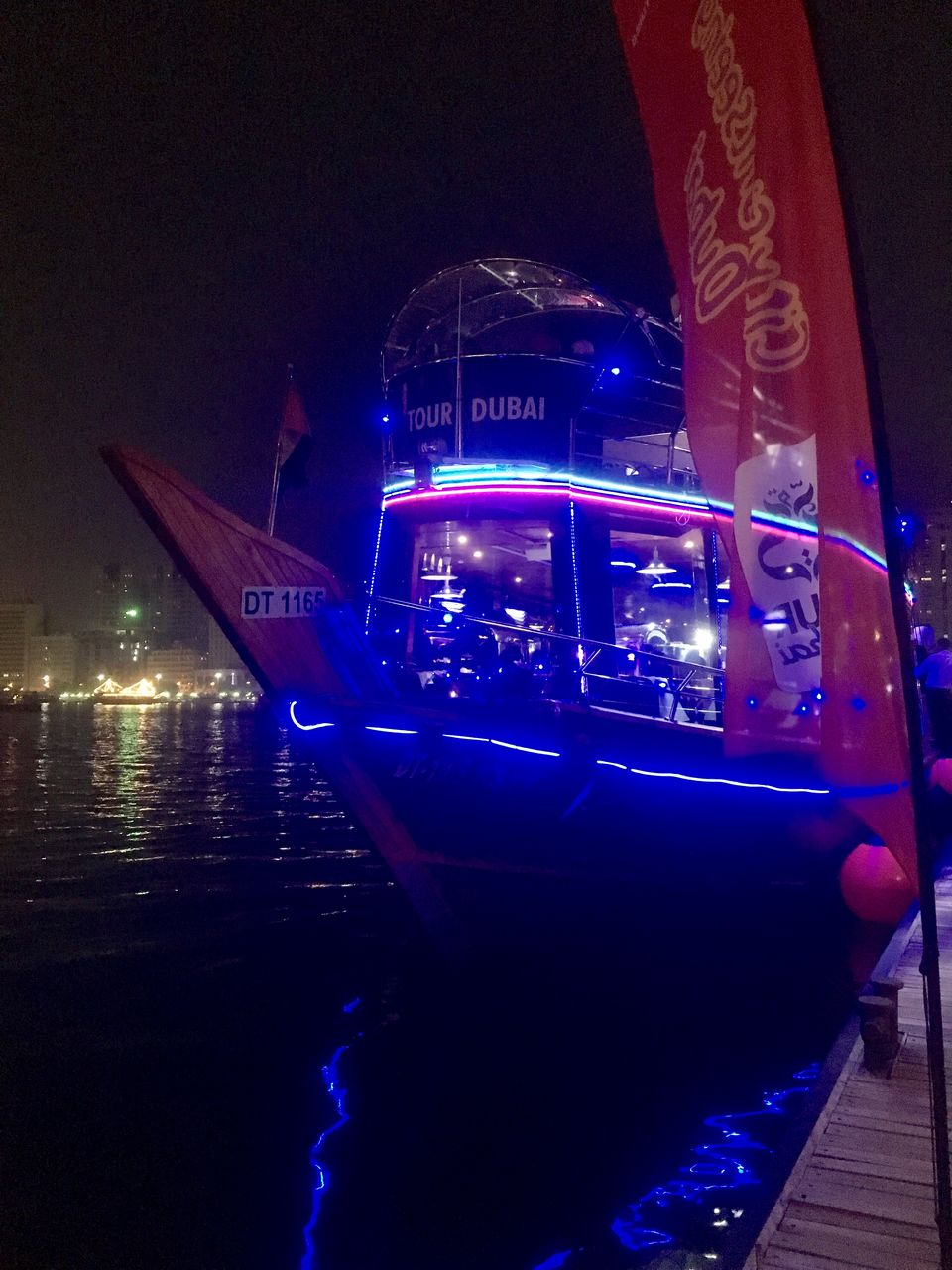 So switch off your phones, enjoy a sumptuous meal spread and soak in the views of this beautiful city at night.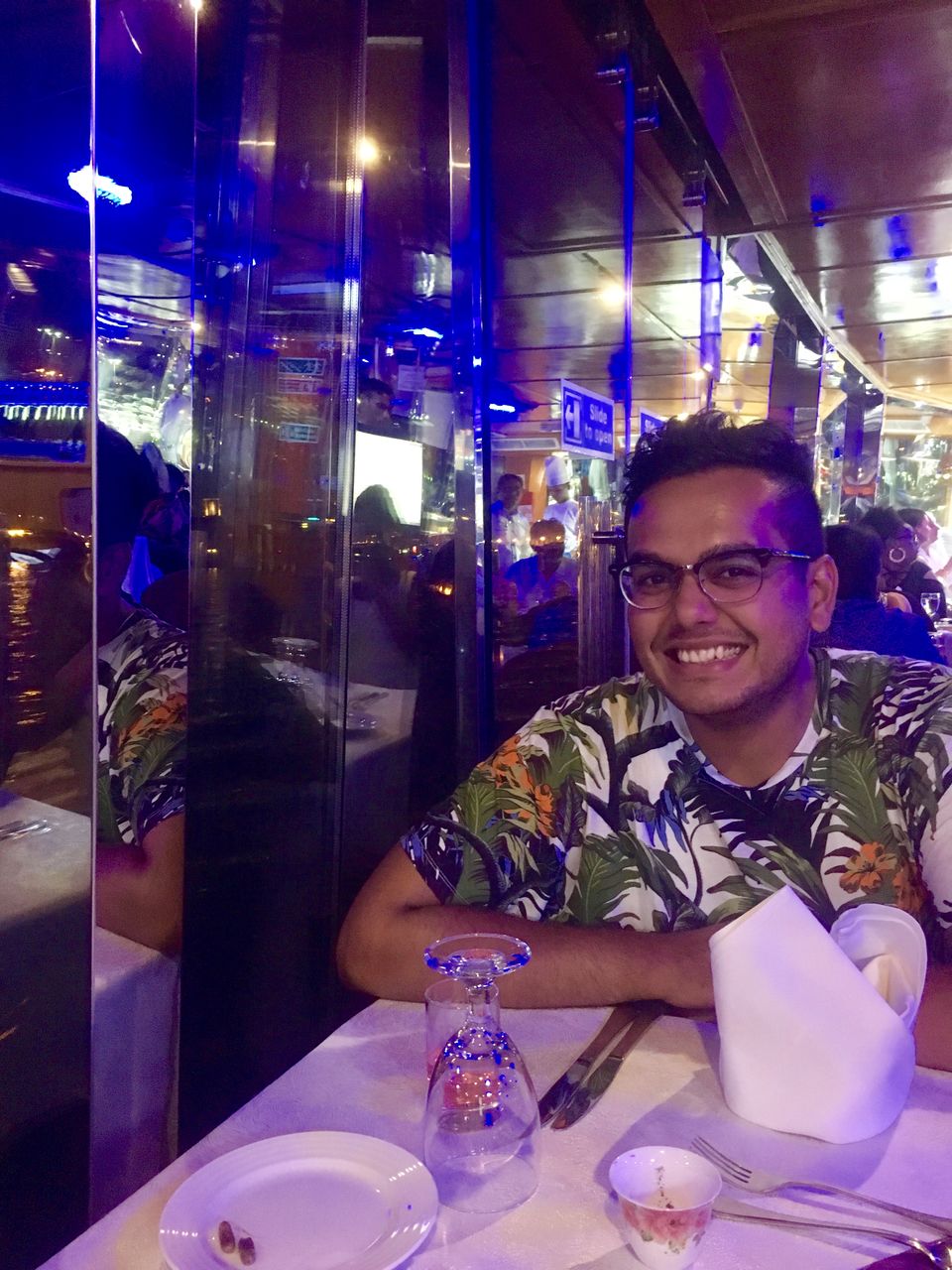 This experience was a complimentary add-on along with our Desert Safari.
8. Experience Gold being sold like vegetables: When I packed my backpack for this trip to the gold souk, I left a very important thing back, my credit card. Before you get critical, it was a straight choice between continuing the tour to Africa or maxing out the card and head straight back home. If only, the prices in the souk were even remotely comparable to that of a vegetable market. Just stroll around the market, try a few pieces, be in awe of some and come back to your hotel dreaming about the gold paradise ( No buying right! we are on a budget you see :p)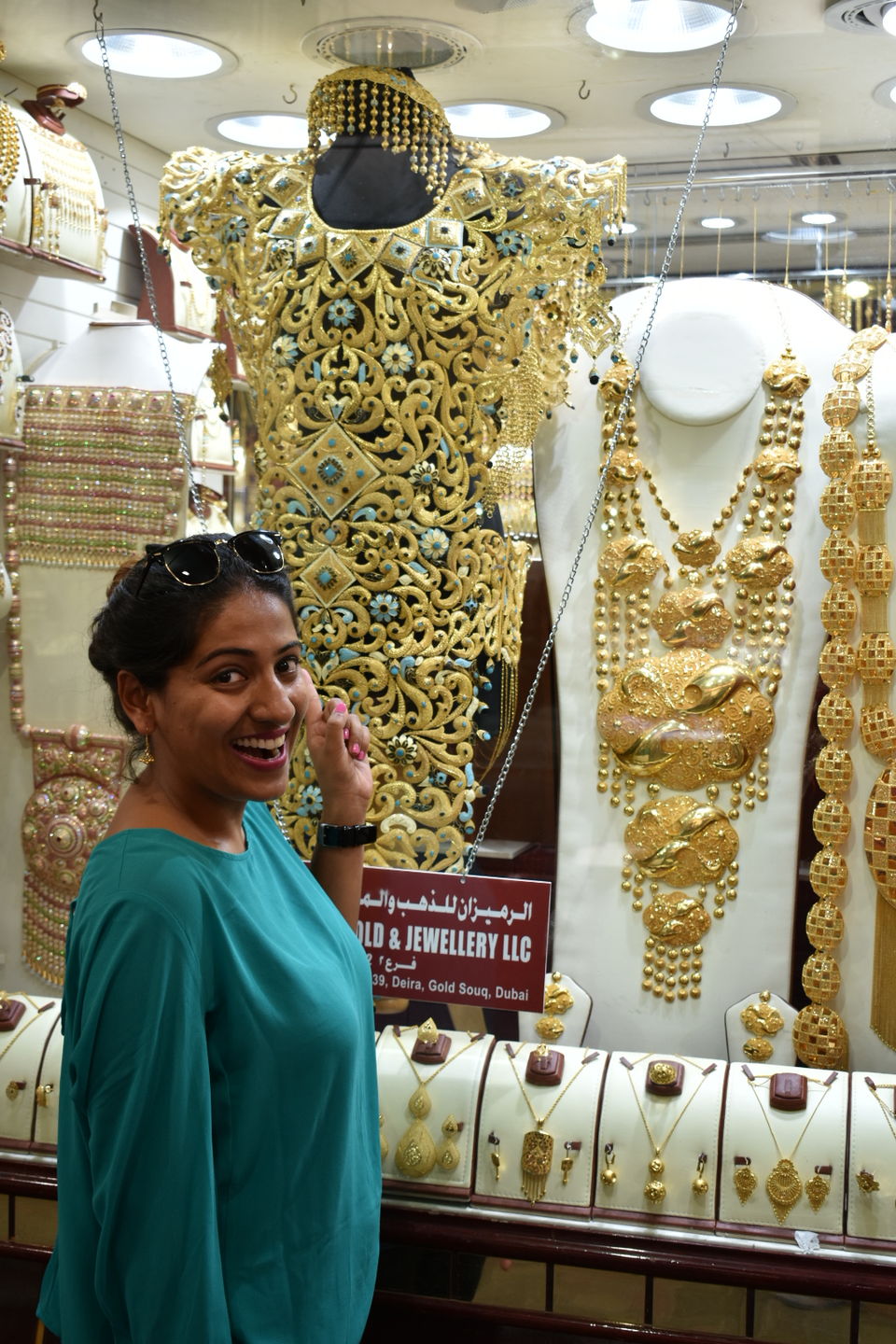 You can also visit the Spice Souk, which is adjacent to the Gold Souk and inhale the aroma of spices in the air.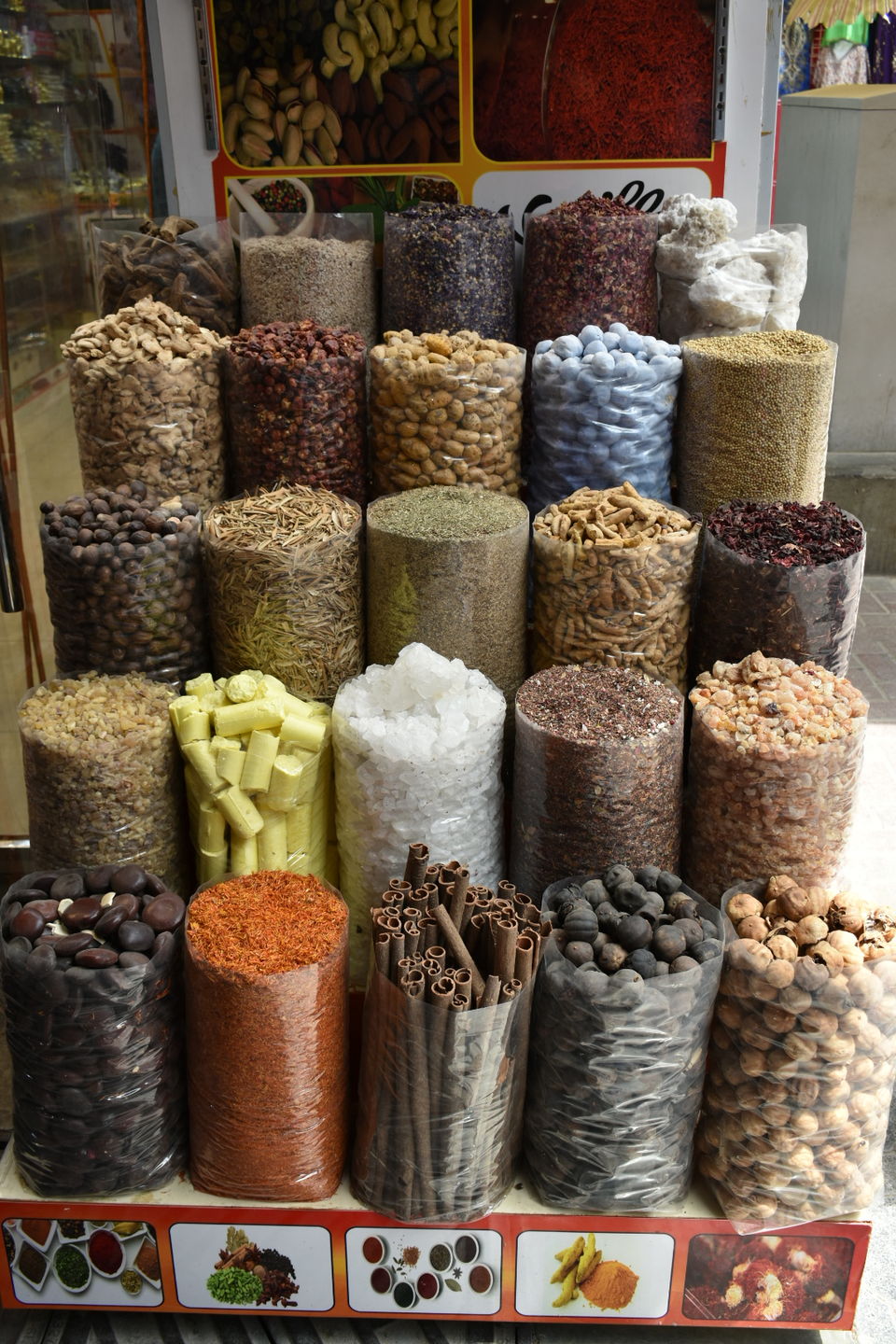 Afternoon To Do's
1. Ride on the fastest roller coaster in the world at Ferrari World (Extends till evening): Don't judge me, please! I am a roller coaster buff. I was so excited this day that I landed up at the Ferrari World's entrance even before it opened for the day. Just picture my proud face as I beat everyone else to be the first one on the Formula Rossa, the fastest roller coaster in the world; it was happiness in its purest form. My happiness aside, make sure you visit this fully indoor and air-conditioned theme park for a dose of action. If you are of the 'gentler' variety, there are a number of leisurely rides as well. And if you are a Ferrari fan, then it is honestly a shame that my blog is the first time you have heard about this paradise. Well, this one is not for the faint hearted, a full 1 day ticket in the park costs around 5,500 INR/ adult and kids under 3 have free entry.
2. Add some gold to your coffee (yes! There is no typo):Try the 24k Gold cappuccino at Emirates Palace Hotel: I really thought that the gold bullion ATM was really the farthest boundary of luxury and opulence one could go to. When I heard about the 24k gold flaked cappuccino at Emirates Palace hotel in Abu Dhabi, I was shell-shocked, these Sheikhs really can find innovative ways to spend their bucks.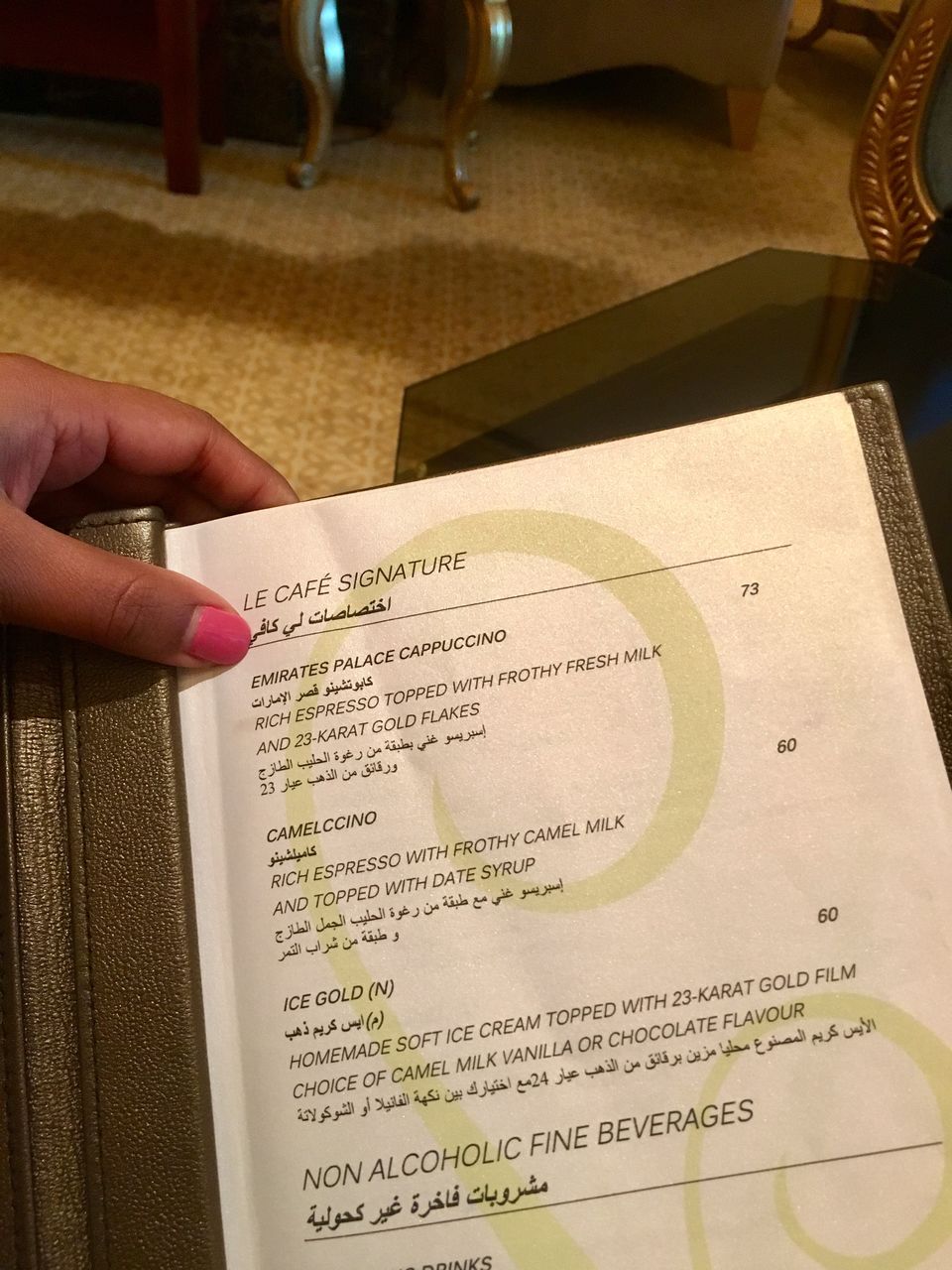 While the bullion ATM was definitely out of my 'reach', luckily the cappuccino wasn't.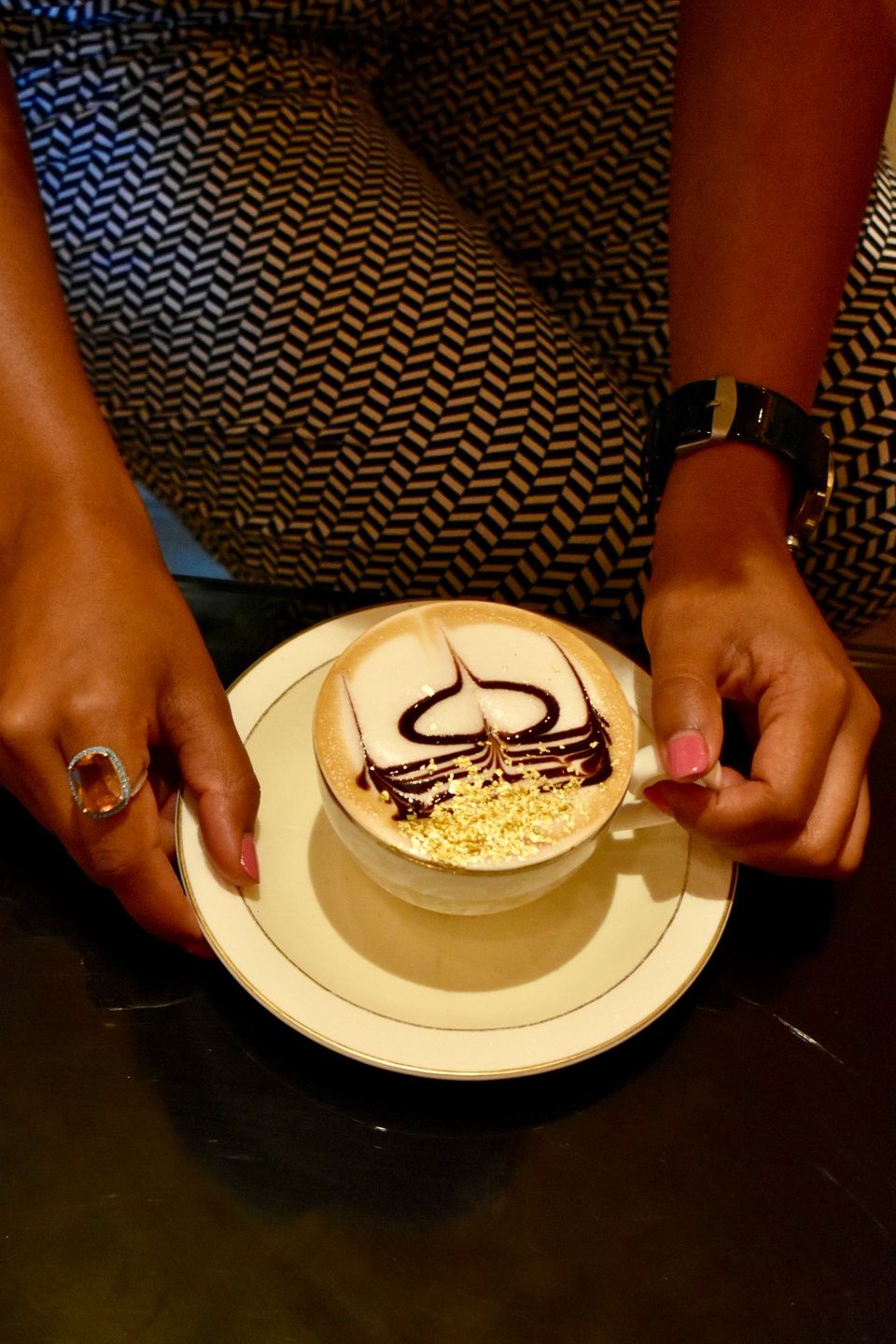 So we reach Le Cafe at Emirates Palace, Megha is excitedly 'sipping' the coffee slowly (you know, she is slightly allergic to coffee so just to try the coffee) and the server suggests, "Ma'am, you could try the gold plated camel milk ice cream". Alas! There goes my lunch money for the day!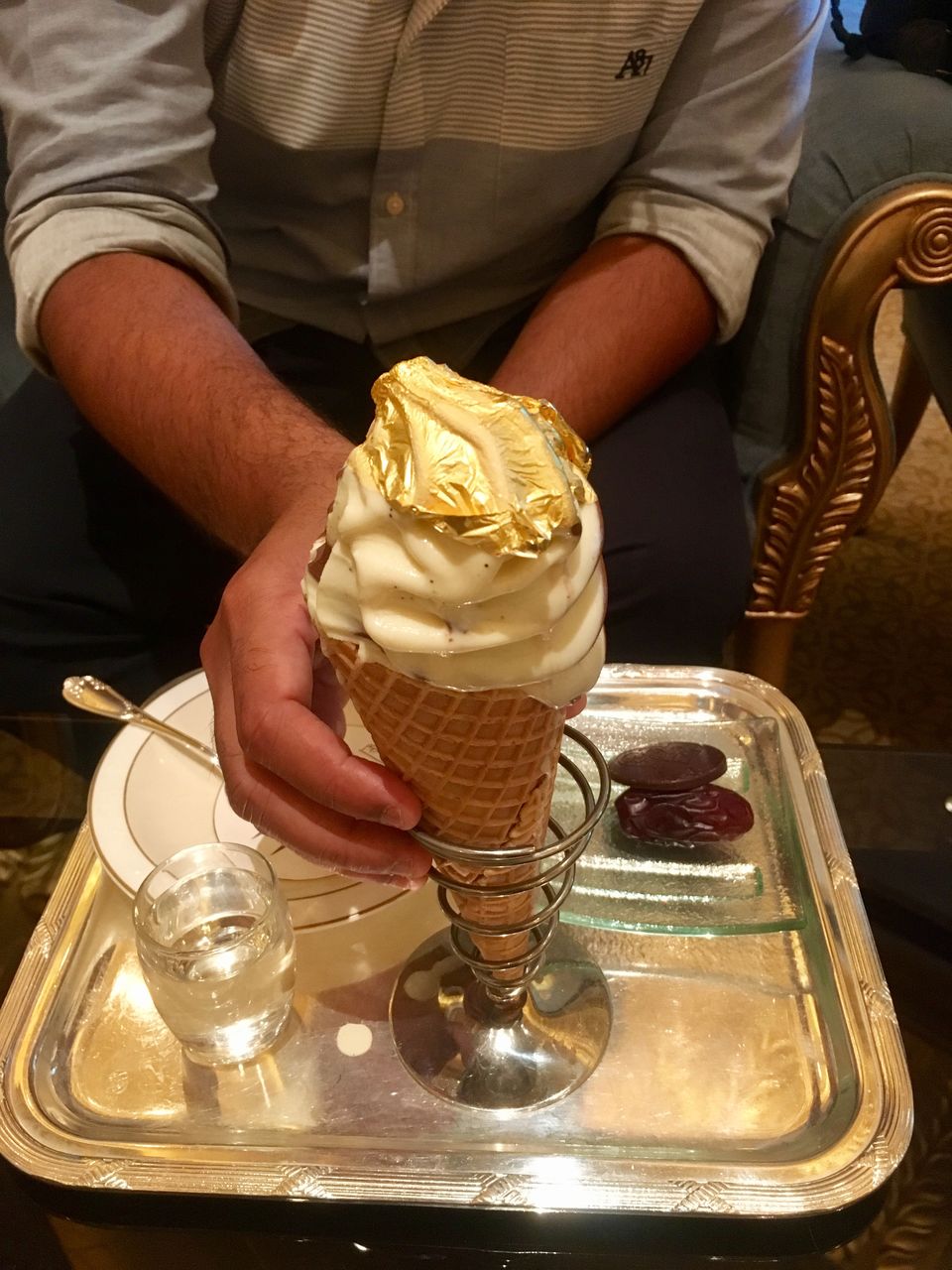 Tip:

Call or email Le Cafe to reserve a table, it's mandatory. Smart casuals are a must. There is a minimum spend of 1,800 INR pp but we got away with spending 2,500 INR total (1,300 INR for the Gold coffee and 1,200 INR for the Gold ice-cream) as the cafe was not too busy.
Evening To do's
3. Hear the most melodious Adhan at the Sheikh Zayed Grand Mosque: The Grand Mosque at Abu Dhabi is an architectural masterpiece combining the best of all Islamic world styles into one.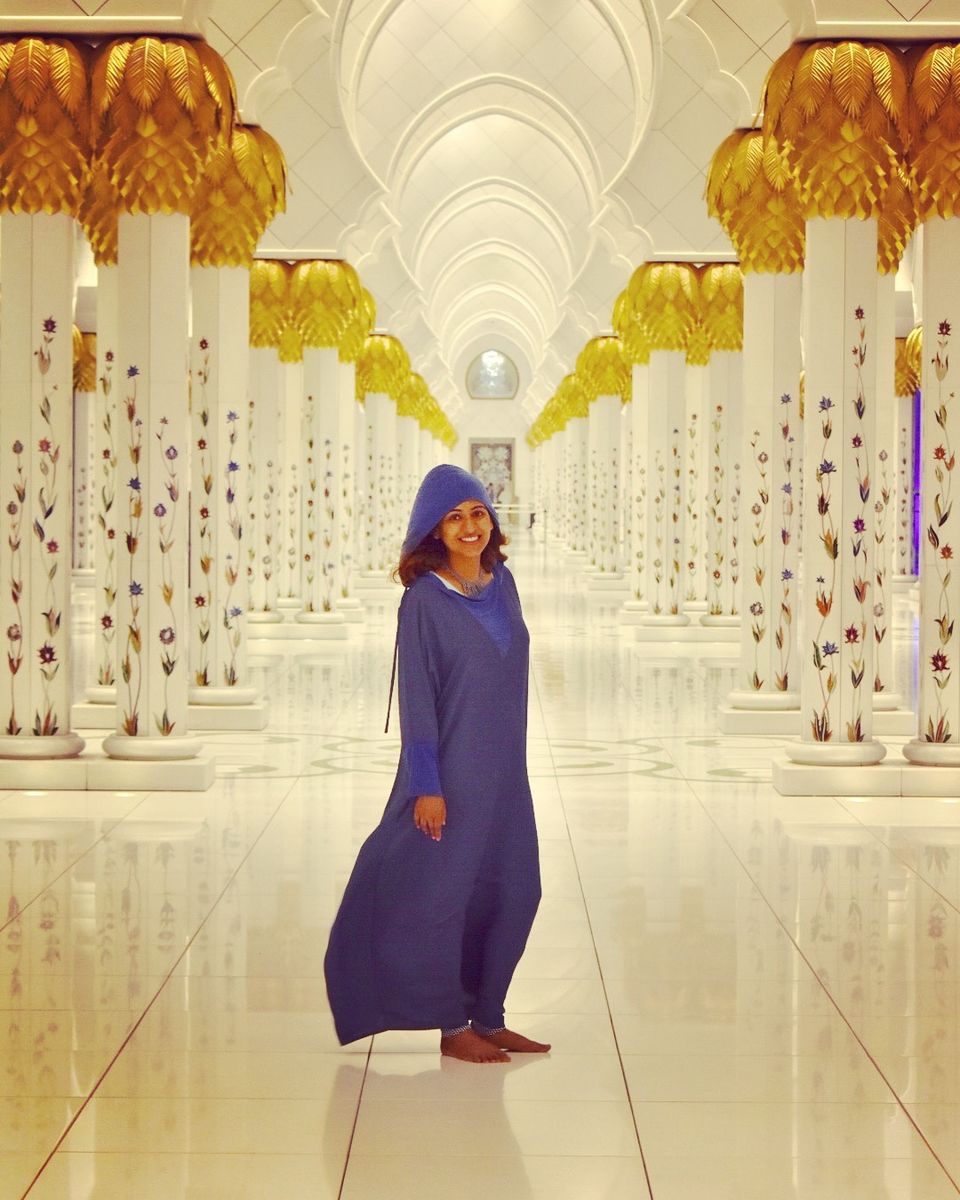 For me the most striking element was the Adhan, hands down the most melodious I have heard (Trust me when I say this, my home is next to a mosque and I have lived there for 16 years).
It is one of the largest and most beautiful mosques in the world.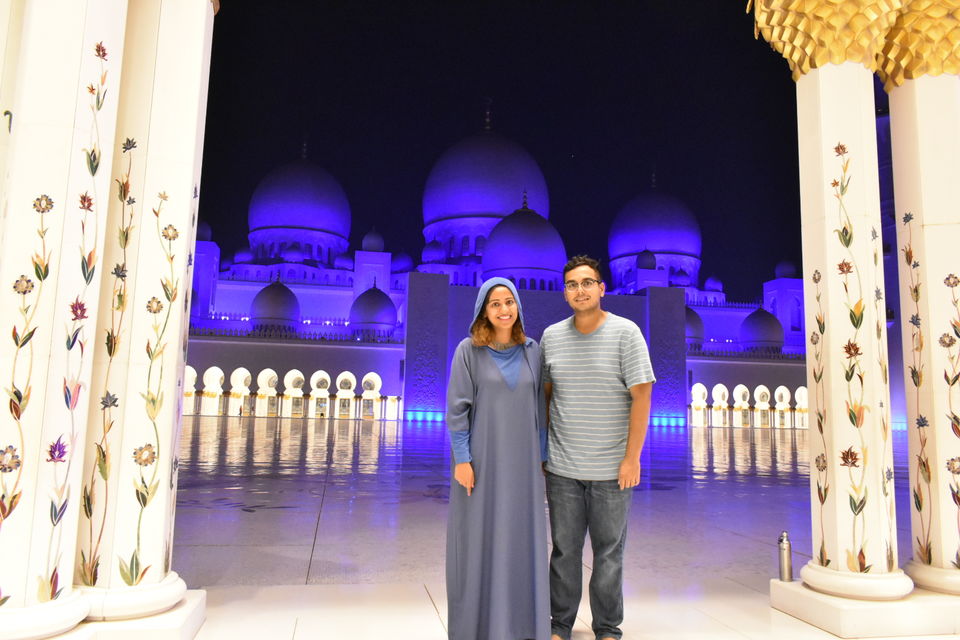 The hand-knotted carpet in the main area of the mosque is recorded to be the largest of its kind in the world.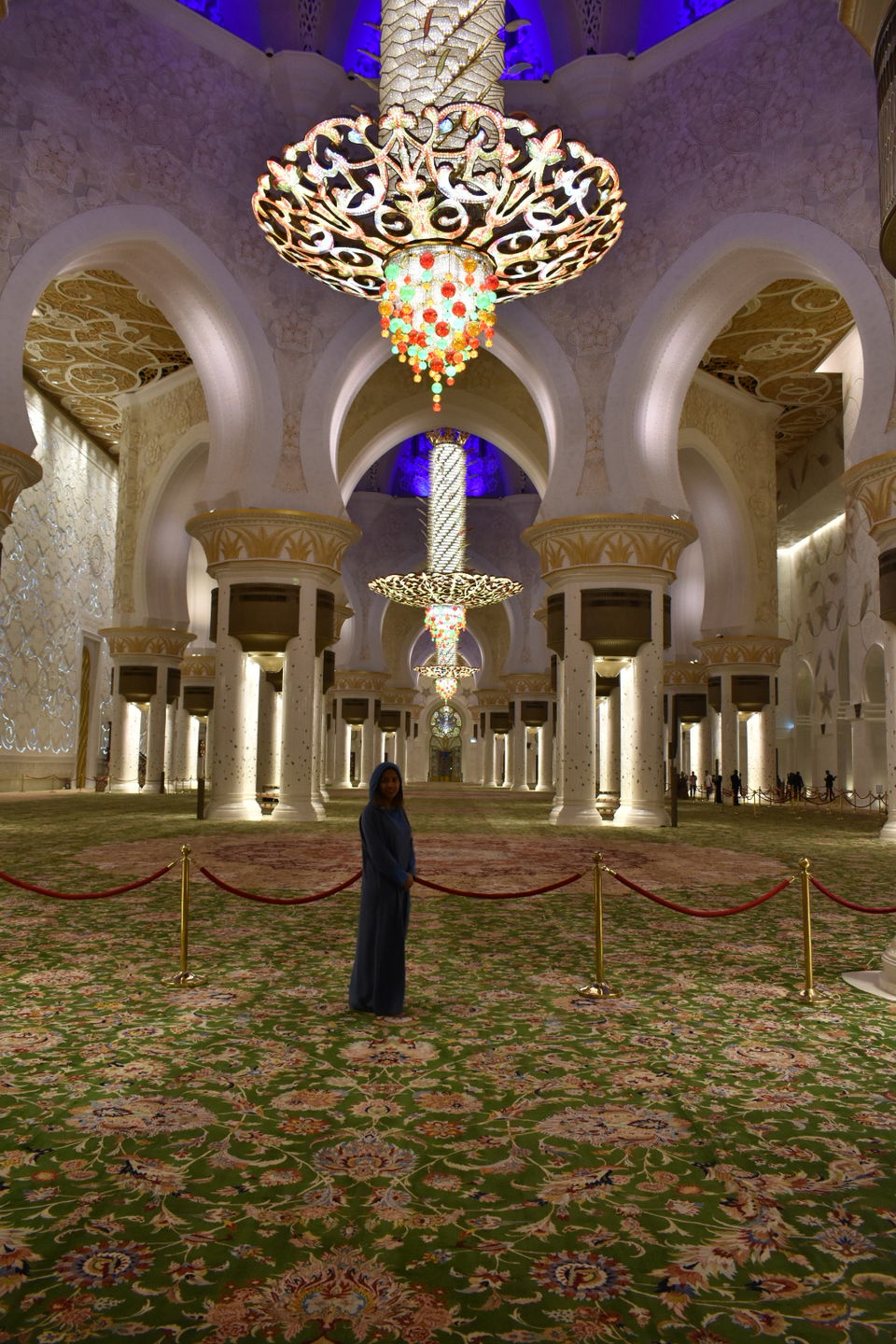 Tip:
 

Plan your visit to synchronise with the free organised tours of the mosque. Complimentary one hour guided tours run (Sun-Thurs) at 10am, 11am and 5pm. Friday times are 5pm and 7pm and Saturday 10am, 11am, 2pm, 5pm and 7pm.
Visa Requirements:

UAE now even offers visa on arrival valid for 15 days to Indian citizens with a US visa, so your plans can really be spur of the moment. Next time when there is a long weekend, convince your boss for just a couple more and off you go. Just simple tricks to beat the heat and your trip to this Arab heartland is definitely going to be a memorable one.
We are now stepping into the land of Pharaohs. Follow us in Egypt.