Forget history, forget architecture, forget politics and forget monuments; come to Brussels in Belgium to eat and drink. If you don't have a sweet tooth, develop one or you would be missing a real gastronomic roller coaster ride.
Chocolates, Chocolates and more Chocolates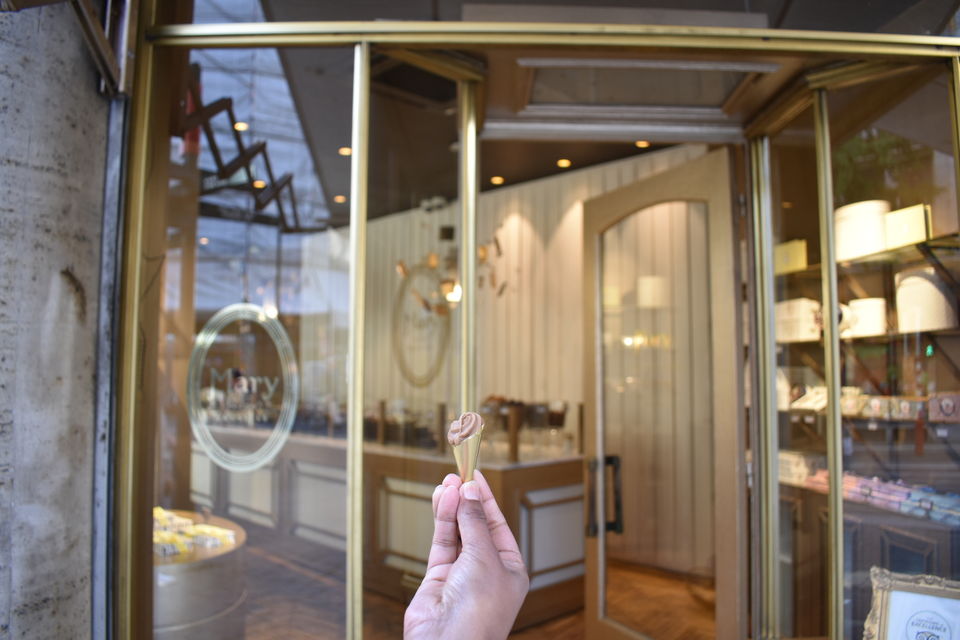 The two sides of the Belgian waffle
We wanted to taste the perfect Belgian waffle and the most authentic one. And we went to great lengths looking for one only to realise that there are two varieties of Belgian waffle: the 'real' waffle and the 'touristy' waffle. Our recommendation: TRY BOTH.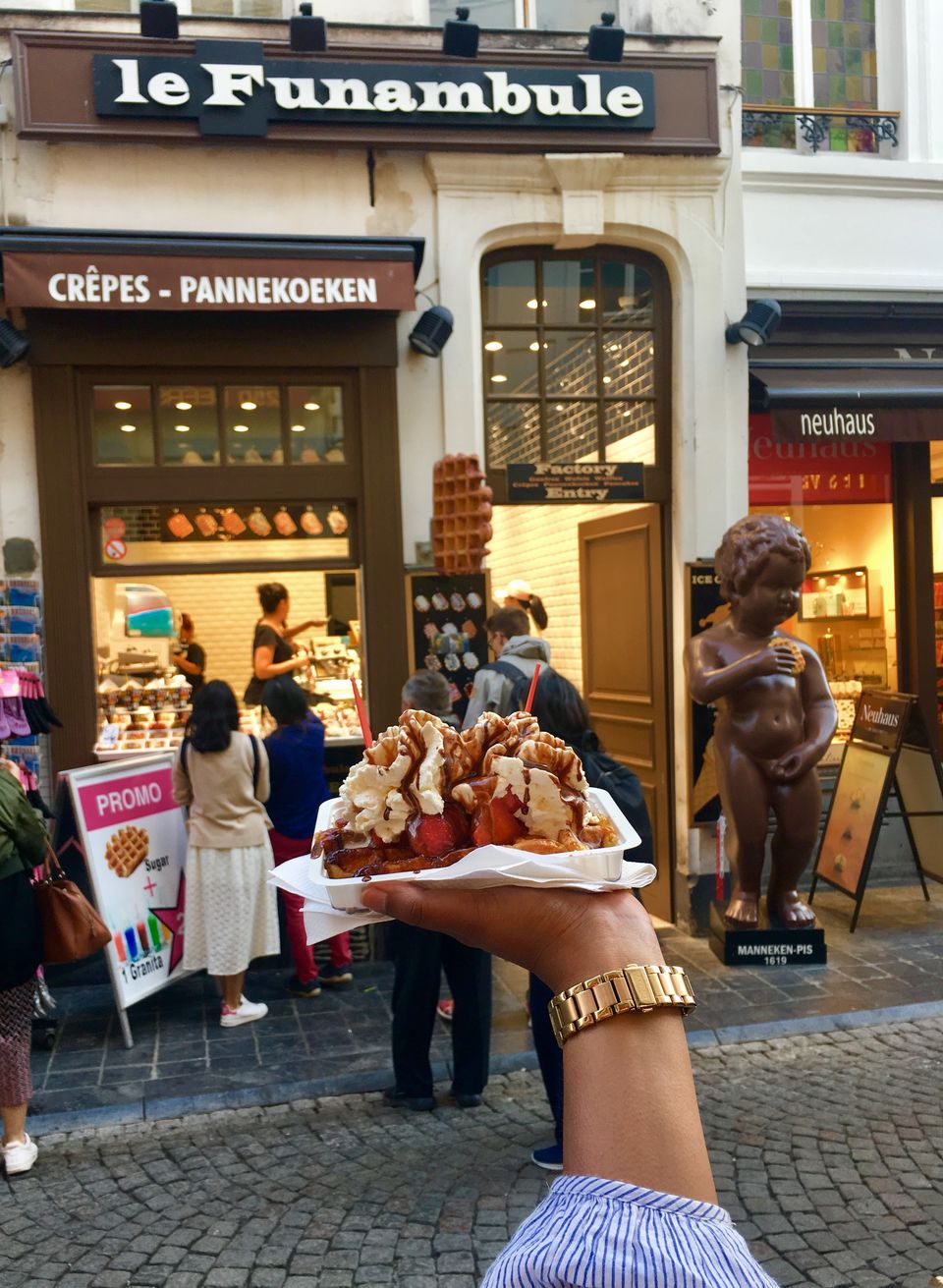 The 'real' waffle is actually a takeaway food, wrapped with a paper and sprinkled with sugar and most importantly made fresh right in front of your eyes (any small road-side stall/van is the best place for an authentic taste). The 'touristy' waffle is equally delicious and comes topped with the choicest of indulgences you can think of: fresh cream, Nutella, kiwi, strawberry, chocolate sauce. (We recommend Le Funambule conveniently located by the Manneken Pis (Read: famous tourist attraction, we will delve into the details later)
Buy chocolates where the locals buy from!
What is the point of travelling all the way to Brussels and buying that delicious box of Belgian pralines from a multi-national chocolatier which has shops in every nook and corner of the world? Absolutely nothing!!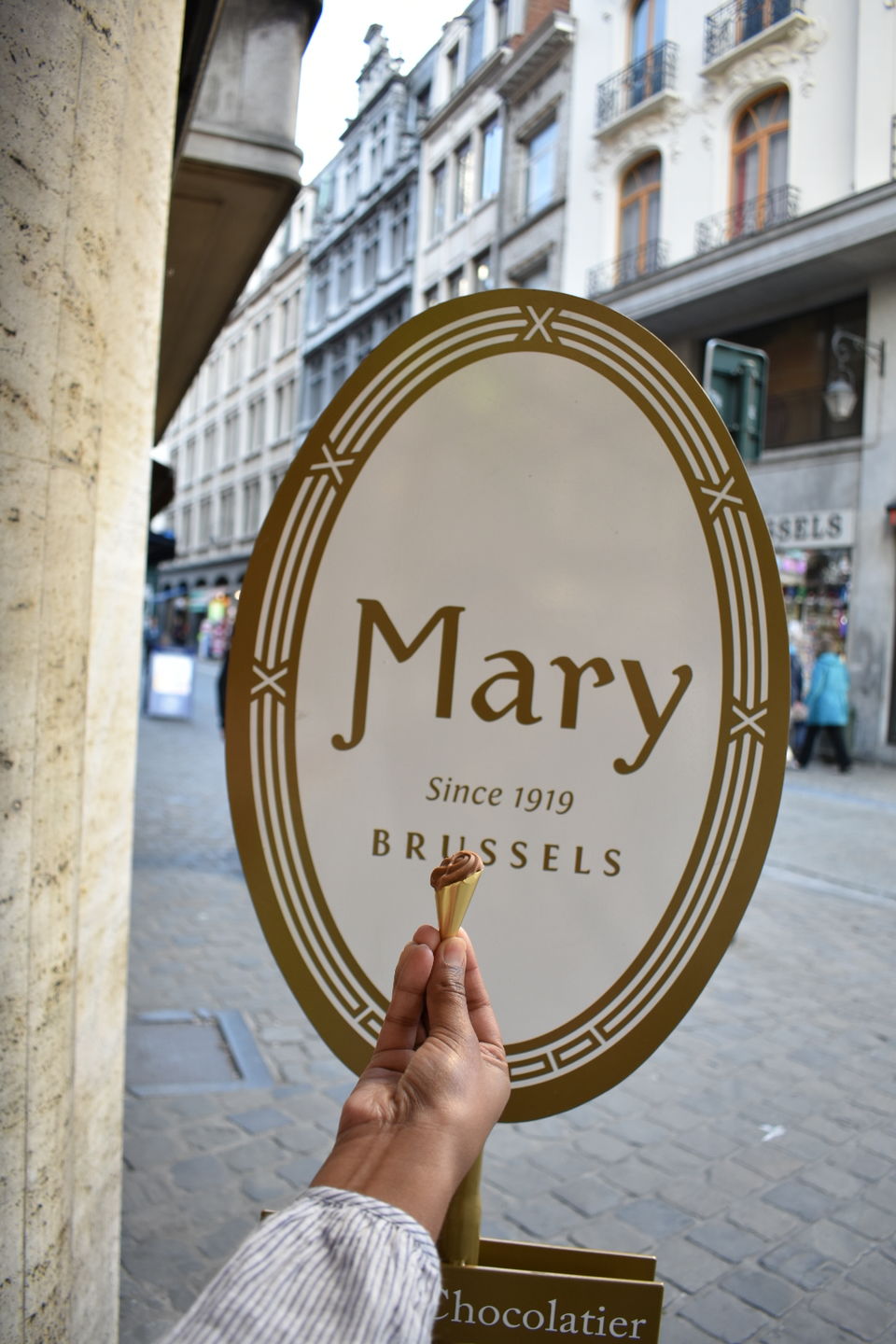 That' why, we chose Mary, the official chocolatier to the Belgian Royal Court; you absolutely cannot go wrong with this.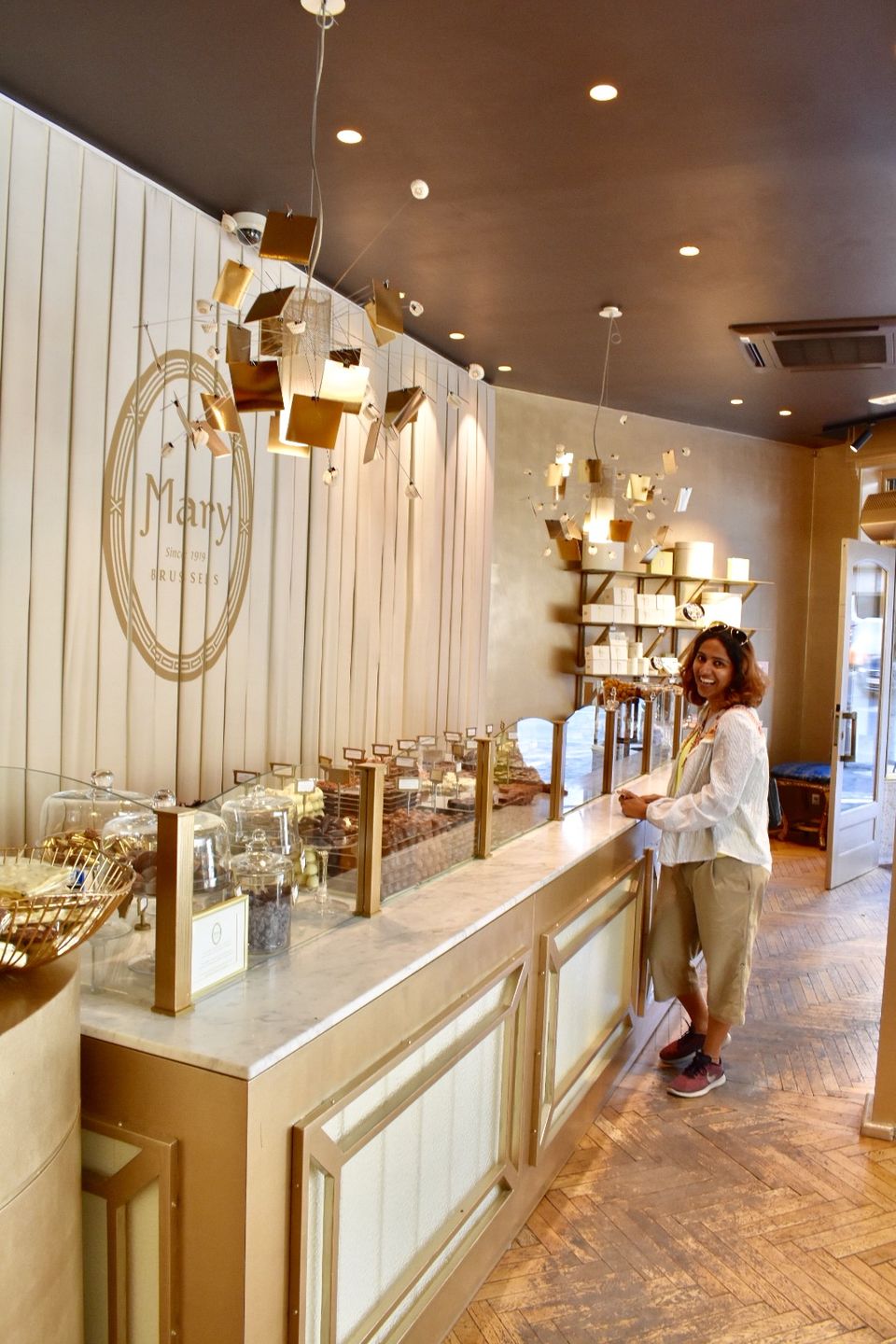 We went to their store at the Grand Palace and let the saleslady make the choices for us; "Please select your best ones for us". At EUR 8 / 100 g, you can get 6-7 pieces which are great to nibble as you go around.
Spectacular Speculoos, the unofficial National Cookie of Belgium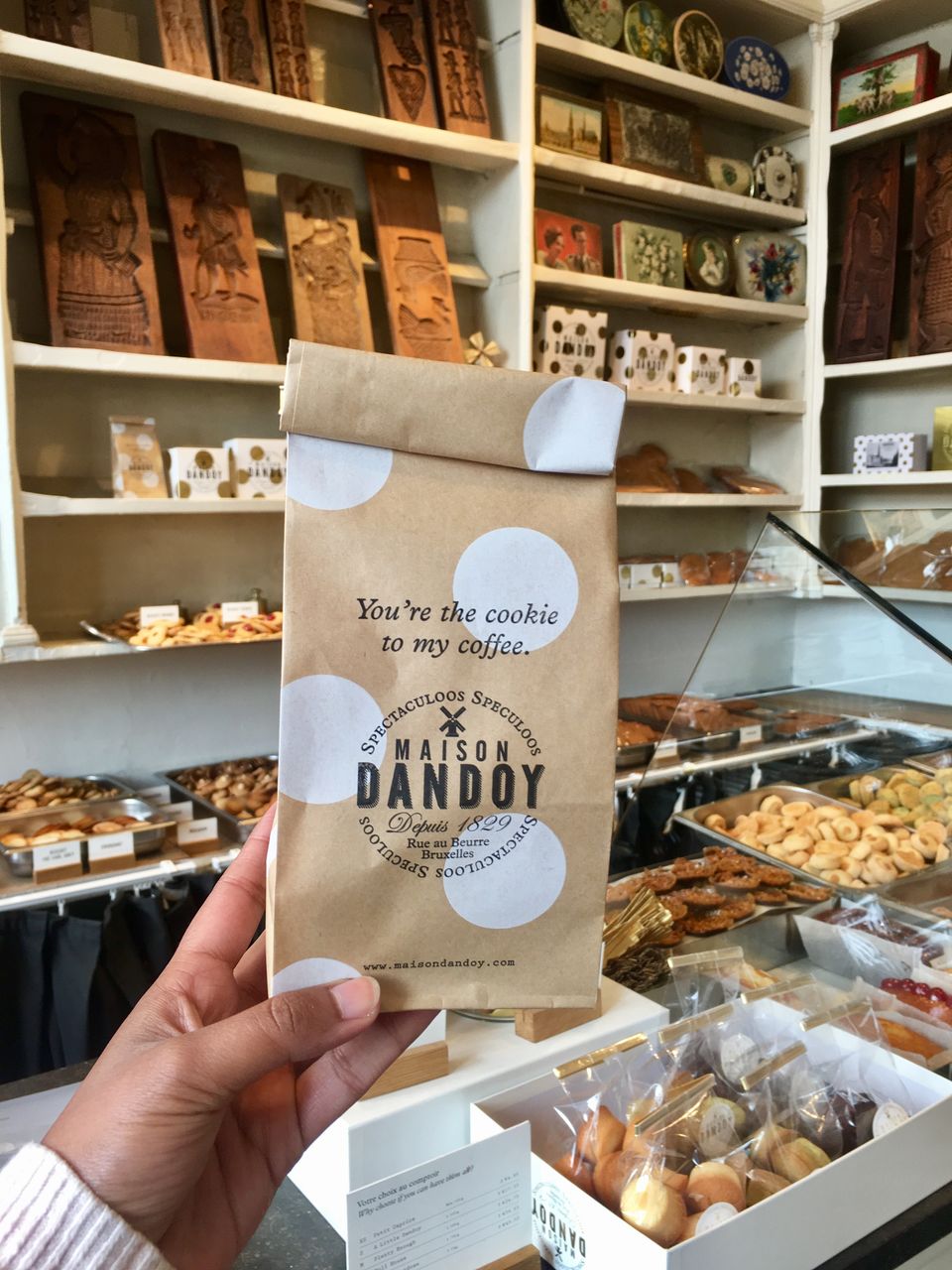 I underestimated Brussels when I thought beyond waffles and chocolates, the city has nothing further offer to satiate my sweet tooth. Well, I hadn't tried the spectacular Speculoos yet, the unofficial National Cookie of Belgium.
Head to Maison Dandoy, who still follow the hundred years old family recipe for baking these delicious butter cookies.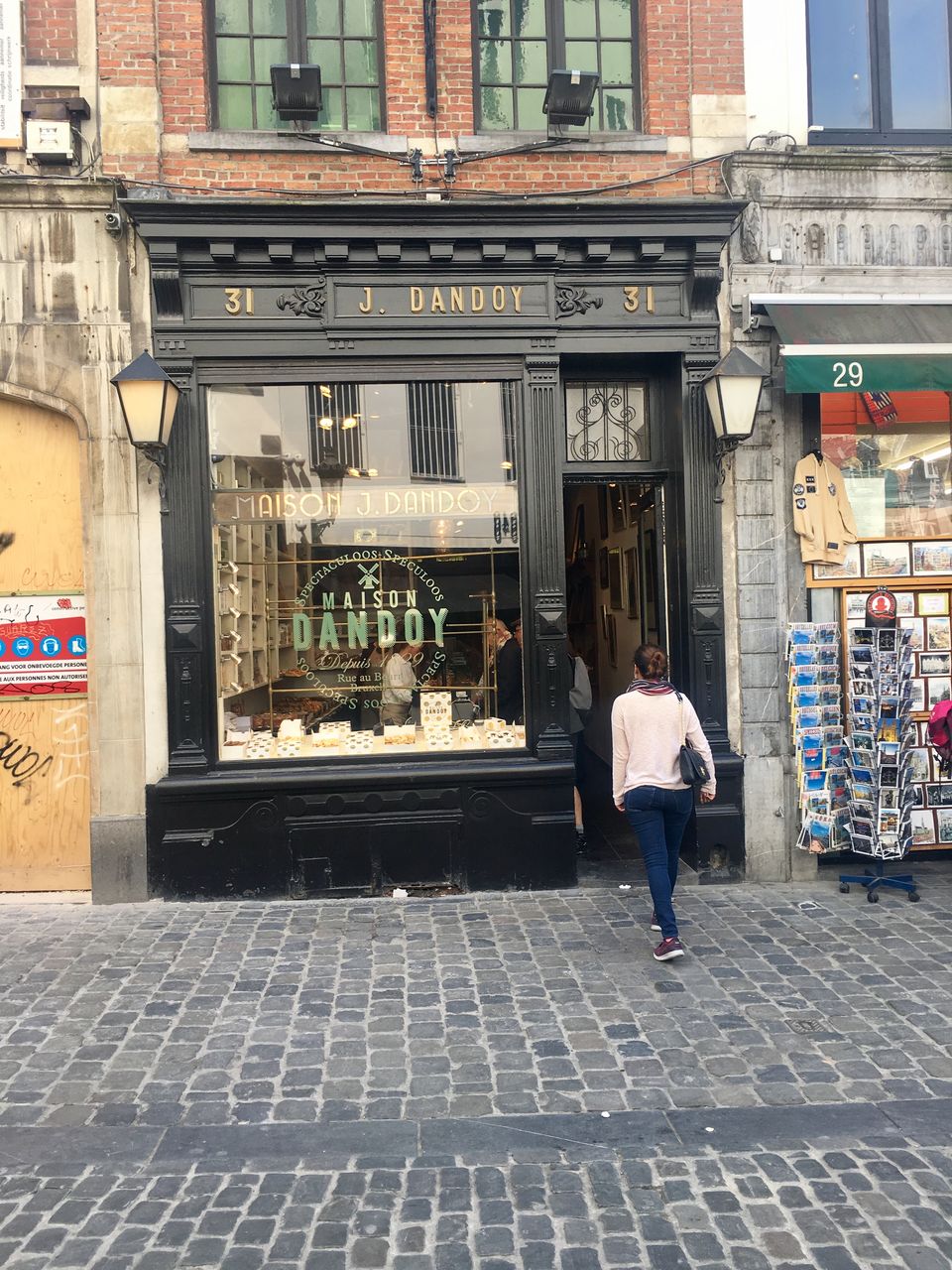 Don't ask the saleswoman to select the best ones for you; "All of them are our bestsellers", she snapped back at us. For EUR 4.5, we got a small packet full of one each of "all of them".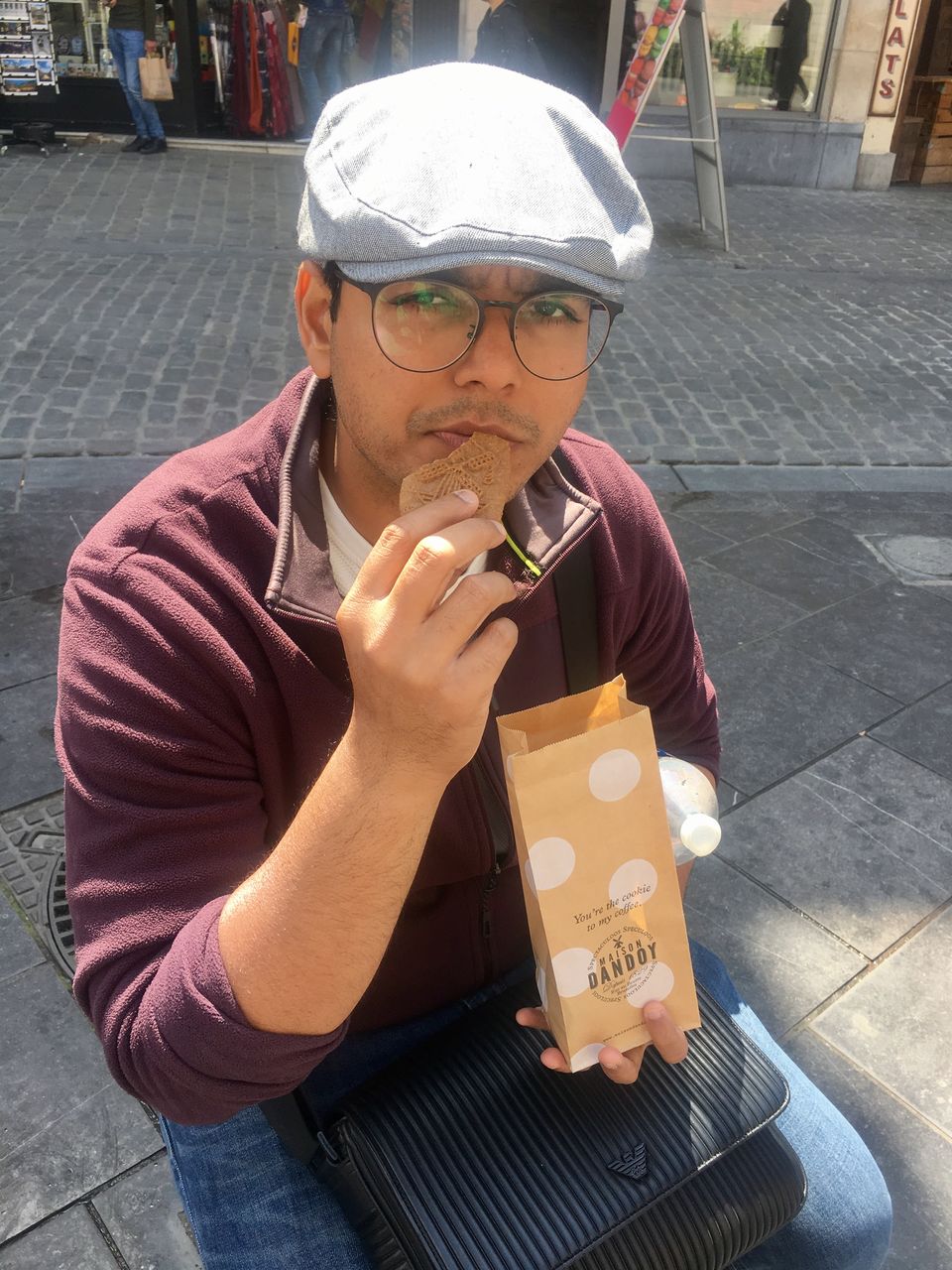 The sweet-spicy and sweet-salty one were our favourites.
There are no French Fries in Belgium...
There are only Belgian frites. Key differentiators- apart from the wide variety of toppings are:
1) they are fried twice; the first one cooks them and makes them soft and the second time makes them golden brown and crisp
2) they are fried in beef fat (All the veggies and non-beefeaters, Beware! food for thought).
There are places scattered all over Brussels serving these frites, but there is a simple test for the authentic ones; if there is a line outside, you know its good. We wandered around a few places close to the town hall (Fritland and Friterie Tabora) hoping they would have frites fried in vegetable oil, but to no avail. We were recommended to try McDonald's, huh! Sorry for us, vegetarians!
There is no such thing as the best beer in the world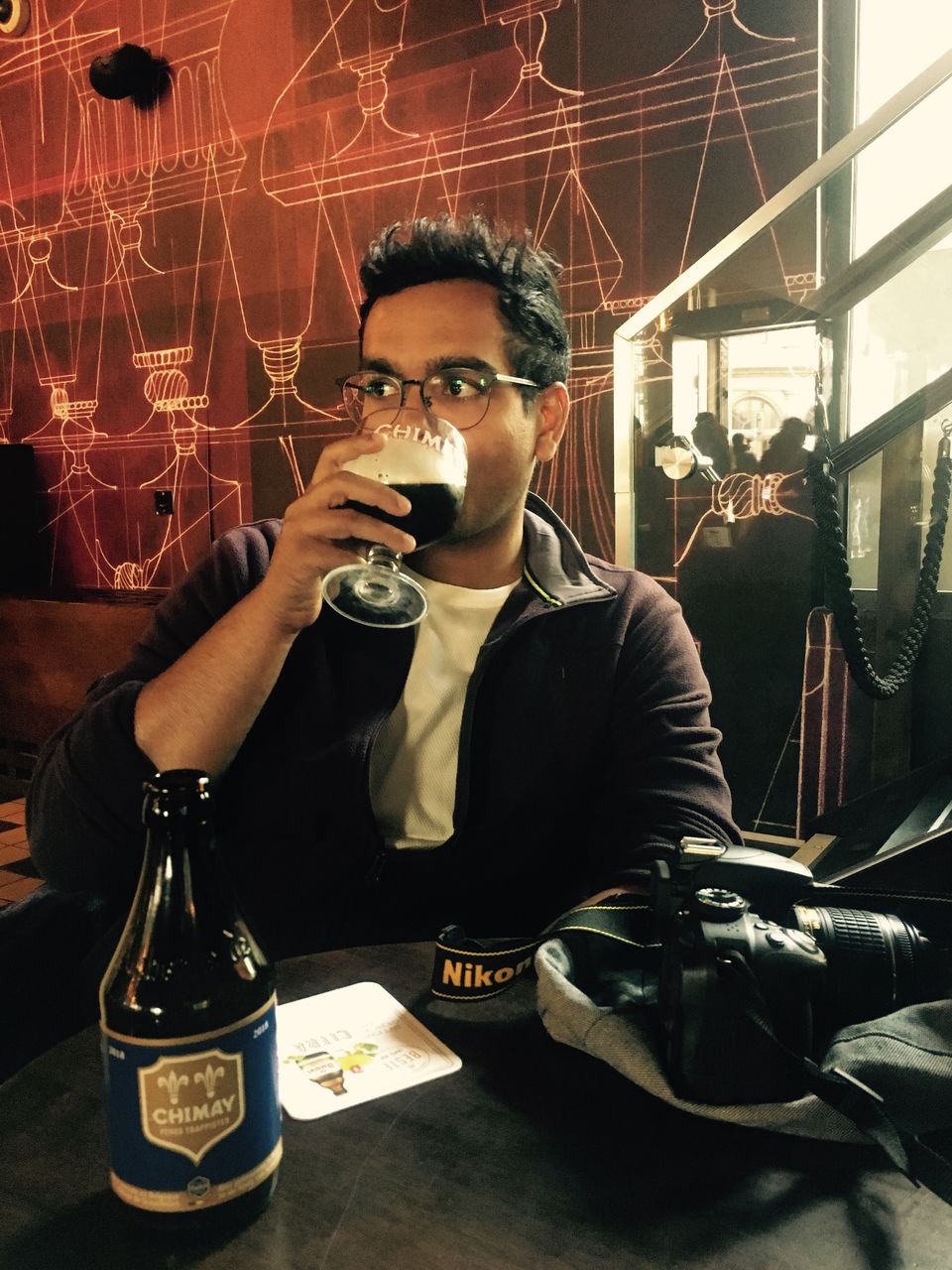 Our first Trappist Beer in Brussels
Because taste is absolutely subjective, a beer which is my favourite could easily make Megha twitch in disgust (this is true, by the way). Hence, Belgium wouldn't give you the "best" beers in the world, what it would give you a wide variety and a thousand years old tradition of brewing this potion.
There is no best place to sample Belgian beers either, whenever you are thirsty or tired, choose the most conveniently located bar/cafe; the trick is to try names/brands that are unheard of; for heavens sake, please don't go for a Stella. The Belgians say they don't like it hence they sell it to us - rest of the world (tourists).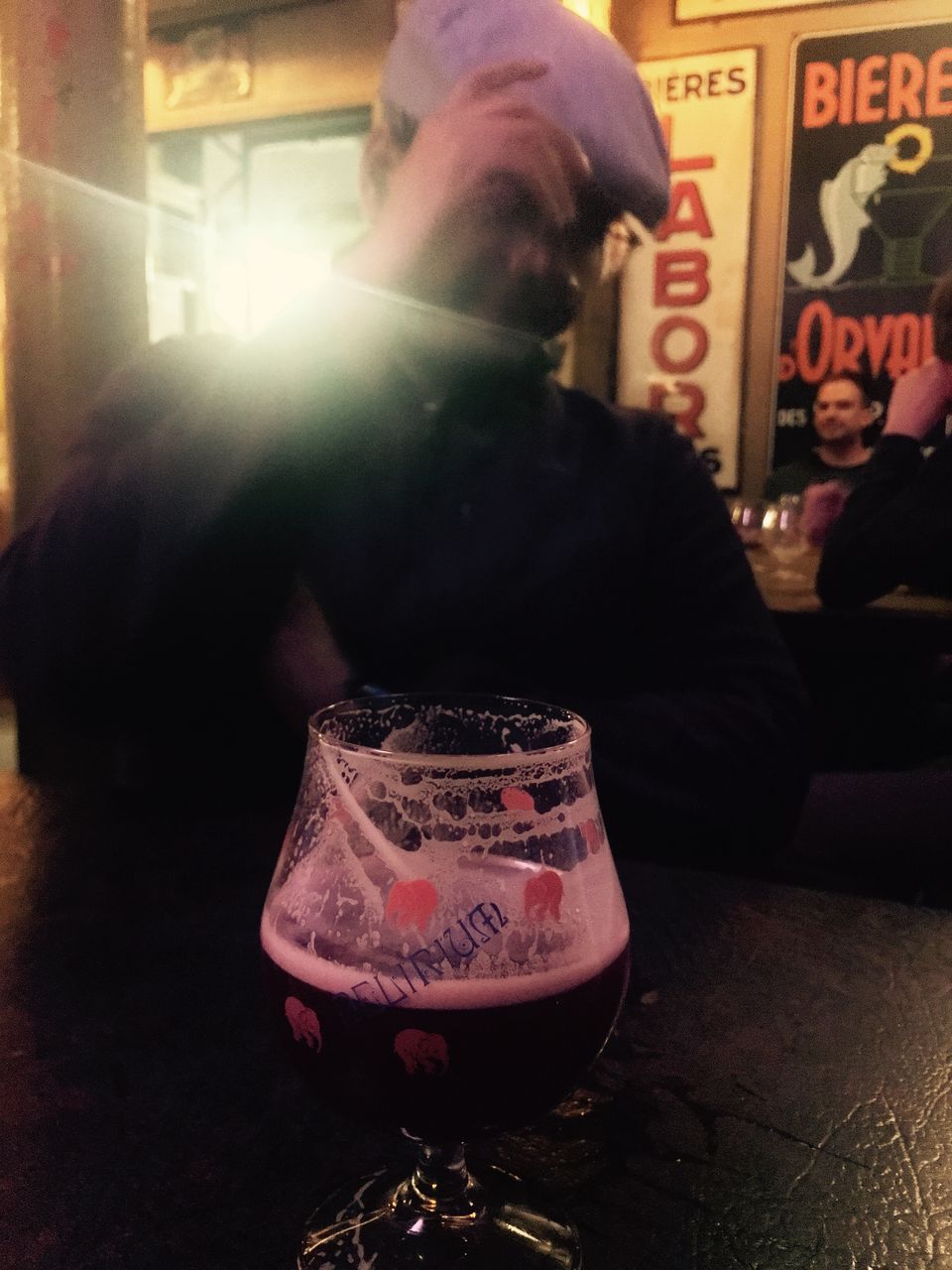 Head to Delirium cafe,
 

a Guinness records holder for the highest number of beers available; 3000+ beers from over 100 countries

 

but it is the Belgian specialties you should be after. The place is an institution, brews its own brand "delirium" symbolised by the iconic 'pink elephant' that has taken over the Brussels beer-scene. We tried Chimay Blue (a Trappist dark beer brewed in Belgian monasteries), Delirium red (blood red cherry flavoured beer) and Lambic (a beer brewing method unique to Belgium).
Tip: It gets crowded in there; with over 100+ beers on tap, patience will bear sweet fruit.
Let us not forget the Peeing boy
In the excitement of being in this foodie's paradise, we would have actually missed the Manneken Pis. Honestly, it is not that hard to miss the little boy.
What Effiel tower is to Paris, Manneken Pis is to Brussels. With only a "little" difference of size, that is.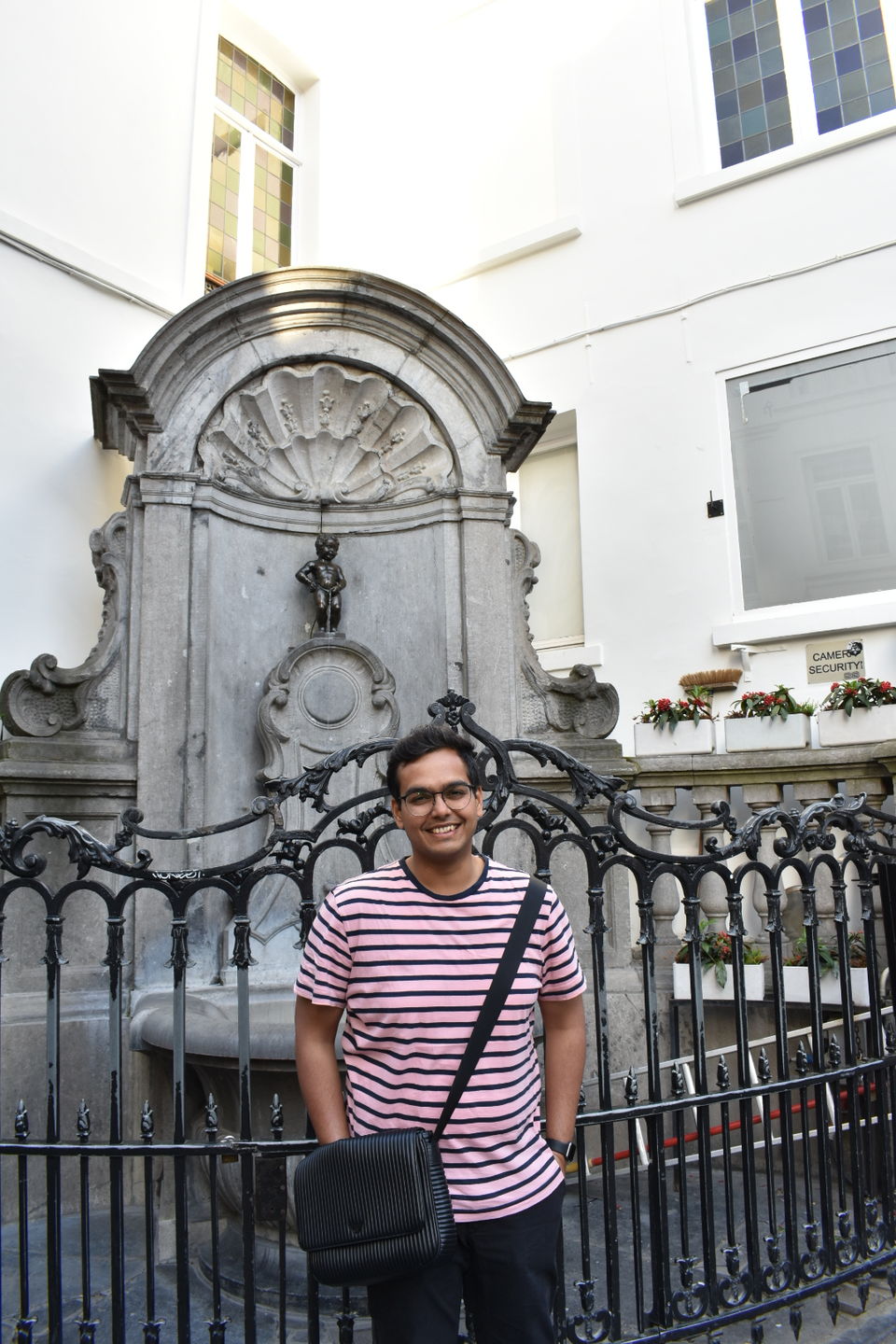 The statue has numerous stories associated with it. One goes like, the king promised to build a statue of his lost son in whatever state he is found in, well he was found peeing. The other says a little boy while peeing accidentally overheard a conversation of conspirators planning to annex Brussels. The truth is, no one knows the truth. The statue is over 600 years old and has not been documented anywhere.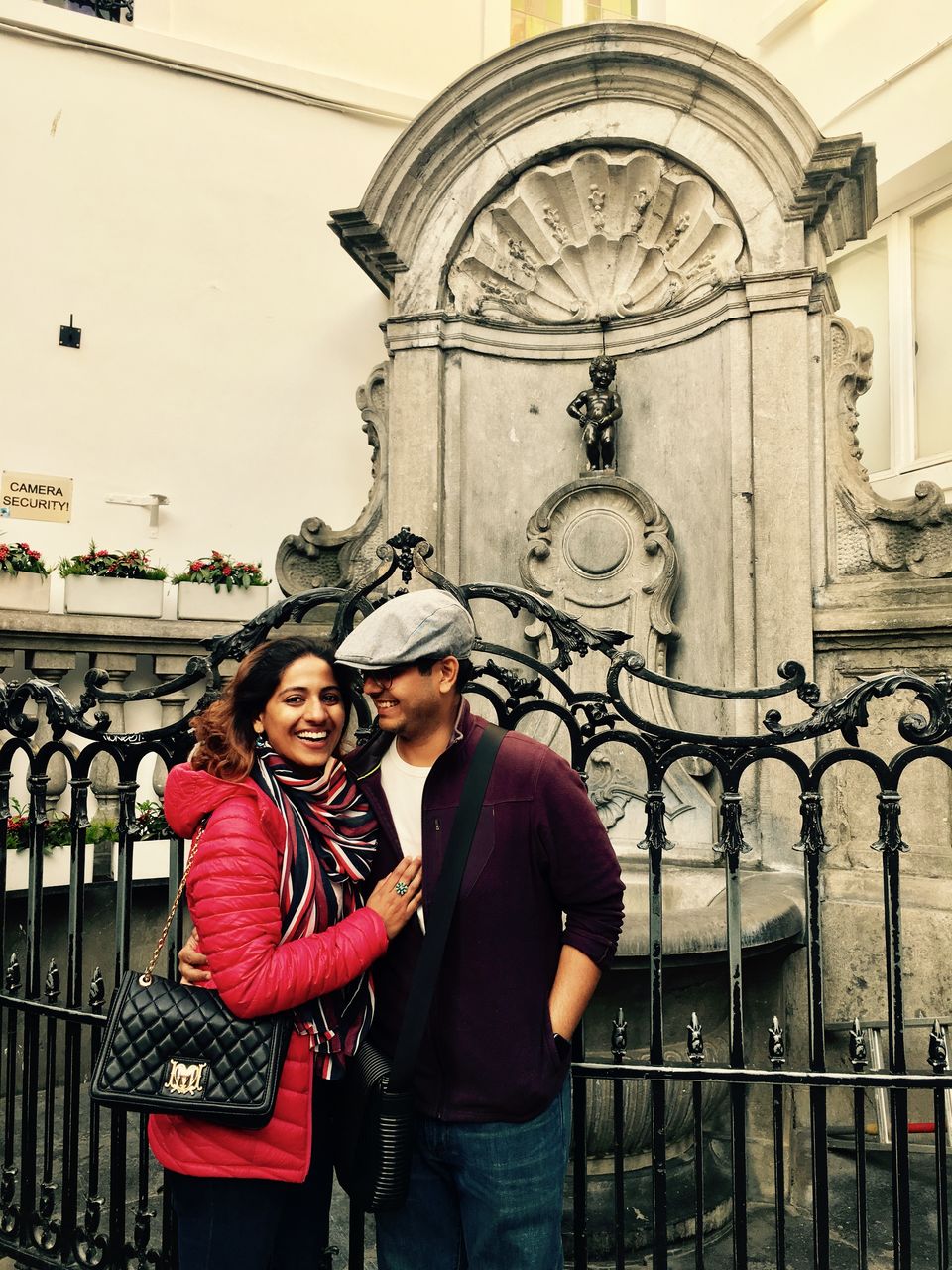 In spite of being predominantly inhabited by French and Dutch speaking population, Brussels felt different. The city is fresh and liberating.
The Comic Craze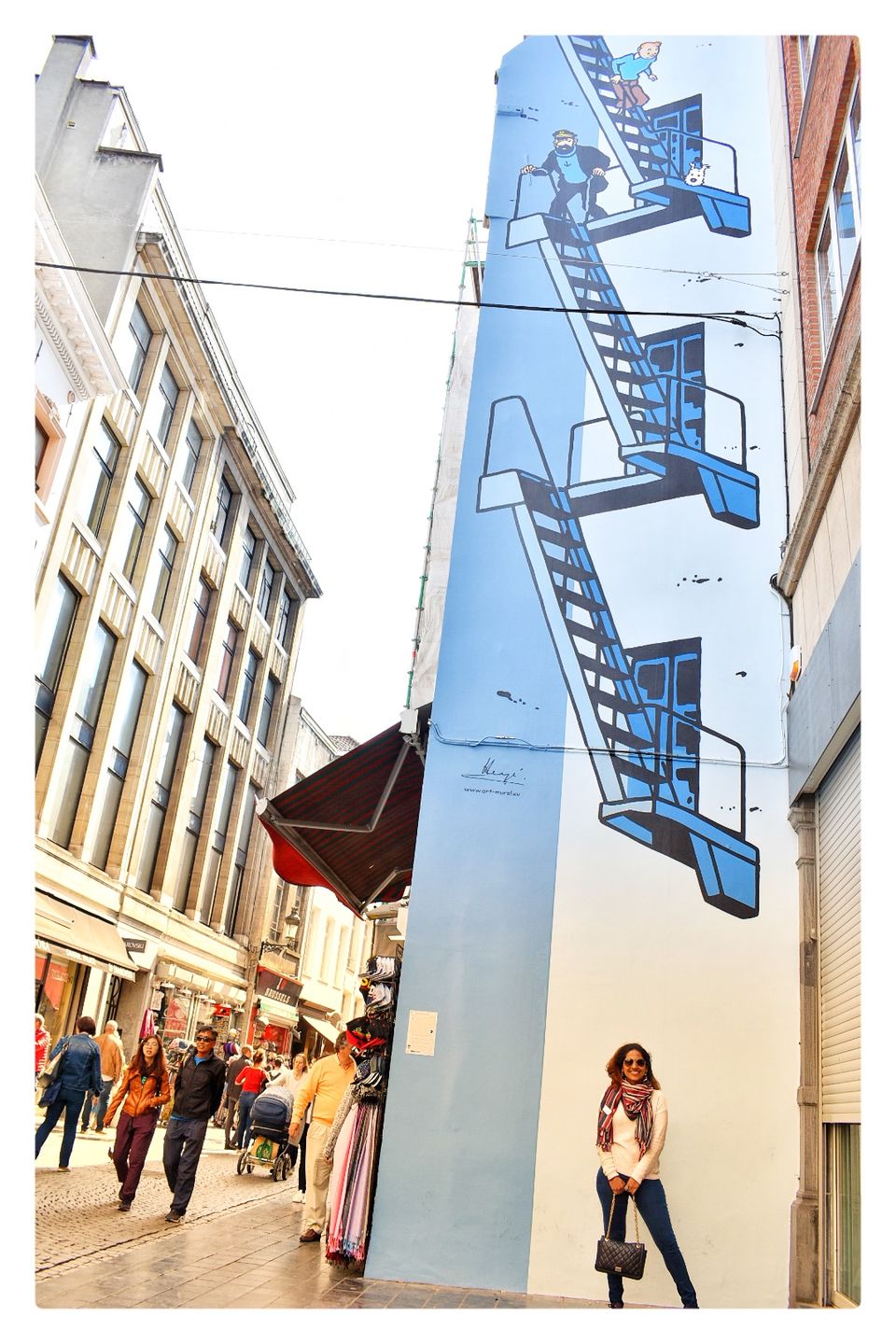 The country has the
 

highest number of comic artists per capital in the world

 

and it celebrates and proudly displays this through comic murals scattered throughout the city (Tintin fans, this is the place to be).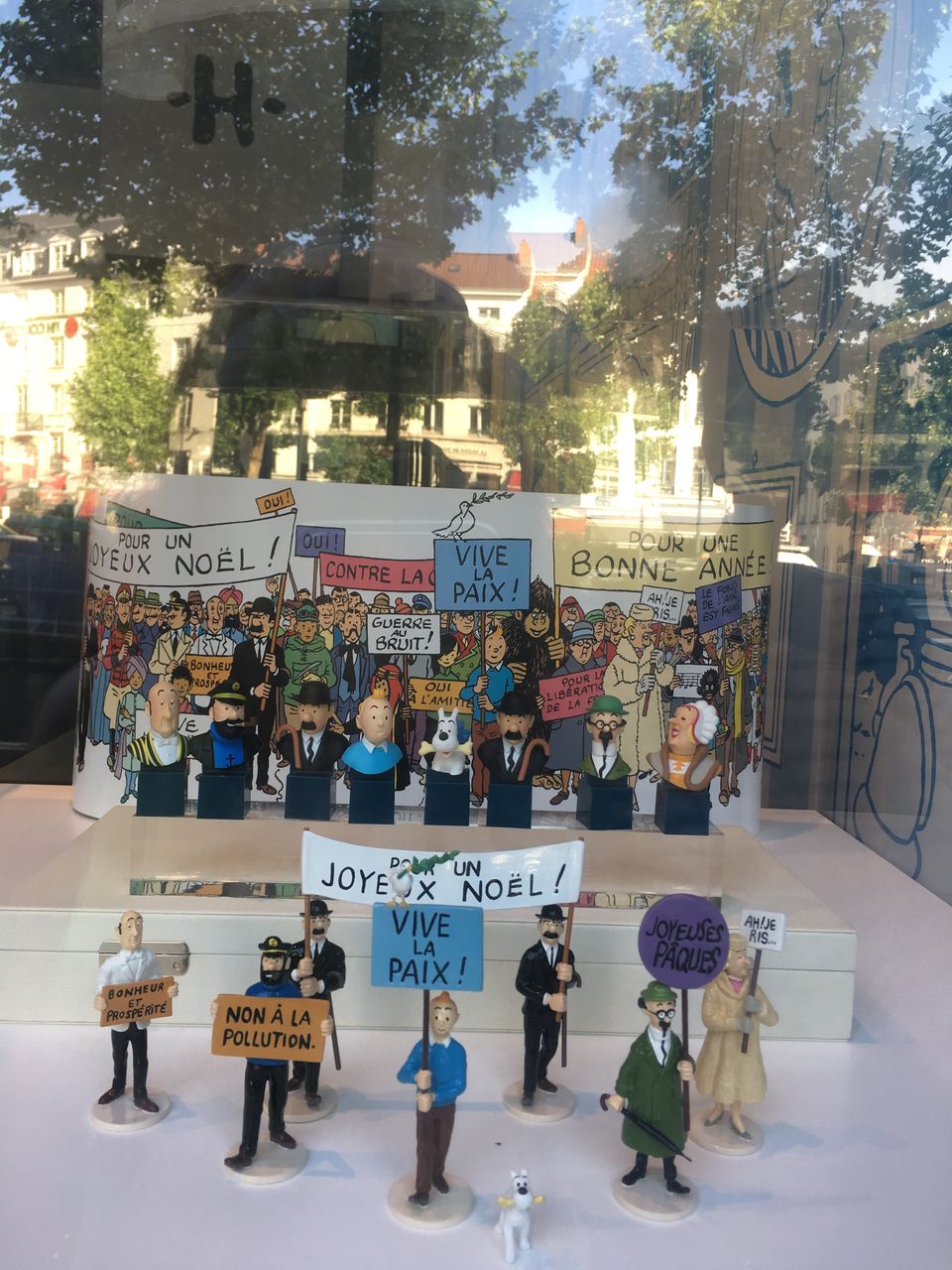 What an amazingly creative environment to pursue art or discover your inner artist.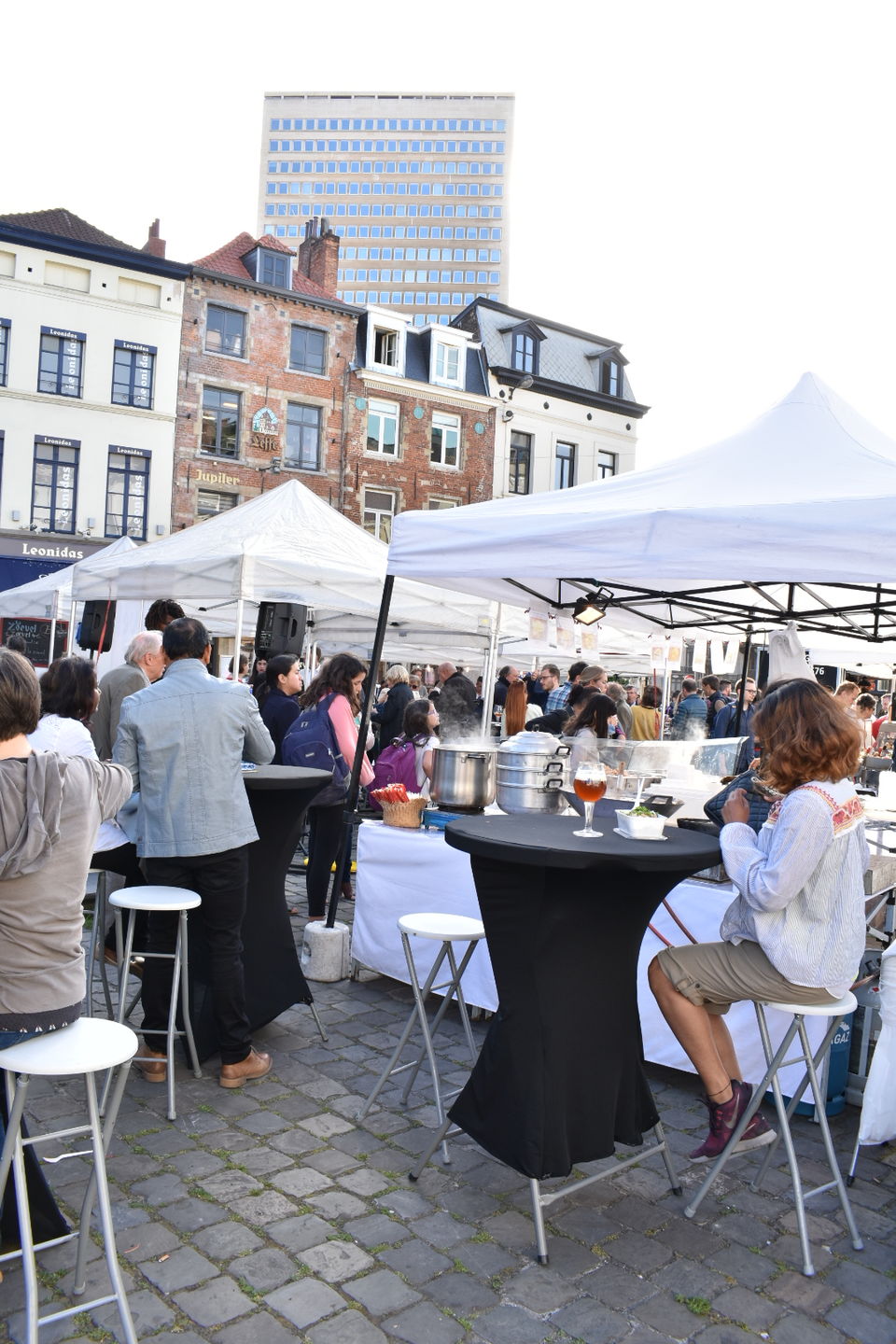 Would love to come back here but for an extended stay next time.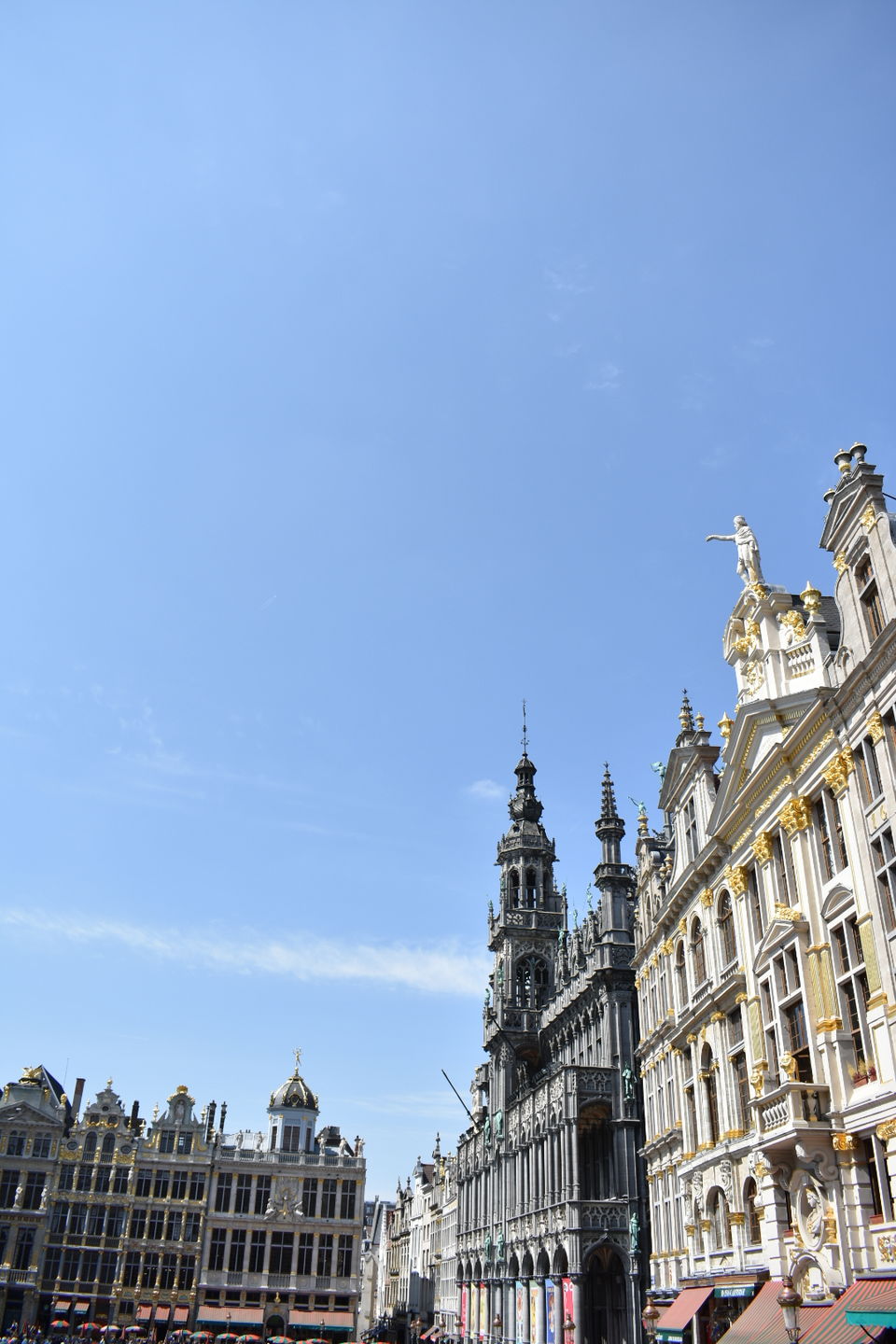 We are going tulip-hunting now; we know the season is about to get over. Lucky would be us to see them. If not, no matter, there are canals to cruise and brownies to eat. See you in Amsterdam.