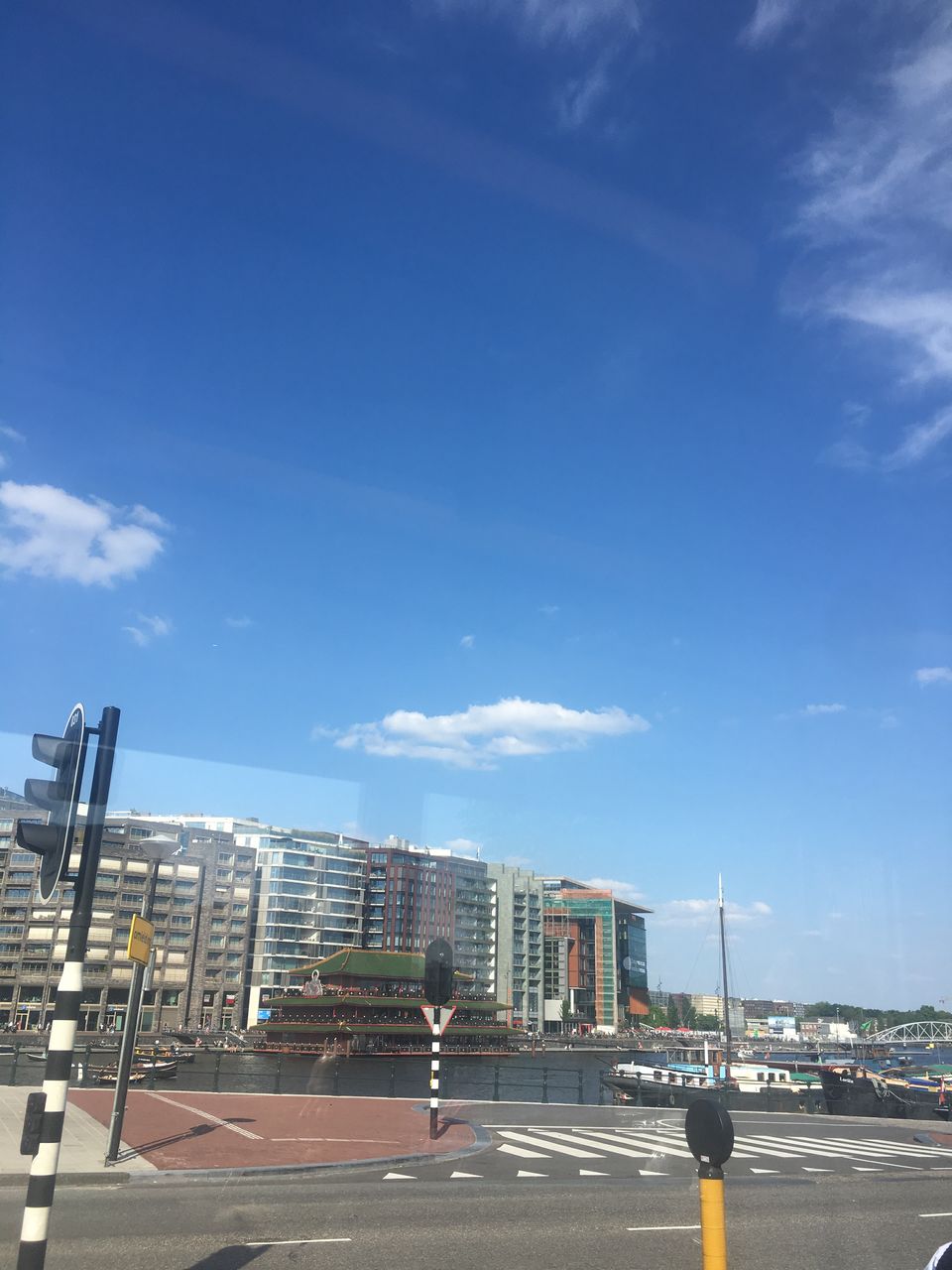 The Tulip season is almost over and the most famous Tulip gardens in the world, Keukenhof have closed their doors until next year. In spite of being completely aware of these well-known facts, we went to Amsterdam to see Tulips. Megha wished, prayed and hoped that if not tulips, we could see hyacinths, daffodils or maybe, just maybe, an absent-minded farmer would have delayed heading his field by a week (yes! We missed the season by a week, thanks to some mis-calculations). Unfortunately, these fantasies remained fantasies and we only saw lush GREEN flower fields getting ready for next year.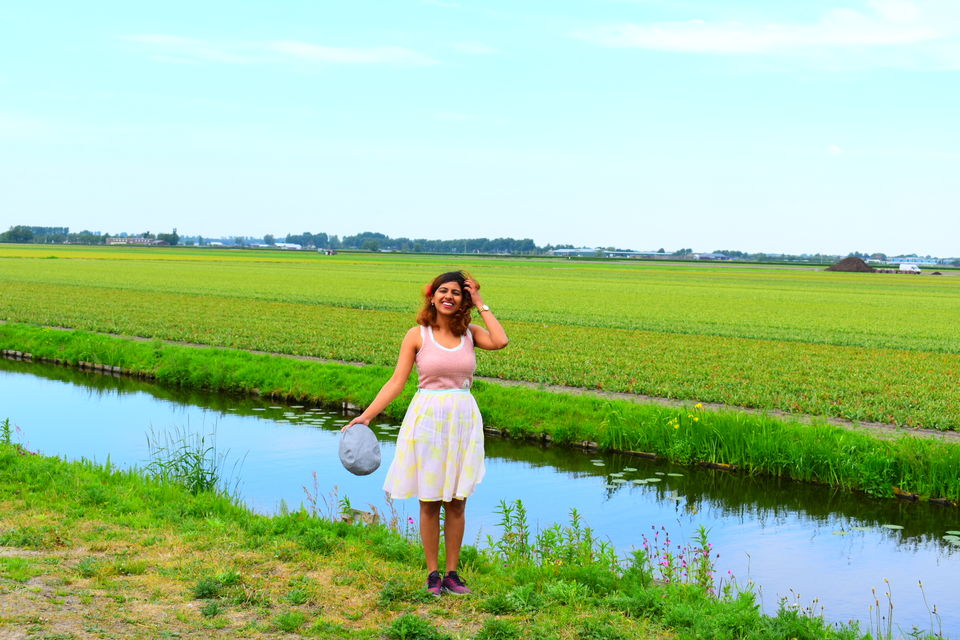 But gentlemen and ladies, do not underestimate the power of an imaginative mind. Look at how happy Megha is, in the above picture, she can see rows of red, yellow, blue, pink, and orange tulips colouring the fields. Can you?
Even if you can, don't bother making the trip to Keukenhof in the off-season. We have you covered here.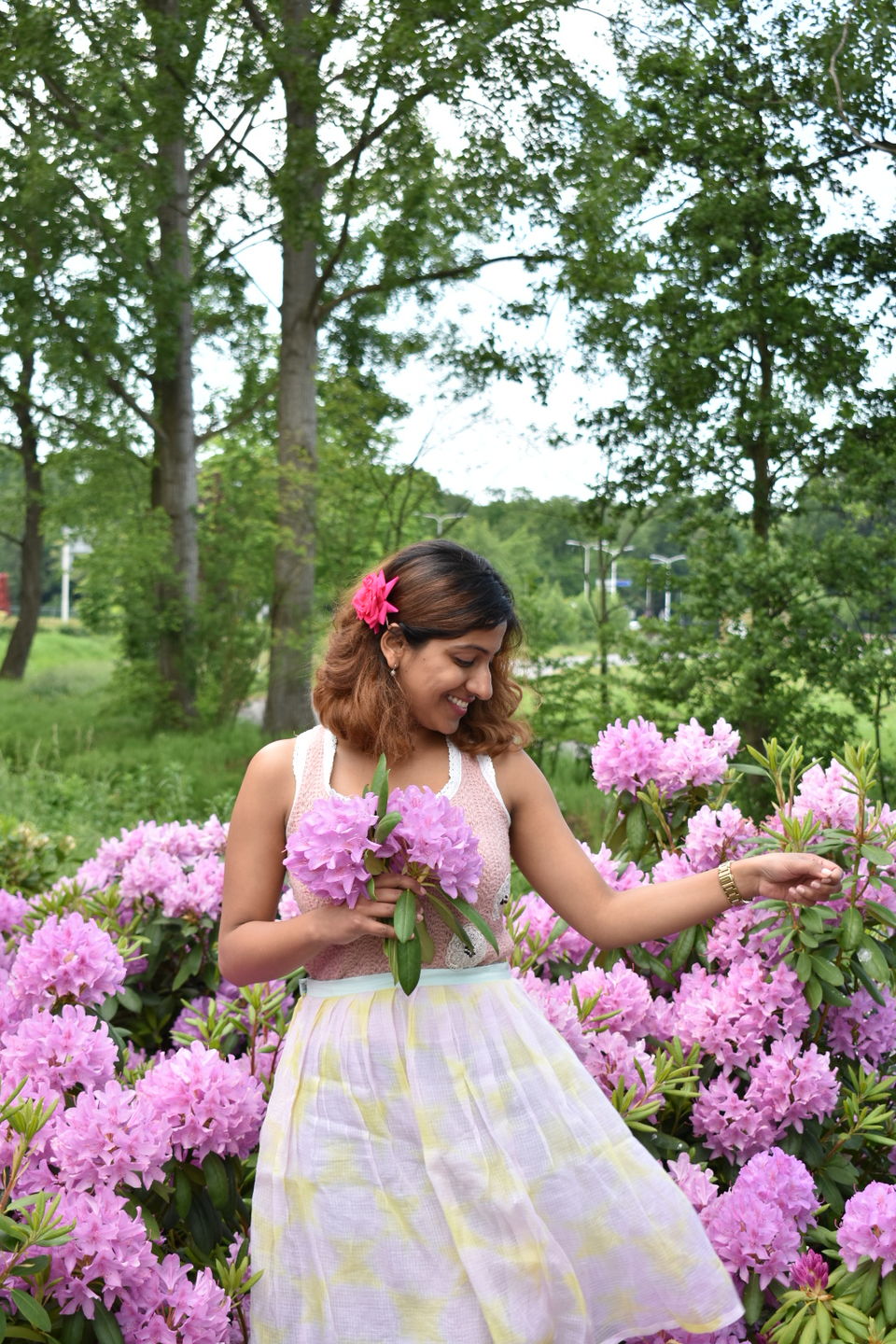 Stay: we considered staying in a canal house. However, the really good ones were really expensive, which I think is true for good accommodations in central Amsterdam. We stayed at Stayokay (comfortable and functional rooms with a great outdoor cafe) in Amsterdam-Ost, a tad away from the centre, but with the 24h travel pass (a bargain at EUR 7.5 / person) commuting was a breeze.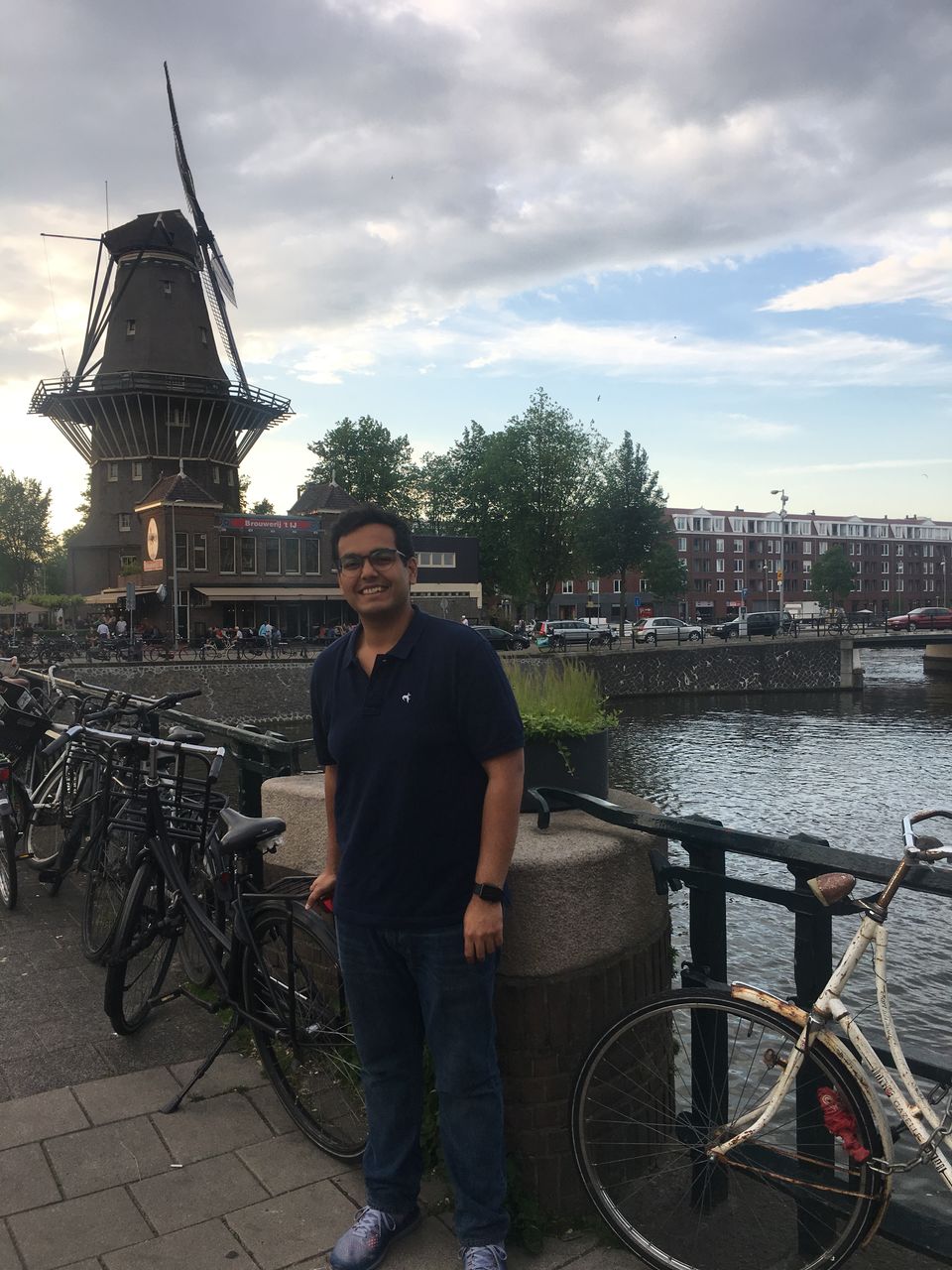 Our highlights from the Amsterdam trip: Architecture, Heritage and 'Entertainment'
Amsterdam is a lot of things, different for different people; a little for everyone. This is the beauty of the city:
• For couples? Yes! The romantic cruises through its labyrinth of canals
• For families? Yes! The city has the most unusual collection of museums on earth
• For bachelors? Yes! A walk around the red light area is enough, if you top it up with some 'desserts' from a nearby coffee shop, Priceless!
Architecture
No tour to Amsterdam is complete without cruising through its canals, a man-made wonder without doubt.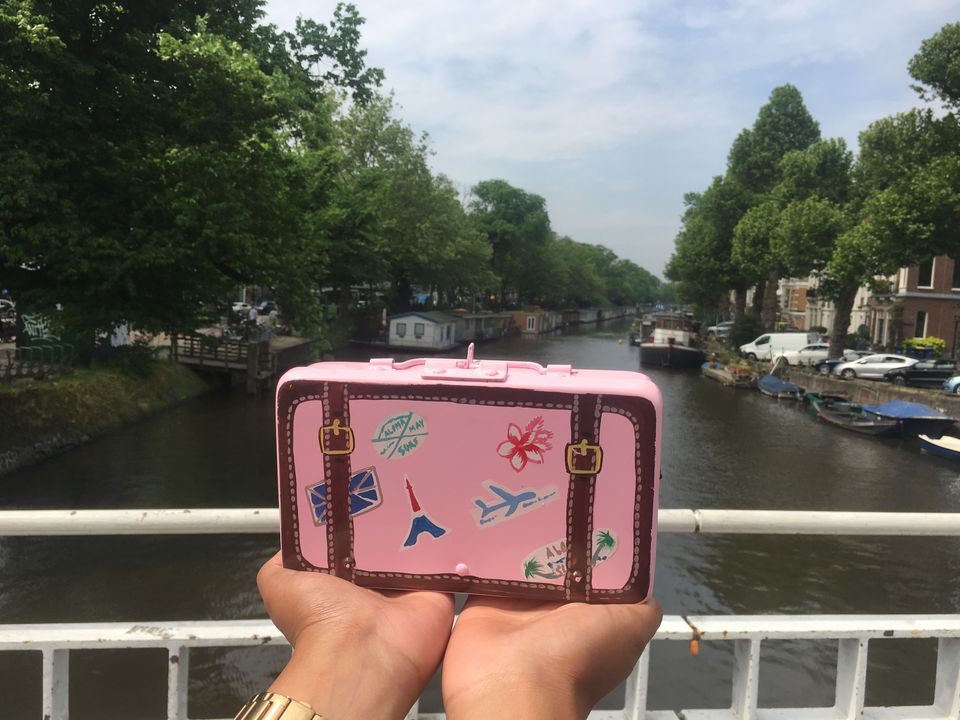 1,000 canals of over 100km in length with over 1,500 bridges on top of them creating 90 islands within the city. A truly architectural marvel. We took an 1 hour canal cruise (with lovers cruise) at about Eur 13 / hour; the most basic, the most simple but undoubtedly the most authentic way to explore this mesh of water. Indulge in a completely different perspective of the city and takes you into another world. Do notice how the narrow canal houses have their upper windows smaller accentuating the height of the buildings.
Recommended: If you are a group, hire a small private boat to jet you around the canals
Heritage
As soon as I got to know that a place like this still exists, we took the first train there. The place I am talking about is the oldest industrial region in Europe, the
 

Zaanse Schans.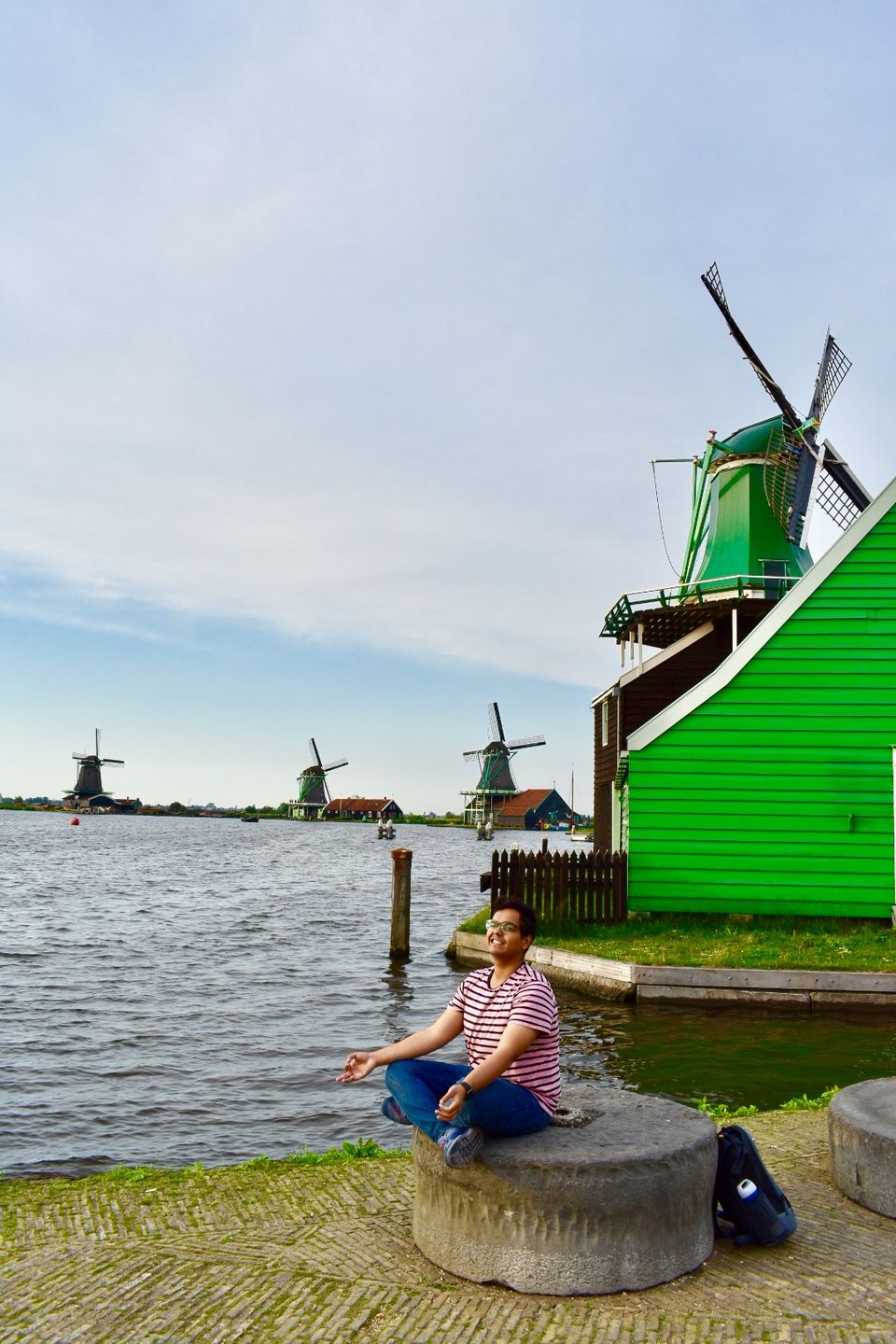 Centuries-old windmills which are still in working condition line up the River Zaan and transport you the yesteryears of their full glory. You can even climb up the narrow staircases and take a look inside.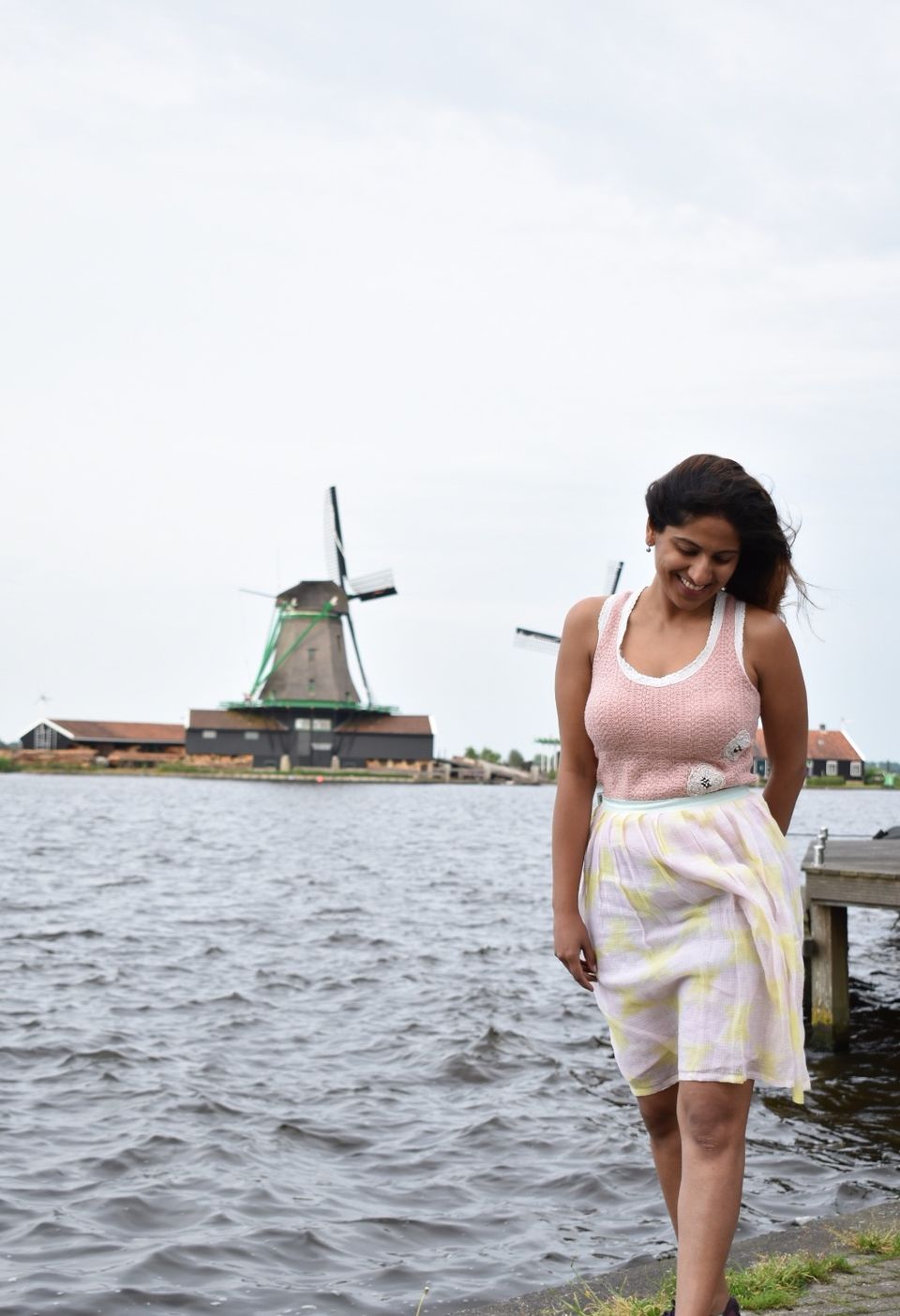 Recommended: The Zaan river twists and turns and the tricky part is finding a perfect spot to take in the view. Grab a seat by the stone-benches by the harbour (On the left as you enter the windmill area) for a few minutes of introspection and of course photographs.
Entertainment
It is time to hold your better half's hand firmly and fulfil that pending gift for your kids to persuade them to stay back.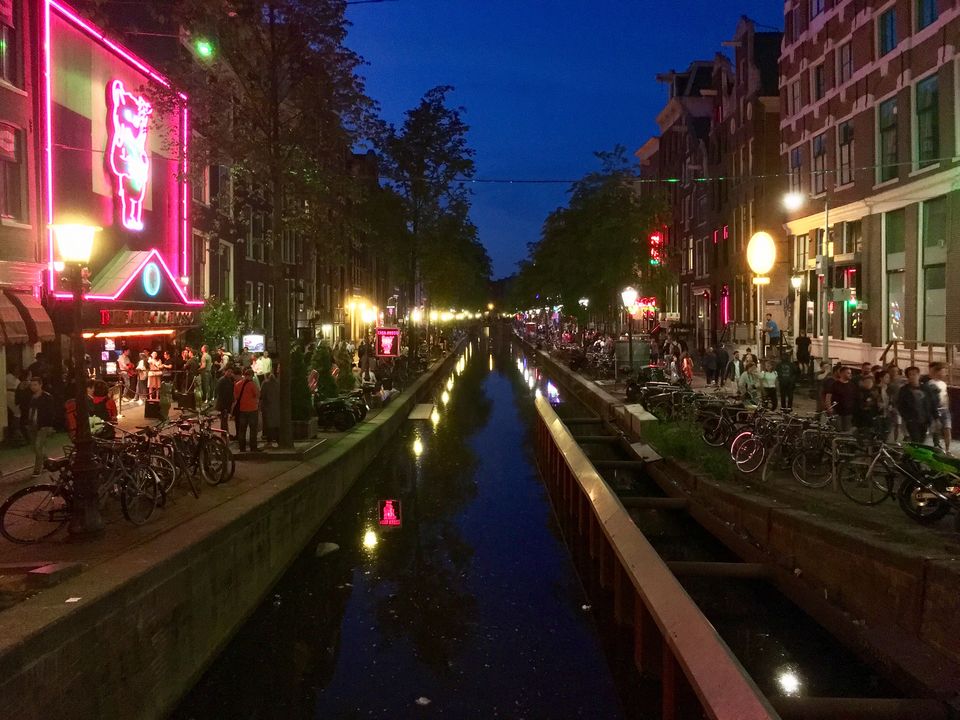 Amsterdam's Red Light District is not for the faint-hearted. It is mysterious, as you think about the unseen lives of these ladies 'trapped' in the red-lit glass boxes. It is blunt because nowhere in the world you will see such a public show of the realities of one of the oldest profession in the world, as you see it here.
Recommended but at your own risk: Take a peep into this x-rated world and then decide whether you want to go full-on with the other shows (shows start at EUR 2 for 2 minutes)
Whether you like it or despise it, walking around these tiny lanes illuminated by the red lights from the windows is an experience you cannot miss. Beware, don't get too close to the windows though!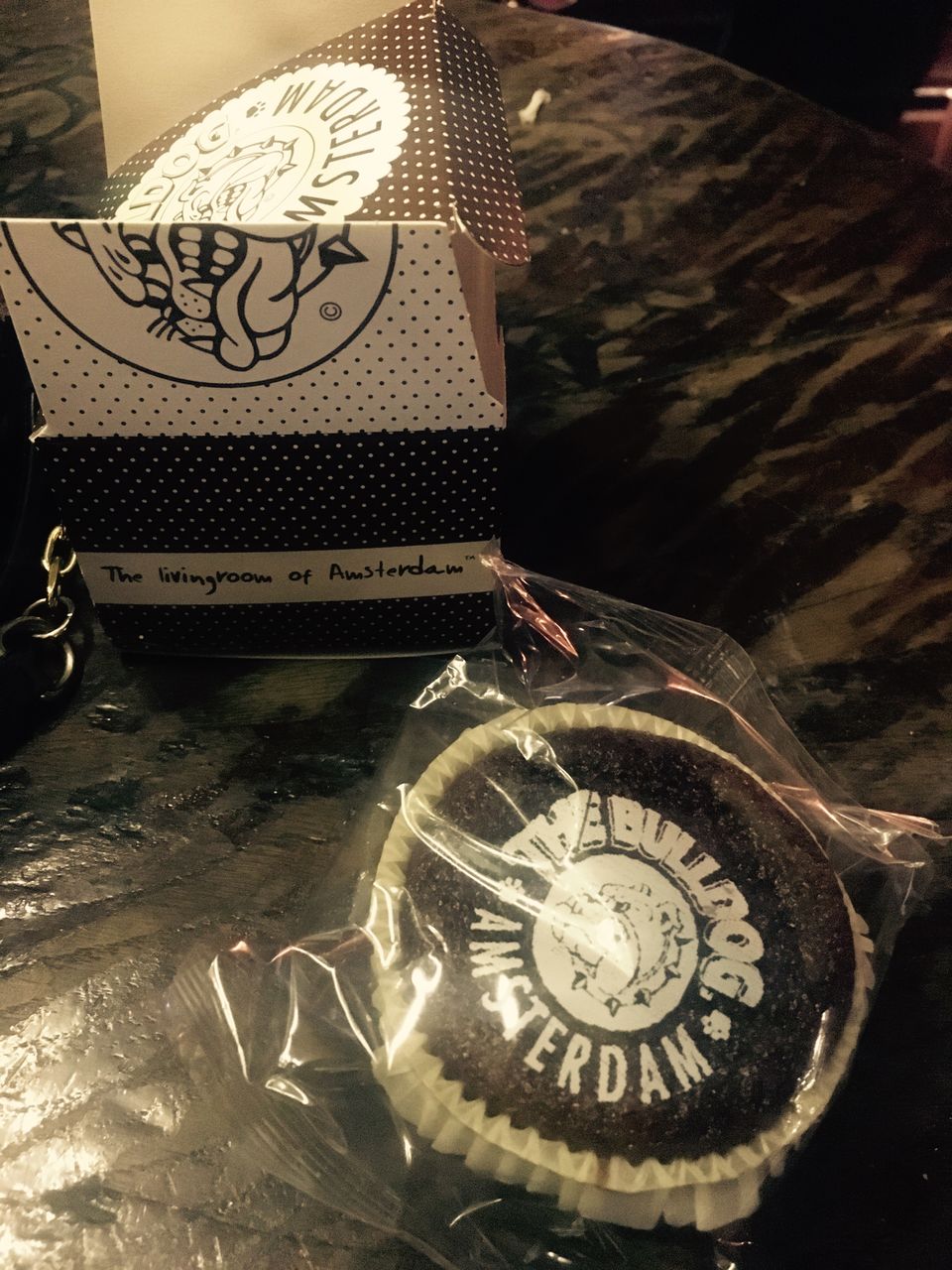 A visit to the famous 'coffee' shops is a great way to either start or end your night in the red light area. If you are feeling adventurous, start your night here and if you want to play it safe, we suggest you end it here. We wanted to play it safe so we ended the night here, took a space cake each and were happiest high on our way back to the hotel
Recommended: The cakes contain a dose of cannabis (it is completely legal here in the Netherlands) hence please be absolutely sure of its after-effects before you decide to try one. And unless you have been specifically recommended by a local, it is best to try one of the established coffee shops. You are assured of both quality and quantity here. Bull Dog Cafe, the oldest in Amsterdam and now a big chain is our favourite.
What sets apart Amsterdam from any other city you will ever visit is that it so uniquely represents different facets of us, humans. Our creative side with its unique canal network, our rich heritage with its medieval windmills signifying industrial progress and at the same time our wild side with its adult areas and 'coffee' shops.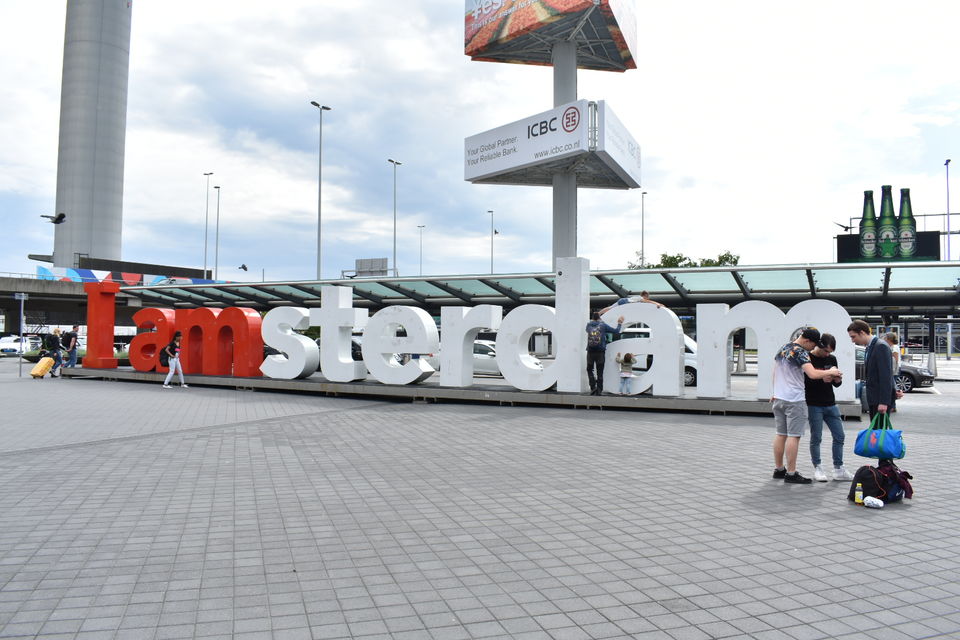 Can you think of a city that so openly but proudly exemplifies this? I can't think of any.
Happy and safe travel !