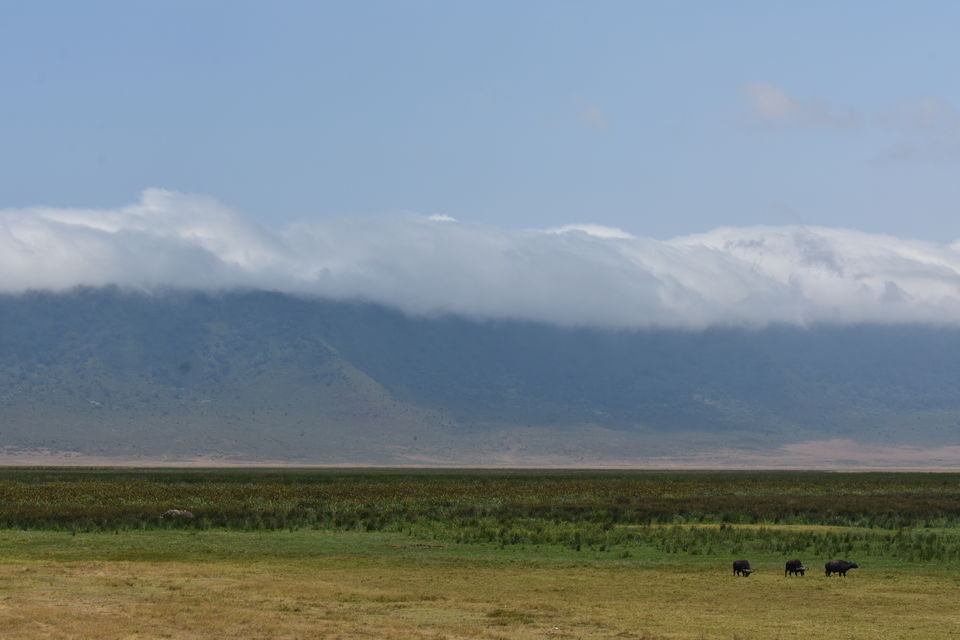 The Ngorongoro crater in the greater

Serengeti National Park

area is a natural cage. Pardon my use of words here, seems harsh in light of describing a wildlife wonder. But the animals here are literally trapped and have nowhere to go.
But it is not that bad, really! From the animals perspective, they have 2,000 feet high walls of the caldera protecting them while they enjoy a rich savannah ecosystem on the crater's floor covering more than 260 square kms.
 Zebras waiting in line for their chance to pleasure themselves on the "Scratch Rock"
From our perspective, first, the view is simply mind-boggling. To top that up, the crater offers the highest density of mammalian predators in Africa.
About the view
 

-

 

In our case, it was a particularly foggy day and while driving up to the crater, the visibility was less than 10 feet. We shuddered at the thought of being able to view any animal with such visibility. But to our astonishment, as the vehicle slowly made it way into the crater, it was as if a completely new world was unfolding in front of our eyes. The view of the endless savannah grasslands meeting the caldera walls and with the clouds acting as a shield on top. I got my money's worth right then.

 The posing lionesses! they are sitting as if they are guarding a temple gate
 Look at how papa baboon is making his kid work/scratch him :p
About the wildlife viewing
 

-

 

If lady luck is on your side, you can see the Big 5 going about their daily chores. This was our last African safari and we were really-really keen to be able to see the elusive Black Rhino. We searched high and low, saw lions, elephants and buffaloes in the process. But alas! It just wasn't our day. I guess something to look forward for the next time.
 But look what we found ! The bravest Pumba till now we have encountered on our safaris. More curious than scared.
Down below we have jotted down our learnings from this unique wildlife adventure.
If you plan to go, here are a few tips to maximize the return from your time, money and experience.
1.
Book flights

:

 

Arusha and Moshi (they are 80 km apart) are the closest airports to the crater. Book flights as soon as possible as prices for last minute bookings can really escalate rapidly. Bus travel in Tanzania is a nightmare and should definitely not feature in your plans. Precision Air, Fastjet and Air Tanzania operate daily flights from Dar/Zanzibar.
2.
Avoid travel agents:

 

After traveling for months in Africa independently, we can confidently tell you that booking prepaid safari packages with travel agents in Africa is the most glorified way to waste your hard earned money. PERIOD. Book your own hotels and book safari directly with them. Far cheaper and for the same experience.
3.
Make Karatu your base:

 

Karatu is a small town right outside the crater and is an ideal base for a safari (There a number of lodges catering to every budget). The standard rate for a full-day safari to the crater is $200 / person (including entrance, fees and lunch). Pay no more! Here are the details of one of the guys who organises these trips:
4.
Insist on an early morning start:

 

Not many people will tell you this but driving at the base of the crater is only allowed for 6 hours after entry. Insist on an early morning start and be the first ones to enter once the gates open at 6am. The chances of seeing the BIG 5 is significantly higher in the morning. Since the gates close at 6 pm and sunsets at around 7 pm, there is no possibility of catching them in action after that.
 Did you know? Hippos are the most dangerous animals in Africa! Here. Mama Hippo and her kids chilling in the middle of their own little migration (from one pond to next!)
5.
Get binoculars:

 

The game drives in the crater base are strictly along marked paths. Most of the big game sightings tend to be a bit far to be enjoyed with naked eyes. We saw a pride of more than a dozen lionesses lazing around in the savannah grass. There were far away from the path and our guide's binoculars came in really handy at that moment. Don't take a chance and carry your own.
 Believe it or not! There are more than a dozen lionesses in this picture frame
How to combine Safari with Zanzibar
Dar es Salaam "Dar" is the most internationally connected airport to fly to in Tanzania and serves as an ideal centre point for both Zanzibar and Ngorongoro. There are daily fast ferries to Zanzibar from the port here in the city (Check: http://azammarine.com/). And a number of budget airlines connect Dar with Arusha / Moshi.
While transiting in Dar, do not forget to catch the stunning sunset at the beach facing promenade at Hotel Slipway (Bar in Dar is our favourite there).
Here is what an ideal week in Tanzania could look like:
1D: Dar es Salaam
2D: Arusha
3D: Safari
4D: Arusha- Dar es Salaam- Zanzibar
5D, 6D, 7D: Zanzibar
Enjoy and take it easy guys. Happy Travels !
About the Author:
"Megha and Pranay (alias The Trunk Travellers) are renowned travel writers and are travelling around the world. An ex- Investment Banker and ex- Consultant by profession, they decided to take the greatest journey of their lives. They have visited over 45 countries together. Megha has co-founded the kitschy product label, Pitaara Handmade and is scouting for inspiration during her travels. They have been featured with LBB Mumbai, Tripoto, Wedding Sutra and WedMeGood previously. You can reach out to them and follow their adventures on Instagram as well"